It's a fact that most teenagers will experience clogged pores, acne and breakouts at some point during their teen years. Despite being busy with school, their social life, and sports, it's very important for them to make time to pay attention to their skin and to realize the importance of good skincare. Now is the time to mend the effects of the summer sun and to clear and prevent hormonal acne and breakouts to get their skin looking its best.
If you have a teen or if you are a teen reading this, here are reasons you should consider a teen facial.
What Are the Benefits of a Teen Facial?
There are many benefits of facials, but for teens in particular, facials will help clean out blackheads and clogged pores caused by oil production. Skincare products used at home can only help reduce clogged pores. It takes a professional esthetician to properly prepare and soften the skin before manual extractions can take place in a safe and effective way.
Also, facials are geared to problem solve. The level of the intensity of a facial is contingent on the severity of the skin's issues. Teens tend to have problem skin, but what works for some might not work for others. An esthetician can offer advice on the best way to address a teen's specific skin concerns.
Part of getting a facial is receiving a lesson from experts on how to care for the skin properly. This information includes which products will work best for each person based on his or her skin type and the client will learn how to care for his or her skin at home to maintain the results of a facial.
Schedule a virtual consultation with one of our estheticians.
Read: How Do Hormones Affect the Skin in Your Teenage Years?
What Age is Best For a Teen Facial?
During the teenage years, hormones can really start to fluctuate which can aggravate the skin and cause blemishes and breakouts. Those who produce a lot of oil and/or have weak follicular walls will experience more severe breakouts, including stubborn cystic acne. That being said, age 13 is a good time for teens to start coming in for facials. Even if problem skin isn't yet an issue, it's a good time to start teaching teenagers how to care for their skin.
Read: Skin Care Tips for Teens
What Should a Teen Facial Include?
A teen facial should include a thorough skin analysis to determine the teen's skin type and needs of his or her skin. The skin may be gently exfoliated using ultrasonic exfoliation to loosen surface dry cells to prepare the skin for a deep pore cleansing. Steam is often included to soften the pores, which will allow for manual extractions done safely so as not to harm the integrity of the skin. A customized mask appropriate for the skin type may then be applied and the facial may be finished with an oil-free lotion. During the facial, the ways in which diet and lifestyle can affect the skin should also be discussed, along with suggestions about how to care for the skin at home with simple, but effective routines.
Read: Dermatologist Vs. Esthetician: Who Has the Best Approach for Treating Acne?
How Often Should Teens Have Facials?
This truly depends on the skin issues of each teen. Depending on the severity of problem skin, we recommend every 2 weeks for those who have plenty of issues with acne and every four months for maintaining healthy, clear skin. Teaching teens the importance of caring for their skin with regular facials is a great gift that not only affects their appearance but also their self-esteem.
WATCH: Renée talks about the benefits of a teen facial in this video.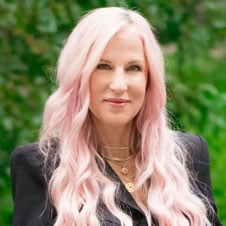 Celebrity Esthetician & Skincare Expert
As an esthetician trained in cosmetic chemistry, Renée Rouleau has spent 30 years researching skin, educating her audience, and building an award-winning line of products. Her hands-on experience as an esthetician and trusted skin care expert has created a real-world solution — products that are formulated for nine different types of skin so your face will get exactly what it needs to look and feel its best. Trusted by celebrities, editors, bloggers, and skincare obsessives around the globe, her vast real-world knowledge and constant research are why Marie Claire calls her "the most passionate skin practitioner we know."