Updated 12/27/14. If you're an avid user of advanced skin care products, then surely you're using, or have used, a vitamin C serum under moisturizer to give much-needed antioxidants to protect your skin from environmental damage. What I know for sure is that all types of vitamin C serums are not equal, and when it comes to your skin, using the best formula can make all the difference in improving your skin's health and appearance. 
Let me first talk about how vitamin C works and how it's beneficial to your skin.
One of the main reasons why we age (and therefore the skin visibly ages) is because unstable electrons in molecules known as free radicals attack healthy cells due to UVA and UVB rays from the sun, pollution, stress, smoking, alcohol, fatty foods, and even aerobic repetitive exercise. The parts of the cells damaged are DNA, lipids and proteins that make up the cells. This slows down the production of collagen and elastin, which is essential in keeping the skin firm and preventing wrinkling. This happens beneath our skin very gradually, making wrinkles, brown spots, and sagging become apparent over time. Antioxidants such as stabilized vitamins C and E, when applied topically and taken internally, are extremely beneficial at slowing the process of aging by stopping the free radicals from oxidizing the molecules.
One such example of oxidation can be found in apples. When you take a bite of an apple and you leave it sitting on your kitchen counter for as little as 30 minutes, the inside of the apple will start to oxidize and turn brown. To prevent this from happening, you can sprinkle lemon juice on the apple so it can maintain its freshness and longevity. Lemon juice is high in vitamin C and is therefore considered an antioxidant since it slows down oxidation from occurring. So applying a vitamin C serum topically to the skin can essentially keep your skin from turning brown (preventing and fading brown spots), as well as keeping cells fresh and youthful.
In the picture above, I took two bottles of a popular brand of a vitamin C serum to demonstrate what happens when vitamin C (L-ascorbic acid, to be specific) oxidizes and can't stay stable when inside the bottle.
The picture on the left is a drop from a fresh, new bottle. You can see it's clear in color. The picture on the right shows a drop from a  three month old bottle and has oxidized and turned deep coppery brown in color. It's safe to say that when the product has turned brown in color like this one did, it has oxidized strongly and lost about 60% of its effectiveness, if not more. So this expensive skin care product will not deliver the full benefits if the formula can't hold up.
Unstable formulas that turn brown quickly can:
-be expensive since you're not getting every last drop at its full potency
-stinging on application which can cause dryness, sensitivity and irritation due to the acid content and low pH
-cause blackheads (yes, actual blackheads) because of oxidation that occurs with the oil on the top of the pore opening.
Simply put, if you're using a product that has gone from light to dark, you're not getting your money's worth and therefore, you're not getting the best results in skin brightening and anti-aging protection. It only makes sense to avoid using the type of vitamin C that is so highly unstable and find a more effective formula, especially if you have sensitive skin. .
Stable forms of topical vitamin C include:
Magnesium Ascorbyl Phosphate (also a proven skin lightener to fade brown spots and discoloration from age, sun, breakouts, and hormones)
Tetrahexyldecyl Ascorbate
Ascorbyl Methylsilanol Pectinate
Ascorbyl Palmitate
Sodium Ascorbyl Phosphate
They are considered stable and won't lose their effectiveness or irritate sensitive skin like other forms can.
Unstable forms of vitamin C include:
Ascorbic Acid
L-Ascorbic Acid
When used exclusively in skin care formulas as the main form of vitamin C (listed as a top five ingredient on the bottle), they will not only oxidize and oxidize quickly, they can be an irritant to sensitive skin types.
So when it comes to choosing a vitamin C formula, do so carefully. You want to get the best results for your skin and get your money's worth!
I highly recommend using a >Vitamin C&E treatment. When used daily, your skin will look brighter, fresher, and brown discoloration from sun, hormones, aging, and blemishes will fade. Be sure to use a vitamin C serum in your routine. Your skin will look so much better because of it.
Speaking of antioxidants, foods such as vegetables and fruits (look for the darker pigmented ones) are high in antioxidants and are extremely important to consume daily. Make sure you're getting your daily dose to keep your body healthy and acting young.
Read: The Ten Best Anti-Oxidant Foods
Read: Tips for Reducing Hormonal Cystic Acne
Which skin care products are best for you? See our nine skin types or take our Skin Type Quiz and get products recommended.
Need expert advice from a licensed esthetician? Schedule a virtual consultation to get customized advice in person, over the phone or online via Skype or Facetime.
For more expert advice check out the blog. Also sign up for our skin tip e-newsletter, follow Renée Rouleau on Twitter and Instagram and join the discussion on our Facebook page. You'll be your own skin care expert in no time. Get the #ReneeRouleauGlow!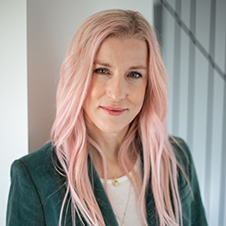 Celebrity Esthetician & Skincare Expert
As an esthetician trained in cosmetic chemistry, Renée Rouleau has spent 30 years researching skin, educating her audience, and building an award-winning line of products. Trusted by celebrities, editors, bloggers, and skincare obsessives around the globe, her vast real-world knowledge and constant research are why Marie Claire calls her "the most passionate skin practitioner we know."