Updated 02/08/22. If you're an avid user of advanced skincare products, then surely you're using (or have used), a vitamin C serum to provide your skin with antioxidants that can protect it from environmental damage. I know I do. I apply the Vitamin C&E Treatment under moisturizer/sunscreen every single day, and I consider it to be one of the best ways to slow down the progression of visible signs of aging.
However, not all vitamin C serums are equal. Some of them are formulated with unstable forms of vitamin C, which oxidize quickly and lose efficacy. How can you tell if this has happened to your vitamin C serum? A surefire sign is if it turns a copper-brown color. Keep reading to learn more—including how vitamin C works, why you should be using it, and what you should do if your vitamin C serum has changed color.
How Vitamin C Works and Why It's Beneficial to the Skin
One of the main reasons we age (and therefore our skin ages) is because of free radicals. These are unstable molecules that attack healthy cells by attaching to the DNA, lipids, and proteins inside of them, which causes them to function abnormally (or not at all). This slows down the production of collagen and elastin, which are both essential in keeping the skin firm and unwrinkled. It can also lead to premature cell death. Gradually, signs of aging become apparent, and we start to see brown spots, wrinkles, and sagging skin appear.
That's where antioxidants come in. Antioxidants, such as stabilized vitamins C and E, can prevent free radicals from oxidizing molecules and causing damage, which means they can effectively slow down the aging process. For an example of this, all you have to do is take a bite of an apple (yes, really!). When you bite an apple and leave it sitting on your kitchen counter for as little as 30 minutes, the inside of the apple will start to oxidize and turn brown. If you sprinkle some lemon juice on it, however, it will prevent oxidation and maintain its freshness. Lemon juice is high in vitamin C and is therefore considered an antioxidant. Vitamin C serums work the same way for your skin. They can help keep cells fresh and youthful.
Note: Never put pure lemon juice on your skin, as it contains other compounds that are photo-toxic, meaning it can leave skin susceptible to damage from light. It can also be highly irritating. Use a well-formulated topical vitamin C serum instead.
To see proof that vitamin C really works, check out this experiment.
What It Means When a Vitamin C Serum Turns Brown
When a vitamin C serum turns brown, it means it has oxidized, and thus, has lost its efficacy. If this happens to your vitamin C serum, it's time to toss it and find another, stable formula to use. For a visual demonstration of oxidized vitamin C, just look at the picture above. I used two bottles of a popular vitamin C serum to demonstrate this (L-ascorbic acid, to be specific). The serum on the left is a drop from a new bottle. You can see that it's colorless. The serum on the right is a drop from a three-month-old bottle. You can clearly see that it has oxidized and turned a copper-brown color. When this happens, it's safe to say that it no longer has active vitamin C in it, so it's no longer effective.
What Happens If You Use a Vitamin C Serum That Has Turned Brown
If you continue to use a vitamin C serum that has turned brown, you could be doing more harm than good to your skin.
It can cause dryness, sensitivity, and irritation. Brown vitamin C has a high acid content and a low pH, which means it can cause stinging on application and lead to a whole host of skin issues, including dryness, sensitivity, and irritation (yikes!).
It can cause blackheads. Brown vitamin C serums can cause oxidation to the oil on the top of the pore opening, which can lead to visible blackheads.
Simply put, if you're using a product that has gone from light to dark, you're not getting your money's worth and therefore, you're not getting the best results in skin brightening and anti-aging protection. It only makes sense to avoid using the type of vitamin C that is so highly unstable and find a more effective formula, especially if you have sensitive skin.
Stable Forms of Vitamin C
The following forms of vitamin C are considered stable and won't lose efficacy or irritate sensitive skin like other forms can.
Magnesium Ascorbyl Phosphate (also a proven skin lightener to fade brown spots and discoloration from age, sun, breakouts, and hormones)
Tetrahexyldecyl Ascorbate
Ascorbyl Methylsilanol Pectinate
Ascorbyl Palmitate
Sodium Ascorbyl Phosphate
Ascorbyl Glucoside
3-O-Ethyl Ascorbic Acid
Unstable Forms of Vitamin C
Ascorbic Acid (this is often written as L-Ascorbic Acid on ingredient labels)
The Bottom Line
When used exclusively in skincare formulas as the main form of vitamin C (listed within the top five ingredients on the bottle), these forms of vitamin C will not only oxidize (and quickly!), but they can also irritate sensitive skin types. That's why, when it comes to choosing a vitamin C formula, you should do so carefully. After all, you want to get the best results for your skin and you want to get your money's worth!
The Vitamin C&E Treatment contains both lipid and water-soluble forms of vitamin C to deliver antioxidant effects deep within the epidermal layers. It contains a mix of Tetrahexyldecyl Ascorbate, Ascorbyl Methylsilanol Pectinate, and Kakadu Plum (which has 100 times more vitamin C than an orange). It's a stable formula that, when used daily, can lead to brighter, fresher skin!
Next, read up on the five things you should look for in a vitamin C serum!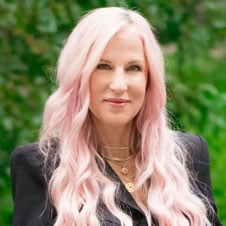 Celebrity Esthetician & Skincare Expert
As an esthetician trained in cosmetic chemistry, Renée Rouleau has spent 30 years researching skin, educating her audience, and building an award-winning line of products. Her hands-on experience as an esthetician and trusted skin care expert has created a real-world solution — products that are formulated for nine different types of skin so your face will get exactly what it needs to look and feel its best. Trusted by celebrities, editors, bloggers, and skincare obsessives around the globe, her vast real-world knowledge and constant research are why Marie Claire calls her "the most passionate skin practitioner we know."