What an incredible honor it was to be mentioned in both this video and in print (twice) by singer, Demi Lovato in People Magazine "World's Most Beautiful Woman" special double issue. (You can see the print feature here.)
I have been Demi's personal esthetician for many years now giving her my signature skin treatments both in Dallas and in Los Angeles.
She is also a huge fan and loyal user of the Renée Rouleau Skin Care line of products. She's a skin type #2. (What's your skin type? Choose it here.)
What is Demi Lovato's personal skin care routine? 
"The BHA Clarifying Serum is a miracle product. I'll wake up the next morning and literally have no pores." says Demi.
Demi uses the entire collection from skin type #2  which addresses oily/combination, occasional breakouts and anti-aging. (Get your skin type here.)
In the morning, she washes with Luxe Mint Cleansing Gel, applies Elderberry Toner, then a few drops of Vitamin C&E Treatment followed by Daily Protection SPF 30.
In the evening, she washes with Luxe Mint Cleansing Gel (or the AHA/BHA Cleansing Gel if she's breaking out or is wearing heavy makeup), tones with the Elderberry Toner (applied with Toning Cloths), and uses a few drops of BHA Clarifying Serum under Hawaiian Nourishing Cream. When I gave her a facial last week in LA, I recommended Skin Recovery Lotion to use as a moisturizer during the summer months when she's feeling oilier or has breakouts.
For blemishes, she spot treats with either Anti Cyst Treatment (when she has a stubborn cystic blemishes) or Night Time Spot Lotion (for regular, surface breakouts). If she has a leftover dark spot from a previous blemish, she will dab on a little Post-Breakout Fading Gel to help the scar disappear quickly.
When she has a special event or photo shoot, Demi loves using Triple Berry Smoothing Peel. This at-home peel uses five exfoliating acids to smooth the skin, unclog the pores and reveal a beautiful glow. And Demi definitely has a glow!
If you have trouble viewing this video, you can watch it here.
See Demi on the cover of Cosmpolitan Magazine here. "My favorite feature is my skin." says Demi.
Which skin care products are best for you? See our nine skin types or take the Skin Type Quiz and get products recommended.
Need expert advice from a licensed esthetician? Schedule a virtual consultation to get customized advice in person, over the phone or online via Skype or FaceTime.
For more expert advice check out the blog. Also sign up for our skin tip e-newsletter, follow Renée Rouleau on Twitter and Instagram and join the discussion on our Facebook page. You'll be your own skin care expert in no time. Get the #ReneeRouleauGlow!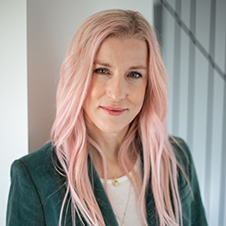 Celebrity Esthetician & Skincare Expert
As an esthetician trained in cosmetic chemistry, Renée Rouleau has spent 30 years researching skin, educating her audience, and building an award-winning line of products. Her hands-on experience as an esthetician and trusted skin care expert has created a real-world solution — products that are formulated for nine different types of skin so your face will get exactly what it needs to look and feel its best. Trusted by celebrities, editors, bloggers, and skincare obsessives around the globe, her vast real-world knowledge and constant research are why Marie Claire calls her "the most passionate skin practitioner we know."