"I started breaking out on my chin after not having broken out in years. My skin texture is normally smooth, but now it's bumpy and I have a mixture of small, red bumps, whiteheads and cysts. I've been breaking out consistently for the past 3-4 weeks. Help!" These were the text messages I got back in August 2018 from Heather Maffei (@hmuir), the beauty director at Real Simple and Health Magazine. She told me that she had been struggling with a sudden onset of adult acne and was having trouble getting her normally clear complexion to behave again.
10 Questions To Ask When You Break Out Out Of Nowhere
Whenever someone gets a sudden breakout on their face, the first thing they usually ask is, "Why am I breaking out?" I like to start by asking these ten questions to identify potential causes:
1. Have you recently changed up your skincare routine?
Heather: Once I started breaking out, I started using Differin. I was also recently on a beach vacation for a week slathering on SPF 50.
2. Have you recently had any professional treatments?
Heather: Yes, I had a micro-needling treatment done a month ago where they put EGF (epidermal growth factor) on my face afterward.
3. Have you recently started using a Clarisonic brush or something similar?
Heather: No, I don't use a Clarisonic.
4. Have you recently changed your diet?
Heather: No changes to my diet.
5. Any recent changes in lifestyle (for example: a new workout routine, more frequent traveling or moving)?
Heather: Not that I can think of.
6. Have you been under more stress than usual?
Heather: No, not really.
7. How many new, active blemishes are popping up each day?
Heather: I get 1-3 new breakouts every day. Some are small, red bumps and some are much bigger, like cysts.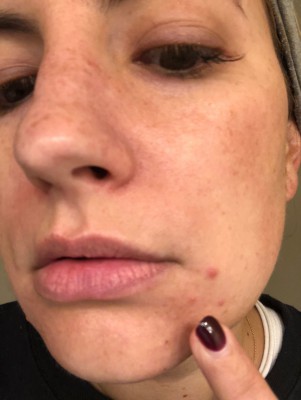 8. Do you usually get breakouts around your menstrual cycle? Has your cycle been regular (If not, this could be a sign of a hormonal imbalance)?
Heather: I usually never break out around my cycle, and everything has been regular.
9. Have there been any changes to your birth control?
Heather: No, not recently.
10. Have you recently started taking any new medications?
Heather: No, I haven't.
The Possible Causes of Heather's Sudden Chin Breakout
It's difficult to ever know the exact cause of a breakout, but after asking Heather my ten questions I was able to come to three possible conclusions:
The micro-needling/EGF treatment was likely the main trigger for her sudden chin breakout. Micro-needling and EGF are designed to stimulate the metabolism of your cells, which is good for aging skin because it sends the cells signals to act "young" again. The problem for Heather is that her skin is already young, which also means her metabolism is already active. Stimulating it further with something as active as micro-needling may have backfired and disrupted her barrier. This more than likely threw everything out of whack for her young skin. Pro tip: be cautious and have a thorough consultation with a skin professional before doing such active treatments on your skin.
Wearing heavy sunscreen on newly treated skin may have made things worse by blocking her pores. Some sunscreens (especially the water-resistant kind you use at the beach) can be notorious for clogging pores. Pro tip: I recommend wearing a sunscreen like Weightless Protection SPF 30, which is specifically formulated to soothe skin and not clog pores.
Trying to correct her sudden breakout with Differin may have hurt more than it helped. Differin is an over-the-counter retinoid (vitamin A) gel for treating acne. It works by stimulating cell turnover and can be quite drying initially. This can cause problems for skin that doesn't get many breakouts and isn't very oily to begin with. Differin can cause newly dried cells to sit on the top of the skin and trap dirt and oil. This can actually lead to more breakouts while the skin adjusts. In Heather's case, the combination of something as active as Differin along with a treatment as stimulating as micro-needling may have stirred up too much activity in her young skin.
Note: Differin works well as a long-term strategy for controlling clogged pores and closed comedones in oily skin types. But if you don't normally break out much and your skin dehydrates easily, Differin might not be the best strategy for you.

How To Get Rid Of A Sudden Acne Breakout
Now that I had identified the possible causes of Heather's chin acne, it was time to make a plan of action. Before we started, Heather had asked me if her breakouts would clear up on their own or if I thought she should start an oral medication, like Spironolactone. While a study by the British Journal of Dermatology showed that Spironolactone can be an effective treatment for adult acne in women, my personal belief as an esthetician is that medication should always be a last resort. My response to Heather was simple: "It's your decision, but I think I can get you through this by changing up your skincare routine."
Stop using these makeup products when you suddenly break out
The first thing I did was give Heather a list of things to stop using; it's important to know what might exacerbate your acne so you aren't doing anything to sabotage your own treatment plan. These trendy products can be especially problematic because they can get into pores and trigger bumps and breakouts:
Primer
Liquid foundation
Cream blush
In the case of Heather's skin, this was especially true because her skin's barrier was already compromised from the drying effects of Differin. Because of her job, Heather attends a lot of beauty events and wants to be able to wear makeup, so I advised her to go makeup-free on weekends or whenever possible.
"When you suddenly break out, it can be difficult to pinpoint the exact cause. Regardless, the important thing is to treat it correctly." —Renée Rouleau
Start a gentle, acne-focused skincare routine when you suddenly break out
When you suddenly start breaking out as an adult, the issue is often temporary so it's critical that you don't start treating your skin like a teenager with acne would. This means using acne products only where breakouts occur and avoiding overly harsh or drying ingredients. A great option when your skin is flaring up is our Rapid Response Detox Kit, which is specifically designed to curb sudden, temporary breakouts. This kit is kit is the answer to the question, "I don't break out all the time so I'm not someone who needs a whole routine for acne, but then how do I adjust my routine when I am breaking out?" It's super easy to sub into your routine when your skin freaks out. When used together, these four products are powerhouses at clearing and resetting your skin without any irritation. Once the kit has worked its magic and your skin is back to normal, you can go back to your regular routine! All products in the kit come in small sizes, making it the perfect travel companion.

Here is the starter routine I put together for Heather. As she moved through different stages of healing, I tweaked her routine slightly.
Phase 1
A.M.
AHA/BHA Blemish Control Cleanser
Elderberry Soothing Toner (in lieu of the Moisture Infusion Toner she was using)
Weightless Protection SPF 30
P.M.
AHA/BHA Blemish Control Cleanser
Rapid Response Detox Masque (a minimum of five minutes on the chin every night after cleansing)
Elderberry Soothing Toner
Hydraboost Rescue Creme (everywhere except the chin)
Anti Bump Solution (a thin layer all over the chin as a preventative treatment, without applying moisturizer on top)
Once a week at-home facial
Triple Berry Smoothing Peel (ten minutes applied to clean skin, then rinse off)
Rapid Response Detox Masque (15 minutes everywhere, then rinse off)
Elderberry Soothing Toner (leave damp on skin for the next step)
Hydraboost Rescue Creme (everywhere except the chin)
Anti Bump Solution (a thin layer all over the chin as a preventative treatment, without applying moisturizer on top)
Phase 2
Within a week, the inflammation in Heather's skin was under control and she started having fewer active blemishes. Because of this, I recommended the following additions/changes to her routine:
Rapid Response Detox Masque (cut back to using on the chin every other night after cleansing, especially on days when she had worn heavier makeup)
Pore + Wrinkle Perfecting Serum (every other night to fade leftover blemish scars and minimize breakout activity)
Skin Correcting Serum (Alternate every other night with Pore + Wrinkle to prevent breakouts and lessen sensitivity)
Anti Bump Solution (only as needed to spot-treat new cysts and blemishes)
Clean & Clear Persa-Gel 10 (an over-the-counter spot treatment with 10% benzoyl peroxide for new, surface-level pustules and whiteheads)
The strategy behind the routine and why it worked
When Heather reached out to me, my first priority was to immediately put out the "fire" and calm her inflammation in order to stop new breakouts from appearing. Once we got this under control, the next goal was to strengthen her skin long-term and reprogram it to start behaving again. Since Heather's breakouts were isolated to the chin and jawline, I wanted to focus the more active ingredients in this area while using soothing and hydrating ingredients everywhere else.
Heather's Results
Heather started her routine on August 18, 2018, and by August 28, just ten days later, I got a text from her saying that things had started clearing up dramatically! She continued to have a few small flare-ups throughout September, but by October she had stopped breaking out altogether. As I was writing this post on February 5, 2019, it reminded me to text her to see how things were going. She replied saying her skin was great and her breakouts are a thing of the past. She couldn't be happier. (By the way, she's still using the "phase 2" routine, including the weekly at-home facial.)
Heather was so excited about the results of my customized treatment plan that she wrote this article in Health Magazine about how she got her adult chin and jawline breakouts under control.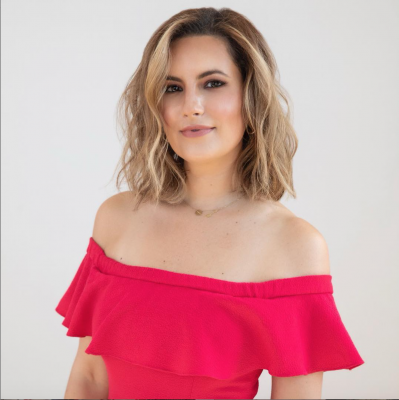 Takeaway
When you suddenly break out, it can be difficult to pinpoint the exact cause. Regardless, the important thing is to treat it correctly. If you can, start by consulting with a trusted skin care professional who can help you put a plan of action in place. Using the right products in the right way should help return your skin to a better balance so less (or ideally no) breakout activity occurs.
I hope you found this post helpful. If you don't have access to a trusted skin care professional in your area, I encourage you to schedule a virtual consultation with one of our expert estheticians. Don't go it alone!
Lastly, if you saw my recent post on Instagram you know that we are building upon the success of our Rapid Response Detox Masque and coming out with some new products focused on treating adult breakouts fast. Stay tuned!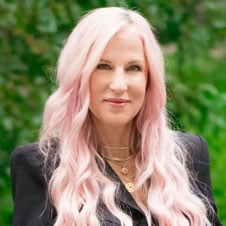 Celebrity Esthetician & Skincare Expert
As an esthetician trained in cosmetic chemistry, Renée Rouleau has spent 30 years researching skin, educating her audience, and building an award-winning line of products. Her hands-on experience as an esthetician and trusted skin care expert has created a real-world solution — products that are formulated for nine different types of skin so your face will get exactly what it needs to look and feel its best. Trusted by celebrities, editors, bloggers, and skincare obsessives around the globe, her vast real-world knowledge and constant research are why Marie Claire calls her "the most passionate skin practitioner we know."