Updated 12/1/17. When you cleanse your face, should it feel tight after washing? The answer is absolutely no. Tight skin means that moisture evaporation occurred and this is never healthy for your skin.
If the skin feels tight after washing, one or both things are happening.
Your cleanser is too strong for your skin type. For starters, you never want to use a bar of soap. The binders that hold a bar of soap together are in an alkaline base (high pH balance). This strips all the water and natural oils from the skin, causing the skin's surface to dehydrate. Your skin cells need moisture in order to be healthy. Without water, acne, sensitivity, and dry skin become aggravated and worsen. Even if the manufacturers of the soap claim it's moisturizing, it will still strip the skin, no matter what.
If you're not using a bar of soap but instead use a liquid cleanser that foams, you must be careful with these, too. The rule for any cleanser is: More lather, more drying. Less lather, less drying. So, when choosing a cleanser, always look for the words 'sulfate-free' on the bottle. This implies that harsh detergents were removed from the formula so it's safer and gentler for your face.
You're waiting too long after cleansing before you apply your next product. Did you know that you have a 60 second window after cleansing your skin to seal in moisture while your skin is damp to prevent severe dehydration? More so the winter, when there is low humidity, the air looks for water wherever it can get it and this means taking it from your skin at its most vulnerable time after cleansing. When you wash your face, your skin is damp with water afterwards and since water acts like a magnet, it will attract water out from the deep layers of the skin and evaporate into the dry air. The result is even tighter, drier skin. After cleansing, when your skin is still damp, immediately apply moisturizer (or ideally an alcohol-free toner and serum beforehand) so your skin can stay moist and hydrated. The best toner to use in the winter is Moisture Infusion Toner since it corrects dryness and soothes redness and irritation. Also, there is a BIG difference between dry and dehydrated skin and you really should learn what it is.
Going back in time, aside from when cold creams hit the market, most facial cleansers were in the form of a bar soap. People had become accustomed to a tight feeling after washing, writing it off as a "normal sensation." In the past 30 years as advancements in skin care have evolved, cleansing gels and cleansing lotions have become a more popular option due to a mild and gentler cleansing action. Some people will use cleansing oils and balms and employ what is known as the Double Cleansing Method. I'm not the hugest fan of this and you can read why here.
It's so important that you wash with a gentle cleanser. If not, you've stripped water out of the skin and then you have to rush and put your moisturizer on to replenish what you just that you just took out – which makes absolutely no sense, right?
Tip: If you like that tight feel after washing, rinse your cleanser off with icy cold water. This will make your skin feel squeaky clean without depleting its water levels.
Want to learn more how to care for your skin? Read these 34 expert skincare tips.
Which skin care products are best for you? See our nine skin types or take the Skin Type Quiz and see recommended products.
Need expert advice from a licensed esthetician? Schedule a virtual consultation to get customized advice in person, over the phone or online via Skype or FaceTime.
For more expert advice check out the blog. Also, sign up for our skin tip e-newsletter, follow Renée Rouleau on Twitter and Instagram and join the discussion on our Facebook page. You'll be your own skin care expert in no time. Get the #ReneeRouleauGlow!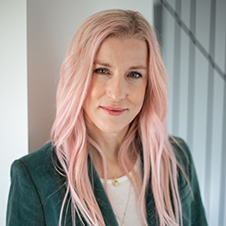 Celebrity Esthetician & Skincare Expert
As an esthetician trained in cosmetic chemistry, Renée Rouleau has spent 30 years researching skin, educating her audience, and building an award-winning line of products. Trusted by celebrities, editors, bloggers, and skincare obsessives around the globe, her vast real-world knowledge and constant research are why Marie Claire calls her "the most passionate skin practitioner we know."