Growing up, I spent a lot of time at my grandmother's beauty salon, The Powder Puff Beauty Shoppe, so I've been playing around with beauty products from a young age. Skin care, nail polish, makeup and hair products—I love it all. In 5th grade, I was the first girl in my class to start wearing makeup. In 7th grade, I would bring my makeup to sleepovers and give my friends makeovers. In 9th grade, when all my friends were using drugstore products, I was ordering skin and hair care products by mail from Beverly Hills using my babysitting money. At age 18 when I was trying to figure out what I wanted to be when I grew up, it only seemed natural when I decided to go to esthetics school to become a true beauty professional. (Read my bio.)
Even now, I adore beauty products and absolutely love trying new ones. Here are some of my current favorites:
1. Dry Bar Detox Dry Shampoo – I was late to the dry shampoo party, but I love how this one keeps my hair looking clean in between washes. The scent is a little overpowering, but it has grown on me.
2. Giorgio Armani Luminous Silk Foundation – I didn't start wearing liquid foundation until a few years ago because I was so afraid of it clogging my oily, blemish-prone skin (I'm a skin type #2.) However, I haven't had a problem with this one. It gives my skin an incredible luminous and smooth look, while making my large pores virtually invisible.
3. Benefit Stay Don't Stray Eyeshadow Primer – This primer creates a great base on my eyelids, which helps with an even eye shadow application and gives a long-lasting effect.
4. Too Faced Melted Liquefied Long Wear Lipstick – This long-lasting, silky lipstick has some serious staying power and comes in some fun, bright colors.
5. Benefit Gimme Brow – This is a small mascara wand with a creamy formula to brush on the brows to make them look thicker. The color is the perfect shade for my brows and I like that it doesn't leave them feeling tight or crunchy when it dries.
6. Benefit They're Real Mascara – I've stuck with this one longer than most because I like how it gives length and thickness, while not looking clumpy. The brush is stiff and the bristles allow for a nice separation of the lashes upon application.
7. Ahava Mineral Hand Cream – I mainly use this at night before bed or while flying on a plane. This cream truly repairs my dry hands and doesn't feel greasy.
8. Facial Hair Shaver by Touch' N Brow– When I turned 40, I noticed that my peach fuzz was getting much fuzzier and that's never a good look. About once every three weeks, I run this over my cheeks, chin and upper lip to gently remove all the hair. The blade also acts as an exfoliant and leaves my skin baby soft. I buy a 3-pack at Sally Beauty Supply for just $4.00.
9. Renée Rouleau Pro Remedy Oil – I just returned from seeing clients in New York City for five days with freezing temperatures and snow. This means the heaters were on indoors and, while the warmth was welcoming, I made sure to use a few drops of this product over my oil-free nighttime moisturizer to provide a protective barrier from the dry heat and to prevent moisture from evaporating out of my skin. What a huge difference this made in keeping my skin from getting dry! Shop for Pro Remedy Oil.

10. ColoreScience SPF 50 Mineral Powder – I am never, ever without a tube of this dry sunscreen powder. With just a light dusting on my face, neck, chest and hands, it gives instant sun protection. Since the #1 cause of premature wrinkles is due to UV light from the sun, this makes sunscreen the best anti-aging product on the planet. Shop for Colorescience Mineral Powder.
11. Wen Cleansing Conditioner – The concept of using a cleansing shampoo that doesn't have any lather was so strange at first, but I've been using this exclusively for six months and my hair has never been in better condition. I love how shiny my rose gold/pastel mauve hair looks! Also, people lose hair with age and I like that I don't get any post-shampoo tangles that pull out my hair when I put a wet brush through it.
My beauty collection is always changing, but right now, these are my latest and greatest.
Read: 34 Tips to Get Your Best Skin Ever
Read: How Celebrities Get Their Skin Red Carpet-Ready
Read: Should You Get Botox to Prevent Wrinkles?
Which skin care products are best for you? See our nine skin types or take the Skin Type Quiz and get products recommended.
Need expert advice from a licensed esthetician? Schedule a virtual consultation to get customized advice in person, over the phone or online via Skype or Face Time.
For more expert advice check out the blog. Also sign up for our skin tip e-newsletter, follow Renée Rouleau on Twitter and Instagram and join the discussion on our Facebook page. You'll be your own skin care expert in no time. Get the #ReneeRouleauGlow!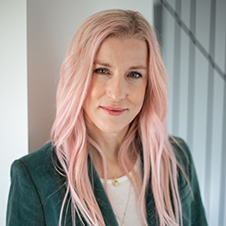 Celebrity Esthetician & Skincare Expert
As an esthetician trained in cosmetic chemistry, Renée Rouleau has spent 30 years researching skin, educating her audience, and building an award-winning line of products. Trusted by celebrities, editors, bloggers, and skincare obsessives around the globe, her vast real-world knowledge and constant research are why Marie Claire calls her "the most passionate skin practitioner we know."