Another year has flown by and this means another year of the #ReneeRouleauGLOW for all of our loyal fans, clients, and skin care obsessives around the globe.
I've pulled the list and am revealing this past year's top fifteen best-selling skin care products. Do you see some of your favorites?
#1 Anti Cyst Treatment For stubborn, cystic blemishes that develop deep within the skin, you won't find anything out there that works as good as this. It's been our #1 best seller for 18 years now, so that should tell you how effective this product truly is. Purchase Anti Cyst Treatment
"Anti Cyst Treatment saves me from pricey cortisone shots" — Elle Magazine
#2 Vitamin C&E Treatment For an anti-aging boost of vitamins to brighten your complexion, this no-sting formula is amazing for sensitive, aging skin. Ours use a blend of stable vitamin C so it won't lose its effectiveness like many other formulas do. Purchase Vitamin C&E Treatment
"Bring your dull skin back to life with this incredibly gentle miracle product." — Byrdie.com
#3 BHA Clarifying Serum For all ages with clogged pores and breakouts, this potent exfoliating serum clears blemishes and fades acne scars, while still being gentle to sensitive skin. Purchase BHA Clarifying Serum
"BHA Clarifying Serum is a miracle product and I use it to keep my skin clear. I'll wake up the next morning and literally have no pores." — Singer, Demi Lovato
#4 Toning Cloths You'll never go back to using cotton balls or pads again. They are a must-have companion to use with your daily toner and work great for eye makeup remover, nail polish remover and anything else you normally use with cotton balls. Purchase Toning Cloths
#5 Daily Protection SPF 30 Lightweight and greaseless, this sunscreen and moisturizer in-one is a favorite of sensitive, oily, combination skin prone to clogged pores and blemishes. Purchase Daily Protection SPF 30
"Daily Protection SPF is a sunscreen that WON'T cause acne." — Cosmpolitan Magazine
#6 AHA/BHA Cleansing Gel An incredibly effective deep pore cleansing gel to lessen breakouts and blackheads and fade acne scars to reveal more even-toned skin. It's sulfate-free so it won't dry out the skin. Purchase AHA/BHA Cleansing Gel
"Best Cleanser for Oily/Problem Skin" — Allure Magazine
#7 Skin Correcting Serum A great companion to use with BHA Clarifying Serum on alternating nights, this serum is a must for sensitive, acne-prone skin to make skin stronger and more resistant to blemishes. This works from inside out and is a unique and effective way to prevent acne–your skin will love it. Purchase Skin Correcting Serum
#8 Advanced Resurfacing Serum If you're wanting to repair sun damage, lift brown spots and smooth your skin's texture, this product will do the trick. It's formulated for sensitive skin types who are unable to tolerate prescription forms of vitamin A retinoids. With continued use, this delivers serious results. Purchase Advanced Resurfacing Serum "My skin is too sensitive for Retin-A at night but the next best retinol bet has been Advanced Resurfacing Serum. —Refinery29.com
#9 Luxe Mint Cleansing Gel This invigorating, deep pore cleansing gel is sure to brighten your skin and clear your mind in the morning. Who doesn't want a minty, fresh glow? Purchase Luxe Mint Cleansing Gel
#10 Elderberry Toner Alcohol-free, this soothing toner gives your skin a powerful dose of antioxidants and intensive hydration. Sensitive skins will especially love how soft, calm and smooth the skin looks when using it. Purchase Elderberry Toner
#11 Vitamin C Eye Brightener Get brighter eyes with less visible darkness, puffiness and fine lines with this high performance eye treatment. Purchase Vitamin C Eye Brightener
"Jet lag, tired eyes—this stuff takes care of it and makes me feel brighter." — Actress, Mary Elizabeth Winstead
#12 Triple Berry Smoothing Peel This "glow in a jar" is like getting a Renée Rouleau facial at home and is a must for anyone seeking clearer, smoother, more even-toned skin. Purchase Triple Berry Smoothing Peel
"A masterful scrub of superhero strength."  —T, The New York Times Style Magazine
#13 Night Time Spot Lotion Heal breakouts fast with this potent acne treatment. Purchase Night Time Spot Lotion
#14 Mint Buffing Beads Brighten dull, tired skin and reveal a radiant glow with this gentle scrub. Purchase Mint Buffing Beads
"It's a great morning pick-me-up and it's so luxurious." —Allure Magazine
#15 Sheer Moisture If you're needing an oil-free lotion that gives the perfect amount of hydration without clogging the pores or breaking your skin out, this is it. Purchase Sheer Moisture
So there you have it, our best selling products for 2014. Thank you for making it a great year at Renée Rouleau Skin Care and we have more new products in the works for 2015!
See our newest products launched in 2014.
Read: 34 Tips to Get Your Best Skin Ever
Which skin care products are best for you? See our nine skin types or take the Skin Type Quiz and get products recommended.
Need expert advice from a licensed esthetician? Schedule a virtual consultation to get customized advice in person, over the phone or online via Skype or FaceTime.
For more expert advice check out the blog. Also sign up for our skin tip e-newsletter, follow Renée Rouleau on Twitter and Instagram and join the discussion on our Facebook page. You'll be your own skin care expert in no time. Get the #ReneeRouleauGlow!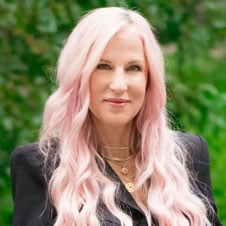 Celebrity Esthetician & Skincare Expert
As an esthetician trained in cosmetic chemistry, Renée Rouleau has spent 30 years researching skin, educating her audience, and building an award-winning line of products. Her hands-on experience as an esthetician and trusted skin care expert has created a real-world solution — products that are formulated for nine different types of skin so your face will get exactly what it needs to look and feel its best. Trusted by celebrities, editors, bloggers, and skincare obsessives around the globe, her vast real-world knowledge and constant research are why Marie Claire calls her "the most passionate skin practitioner we know."