Updated 7/7/15. I can't tell you how many times I've heard people complain of getting a sunburn but then say, "But I put sunscreen on! And it was even a high SPF number!" Sound familiar? The sun is seriously strong, and especially with fair skin types, a burn can be gotten in as little as 20 minutes, so preventing this takes a well thought out plan. Here are my expert tips for keeping your skin safe and protected from the sun whenever outdoors. 
Consider wearing UV-protecting clothing. The easiest way to prevent a sunburn from appearing on the skin of the body is to wear a shirt and pants that are made exclusively for blocking out the sun's rays. In the above photo, I am wearing a lightweight jacket when I was spending time outdoors in Miami. I find it so much easier to wear a shirt rather than having to worry about applying and reapplying sunscreen on my arms, back and shoulders. In Austin, Texas where I live, you can see me bicycling in the heat of the summer wearing this long sleeve shirt, too. I just find it so much easier than having to slather on SPF. Plus, it has air vents underneath the arms so it is somewhat breathable. I realize that not everyone will want to wear something like this, but do consider this easy fool-proof option. A t-shirt will definitely block out some of the sun too, but make sure the material is light in color has a tight weave and is not sheer.
Use a spray-on sunscreen for the body. Preventing a sunburn requires using something that will be fast, easy and convenient for application on the back, legs, arms and tops of the feet, so I believe spray sunscreens are the best to use. Since you spray it on, you don't have to deal with cream getting all over your hands and under your nails. Be sure to apply generously by spraying it at least 2 inches from the body. Many people make the mistake of not spraying it close enough to truly protect the skin. It should be dripping wet as it's sprayed on the skin to ensure a proper coating, but it does dry fairly fast.
For the face, use both a sunscreen cream followed by an SPF powder. I like using a lightweight sunscreen moisturizer (Daily Protection SPF 30 is great for my skin type) on my face and neck first to coat my skin cells with hydration. I then dust on an SPF 50 mineral powder (I recommend the ColoreScience brand) to provide another layer of protection.
Apply sunscreen generously every hour. This is truly the key to preventing a sunburn. Sunscreen is not so much about the SPF number (did you know that an SPF 50 provides less than 2% more protection than SPF 30?) but how much and how often you applied it. Sunscreens rinse off, wear off and sweat off leaving your skin exposed without you realizing it. Only applying it once and expecting it to last all day will definitely leave you with a red, painful sunburn including damage to the skin.
Always wear sunscreen, even it it's an overcast day. Skin is very vulnerable and needs to stay protected from the powerful UV rays. Once you get sunburned, no amount of sunscreen can stop the burn from appearing. Get out of the sun right away! Be smart and make a good plan to practice sun safety before you spend time outdoors, so you can enjoy the great outdoors and not pay the painful price.
One thing to note. I'm generally not a big fan of DIY skin treatments as you can read here, but I have heard some positive feedback about using black tea for soothing sunburns. There's a great conversation about it on Reddit.
Read: How To Prevent Summer Sun Spots
Read: Chemical Vs. Physical Sunscreens: Pros And Cons
Read: The Lazy Girl's Guide To Summer Skin Care
Which skin care products are best for you? See our nine skin types or take the Skin Type Quiz and get products recommended.
Need expert advice from a licensed esthetician? Schedule a virtual consultation to get customized advice in person, over the phone or online via Skype or FaceTime.
For more expert advice check out the blog. Also sign up for our skin tip e-newsletter, follow Renée Rouleau on Twitter and Instagram and join the discussion on our Facebook page. You'll be your own skin care expert in no time. Get the #ReneeRouleauGlow!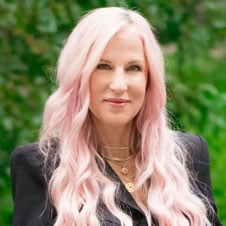 Celebrity Esthetician & Skincare Expert
As an esthetician trained in cosmetic chemistry, Renée Rouleau has spent 30 years researching skin, educating her audience, and building an award-winning line of products. Her hands-on experience as an esthetician and trusted skin care expert has created a real-world solution — products that are formulated for nine different types of skin so your face will get exactly what it needs to look and feel its best. Trusted by celebrities, editors, bloggers, and skincare obsessives around the globe, her vast real-world knowledge and constant research are why Marie Claire calls her "the most passionate skin practitioner we know."