My company has come a long way since I first started building it almost twenty-five years ago. One of the things I'm most proud of is the relationships and community we've built along the way. 
It's always brought me so much joy to see generations of women share and connect through beauty routines. Those of you who have read my blog before may or may not know that I was inspired by my grandmother, Irene, to go into the beauty industry. She owned the Powder Puff Beauty Shoppe, and I would hang there out as a little girl. I loved seeing the transformations in customers from when they arrived at the salon to when they left—you could just see they felt good about themselves.
For Mothers Day, I wanted to highlight a mother-daughter duo who has bonded through beauty and shared in the tradition of Renée Rouleau Skincare. I immediately thought of Fran and her daughter Olivia. Fran started coming to our spa in Dallas twenty years ago and was always such a ray of sunshine. When her daughter Olivia started getting breakouts for the first time, Fran started passing down her skincare knowledge and bringing her in as well. 
Fran and Olivia
Fran: 52, Skin Type #5 
Olivia: 20, Skin Type #2
How did you first hear about Renée Rouleau Skincare?
Fran: "My husband and I used to go to Lavendou, a french restaurant that was just a few doors down from Renée's spa in Plano, TX. My husband and I met in french class, so that was our little spot to go to. One day we were exploring the shops that were going up around there, and we went into the spa and actually met Renée. We struck up a conversation and she told us about her business. It was just great to make that personal connection and hear about her passion for skincare. We both ended up becoming clients." 
(Fun fact, Lavendou is where I first met Florian, my late husband. He managed the restaurant and it's where we fell in love and remained together for twenty-two years until his passing in 2018. I have such fond memories of that place and still dine there when I'm in Dallas.)
Olivia: "I started going to the spa about six years ago before I even started using the skincare products. I would go with my sister or my mom as a Christmas present or a little treat."
How long have you been using Renée Rouleau products?
Fran: "For me, at least twenty years. We've had a long journey together! I think what made me stick with it for so long was finding products that were tailored to the needs my skin had. I have really sensitive skin as well as a history with acne, and finding something that addressed both those concerns without causing a reaction or using harsh ingredients was a blessing. But also, I think it goes back to that original connection. Hearing Renée's passion for helping people with their skin and wanting her clients to feel confident was really important for me—it was right in line with the goals I had for my own skin."
Olivia: "I started using the products about four or five years ago. I had really problematic skin that started in high school, so my mom was very quick to introduce me to Renée Rouleau because that's what helped her so much."
What have been some of the biggest skin challenges you've both faced?
Fran: "As a teen, I had hormonal acne that was always a battle. I tried every over-the-counter and prescription remedy I could get my hands on until I finally had to resort to Accutane in tenth grade. That definitely helped a lot; it didn't completely clear everything up but it was still a huge boost for my skin and my confidence. Now I just have an appreciation for every day that my skin looks good. 
The other times I had hormonal flare-ups were during my two pregnancies. Getting regular facials really helped me because I had someone to guide me through the changes in my skin and teach me how to care for it."
Olivia: "I've struggled with acne since I was twelve, so my skin has been on quite the rollercoaster. Puberty changed my skin a lot, it felt like I went from having smooth, poreless skin to dealing with acne, large pores, and scarring overnight. More recently, I got an implant for birth control to help regulate migraines and some other symptoms. Unfortunately, one of the side effects was really, really intense breakouts all over my face."
What are your holy grail Renée Rouleau products?
Fran: "This was such a hard question for me. I think there are three I can't live without. Triple Berry Smoothing Peel is one, and Night Time Spot Lotion is a miracle worker whenever I feel a blemish coming on. But I think probably my top favorite is the Total Eye Repair Creme. I have tried so many eye creams (and expensive ones, too), but this is the only one I've ever tried where when I wake up, the skin around my eyes still feels supple and plump."
Olivia: "The products that have helped me the most are the Balancing Skin Tonic and Vitamin C&E Treatment. They were recommended to me after a facial and completely changed the skincare game for me. I've struggled with acne scarring for so long, and this combo really helps fade it more quickly and effectively than any other product I've used before. I also use the Anti Bump Solution on hormonal breakouts and really like it."
Are there any parts of your beauty routine you share?
Fran: "One thing that started making a really big difference for me, especially between facials, was the Triple Berry Smoothing Peel. I mean, every Sunday night is my little spa night. That's my time for just me, it's my self-care. I can tell afterward that my skin has more color and it feels softer and looks healthier. Incorporating that into my routine has been really big."
Olivia: "The Sunday facial routine is something I've picked up from my mom, and it's something we've definitely bonded over. When I'm home, we like to do it together. Since I've struggled with acne for so long and my mom had experience in that field, she was able to show me her ways and how to take care of it. I also love using the Triple Berry Smoothing Peel. Skincare is a big thing for me. I feel like every day, but especially on Sundays, I really make the time to focus on my skin and focus on myself. I can tell when I don't put in the time, I just feel different." 
What are some other beauty routines you've bonded over?
Fran: "Olivia has watched countless videos on makeup application, and she's really amazing at makeup. I've told her since eighth grade that it's something she could do professionally if she wanted to. She's always complimented on her makeup, and so while I was always sharing skincare tips with her, she was teaching me different tricks and things I could do with cosmetics." 
What is the best beauty lesson your mom ever taught you?
Olivia: "There are two things my mom taught me that are really big for me. One of them is to use my ring finger when I'm putting on eye cream because the skin there is so delicate. You don't want to pull on it or you'll get wrinkles, that's what my mom always told me. The other one is to always wear SPF no matter what because otherwise, sun exposure will make my acne scars darken."
Fran: "I actually forgot about the ring finger, I'm so used to it that I just do it on autopilot now. That's actually something my mom taught me, too. Two other things my mom taught me (and that I've passed on to the girls) are to never, ever sleep in your makeup no matter how tired you are, and to change your pillowcases often." 
Olivia: "I think we both became super aware of our skin at such a young age, and not everyone has that experience. But since we did, skincare has become so important in our daily routines."
Fran: "Definitely. When people don't have problems with their skin they can sometimes take it for granted, but we've always had to be diligent and careful when it comes to our skin. I think it's been a blessing in disguise, though, because we both developed good skincare habits early on. That something Renée told me once, actually.
I'm fifty-two now and people always tell me I look young for my age. I think some of it can be attributed to genes, but I also think it's just been from taking really good care of my skin by staying out of the sun, sticking to a consistent routine, eating well, and that sort of thing. It was a big help finding products that my skin loves and that I like using so much. That really helped me stick to a routine."
Thank you so much to Fran and Olivia for agreeing to be interviewed. I loved hearing about the traditions and tips they've passed along to each other, and I hope you did, too! Happy Mothers Day to all the moms out there. Xx Renée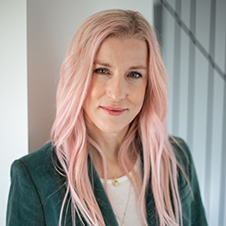 Celebrity Esthetician & Skincare Expert
As an esthetician trained in cosmetic chemistry, Renée Rouleau has spent 30 years researching skin, educating her audience, and building an award-winning line of products. Trusted by celebrities, editors, bloggers, and skincare obsessives around the globe, her vast real-world knowledge and constant research are why Marie Claire calls her "the most passionate skin practitioner we know."