Being in the beauty industry as well as in the public eye, I feel it's important to look my best. And certainly, as women, when we look our best, we feel our best, right? I've shared so many tips about skincare and skin health on my blog, so for this post I thought I'd switch gears a little and share 11 of my favorite beauty tips and tricks that I follow faithfully.
Beauty Tip #1
To give an instant glow, I wear a bright blush or lip color.
As I've talked about before, our glow starts to fade as we get older and the color of the skin can tend to look washed out. Applying a cool-based color of blush onto the apples of my cheeks or a hot pink or red lipstick to my lips instantly brightens up my complexion. This is my best pick-me-up trick after traveling on an airplane when I'm looking and feeling blah. If you wear makeup, stop doing these 12 things to your skin.
Beauty Tip #2
I protect my hands with mineral powder.
Despite being an esthetician for 30 years and always dipping my hands into amazing skin creams, oils and serums, my hands are still definitely showing the signs of aging. Most people are diligent about protecting their face, but the hands can be neglected. Sound familiar? My favorite, easy-breezy, hassle-free tip for the hands is to dust on an SPF mineral powder. I keep one in my car to easily dust on my hands and protect them when they are on the steering wheel, and I will always brush some on before I take a bicycle ride. I usually use ColoreScience Mineral Powder. It's super easy to use for instant sun protection, and I'll dust it on my face throughout the day, too.
Beauty Tip #3
I strategically sleep with my head a certain way on a firm pillow.
The second cause of wrinkles is sleeping. After sunlight/UV exposure, squishing the face into a pillow at night is like ironing wrinkles into the skin. For years, I have positioned my head so that the lower part of my face never even touches the pillow. See how I sleep.

Beauty Tip #4
I shave my face.
A few years ago, I started shaving my face. I sometimes do it at home with this special razor, or I get dermaplaning done. For women in their 40s (like me), the slow decrease of estrogen in our bodies can cause an increase in facial hair, but shaving can keep that hair growth in check. Also, any product you put on the skin directly after shaving (ideally a high-potency specialty serum for your skin type) will absorb into the skin more effectively. Since it removes peach fuzz, another bonus is that it allows for seamless foundation application. (And just for the record, no, your hair will absolutely NOT grow back thicker and darker. If this were the case, then we would have just discovered the cure for baldness. Think about how many bald men shave their heads yet it's certainly not stimulating hair growth.)
Beauty tip #5
I am super diligent about caring for my teeth—so much so that I use three toothbrushes.
The teeth get crooked with age and they take on a dull, yellow color. I always want to be confident in my smile, so I do everything possible to ensure they stay looking nice. While I had braces in my teens, I threw out my retainer years back so my teeth got crooked again. I went through the Invisalign system many years back, and now I still continue to wear the final retainer almost every single night to keep them in their place. To brush my teeth, I use a soft toothbrush first. Then I use a sonic toothbrush for a second cleanse, and a hard toothbrush for my tongue. Once a month, I'll do three nights in a row of Opalescence whitening. Lastly, I get a regular teeth cleaning and check-up every six months. I don't mess around when it comes to my teeth. Funny fact: whenever I go to France, my family will tease me and say I have "American teeth" because they are so white and straight. I have no shame in my teeth game!
Beauty Tip #6
I get a few hair extensions, not for length, but to increase volume.
As many of you may have discovered if you're over 40, the hair starts to thin out. I recently started getting just a few extensions put in on the sides just to give a little fullness. It's super easy because I don't have a lot put in, but it makes a big difference. (They dye them pastel pink to match my hair color.)

Beauty Tip #7
I keep up with fashion and don't get stuck in a clothing rut. I also buy my clothes at stores where younger people shop.
Certain stores have an age demographic to which they cater. While I think it's important to dress appropriately for your age, (women in their 40s never look good dressing like their teenage daughters, right?) I also think that, if you want to look ten years younger, why not dress ten years younger? That being said, I never go it alone. When shopping in a store, I find someone who works there and whose style I admire. I ask them to help me pick out some new clothes and let them be my personal shopper.
Tip: If you specifically say, "I'm in a rut with my clothes and want to update my look," they will work their magic on you. Don't fall into the "Oh, it's not my style" trap. Change is not easy, and when it comes to style its easy to go with the same old, same old. Sometimes, it's time for a fresh new look and a new set of eyes. Trust me, making this kind of change on the outside will give you a confidence boost and make you feel different on the inside, too. People will notice the change!
But, stop wearing this piece of clothing if you want to save your skin.
Beauty Tip #8
I always use an alcohol-free toner after cleansing.
Many people skip this step, but I never do. I'm a huge fan and advocate of using alcohol-free toners for all of these benefits:
They give your skin a drink of moisture when left damp on the skin before applying moisturizer
They remove chlorine and minerals found in tap water. These can dehydrate your skin and cause skin irritation
They balance the PH of the skin
They enhance the results of your skin care program
They support your skin's protective barrier
I'm a skin type #2 so I use Elderberry Soothing Toner in the summer and Moisture Infusion Toner in the winter. I apply them all with these Toning Cloths.
Beauty Tip #9
I am obsessed with keeping the skin on my body smooth and bump-free.
My late husband always complimented me on my silky skin, and while it takes a bit of extra effort, I think it's worth it. Caring for the skin on my body includes body scrubs, loofahs and regular use of an acid exfoliator for the body. Also read how to get rid of dryness and bumps on the body for your smoothest skin ever.

Beauty Tip #10
I never neglect the skin on my neck.
To look younger, it's really important to focus on the skin on your neck as well as the skin on your face. While I, like many people, neglected to care for my neck in my early years, I am much more diligent about it now. I love using a gentle exfoliating scrub on my neck with Mint Buffing Beads a couple of times a week. Then, every night, I apply Intensive Firming Neck Creme. I definitely had my fair share of sun exposure in my teen years, so here is how I repair the sun damage on my neck and chest.
Beauty Tip #11
I make getting beauty sleep a top priority.
Between work, exercise, daily stresses, frequent travel and public speaking or appearances, I can run my body down easily. If I don't get enough sleep, it can take its toll on my health and begin to show in my skin. At night, while we sleep, the body repairs itself for a fresh start the next day. When I shortchange my body on sleep, I can certainly feel it and see it. When I travel, I use a white noise app on my phone to tune out background noise. It helps tremendously in giving me an uninterrupted night of sleep.
I try to get at least eight hours of sleep every night if I can, and I'll often take a 30-minute power nap when I'm at the office. I really think the key to youthful looking skin and having an inner glow is taking great care of your body, and I consider sleep to be a crucial component of this.
I hope you found these 11 beauty tips and tricks helpful! Want to learn more about how I care for my skin? Here are 10 skincare rules I swear by.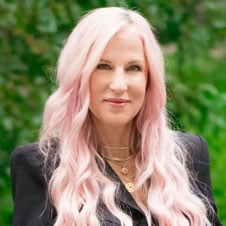 Celebrity Esthetician & Skincare Expert
As an esthetician trained in cosmetic chemistry, Renée Rouleau has spent 30 years researching skin, educating her audience, and building an award-winning line of products. Her hands-on experience as an esthetician and trusted skin care expert has created a real-world solution — products that are formulated for nine different types of skin so your face will get exactly what it needs to look and feel its best. Trusted by celebrities, editors, bloggers, and skincare obsessives around the globe, her vast real-world knowledge and constant research are why Marie Claire calls her "the most passionate skin practitioner we know."