Topical use of Vitamin C has been proven over and over to be an effective way to slow down the appearance of skin aging, when used on a daily basis. During the summer when there is an increase in sun exposure and free radical activity is at its highest, using Vitamin C is a must.
But, there is much discussion about which type of topical Vitamin C you should use on your skin to reduce inflammation, suppress free radical activity, brighten discoloration and lessen the appearance of skin aging. Most Vitamin C products out on the market use the acid forms of the Vitamin (like Ascorbic Acid). These are in fact, acids, which is why you can feel a stinging sensation on the skin. The research on skin aging indicates that daily use of skin irritating acids actually encourage free radical formation, which counteracts the reason why you're using Vitamin C in the first place! Plus, the problem with these acid types of Vitamin C is that they are highly unstable.  Every time you open the bottle, oxygen gets into the product and begins to break it down.  If your Vitamin C serum starts to turn brown half way through the bottle, that's a sign that it is oxidizing and is losing its effectiveness. (Think of an apple that turns brown 20 minutes after taking a bite.)
Research indicates the best form of topical Vitamin C to fight free radicals and reduce the look of skin aging is Magnesium Ascorbyl Phosphate. It converts to Ascorbyl Acid once inside the skin, stays stable, and is time-released so it works for up to 8 hours. Additionally, it acts as a natural skin lightener to fade stubborn brown spots and post-breakout marks, and it won't irritate the skin like others will do. If you're someone who hasn't been able to use Vitamin C because it irritates your skin, then you should be using a formula containing Magnesium Ascorbyl Phosphate….

What percentage of Vitamin C is best?
Many formulas available contain 10-20% Vitamin C and they frequently do so to offset the amount of Vitamin C that is oxidized throughout the product's lifetime. Within six months, retesting of high percentage Vitamin C products like these shows their content can diminish to 2% or less, with the remainder of the Vitamin C oxidized which is apparent as the product begins to turn brown. (Oxidized Vitamin C can irritate the skin and cause blocked pores.)
The three delivery vehicles in Vitamin C&E Complex ensure the equivalent of 14% free Vitamin C is delivered into the skin. Because our Vitamin C&E Complex is time-released and slowly converted to its acid state over several hours, irritation is significantly reduced or eliminated. The delivery vehicles also ensure the Vitamin C level stays constant throughout the shelf-life of the product, producing maximum vitamin stability and activity of a year or longer.
Bonus: Known to be synergistic in their effects, Vitamin C recycles Vitamin E as an antioxidant, increasing Vitamin E's free radical-scavenging effects fifty times more than normal. These vitamins also help prevent sebum oxidation, working together to reduce and prevent blackheads and clogged pores.
Get your daily dose of Vitamin C and the best results from it, by using the right kind of Vitamin C!

Read: The Best Summer Fruits To Eat For Healthy Glowing Skin
Read: Going To The Beach? Tips To Save Your Skin
Read: Five Essentials To Stay Burn-Free At The Beach
Read: 6 Summer Skin Care Tips
Which skin care products are best for you? See our nine skin types or take the Skin Type Quiz and get products recommended.
Need expert advice from a licensed esthetician? Schedule a virtual consultation to get customized advice in person, over the phone or online via Skype or FaceTime.
For more expert advice check out the blog. Also sign up for our skin tip e-newsletter, follow Renée Rouleau on Twitter and Instagram and join the discussion on our Facebook page. You'll be your own skin care expert in no time. Get the #ReneeRouleauGlow!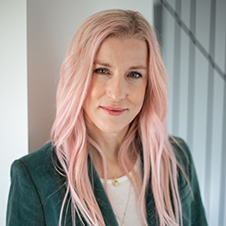 Celebrity Esthetician & Skincare Expert
As an esthetician trained in cosmetic chemistry, Renée Rouleau has spent 30 years researching skin, educating her audience, and building an award-winning line of products. Her hands-on experience as an esthetician and trusted skin care expert has created a real-world solution — products that are formulated for nine different types of skin so your face will get exactly what it needs to look and feel its best. Trusted by celebrities, editors, bloggers, and skincare obsessives around the globe, her vast real-world knowledge and constant research are why Marie Claire calls her "the most passionate skin practitioner we know."