Updated 12/17/2020. Many people shy away from wearing a full face of makeup every day. They often believe that wearing foundation daily clogs the pores or suffocates the skin and that it's good to let the skin breathe. Sound like you? Continue reading!
Is Foundation Bad for Your Skin?
In my profession as an esthetician, my number one goal is to get my clients' skin clear and free of blemishes and brown spots so they don't feel as though they have to hide under makeup. However, I actually encourage all of my clients to never let their skin be bare and I always suggest them to wear some sort of foundation or powder makeup every single day of the year— regardless if they are going out or not. Let me explain.
Why You Should ALWAYS Wear Foundation
First, foundation makeup can come in the form of a moisturizing liquid (best if your skin is dry and more mature), an oil-free liquid (best if your skin is combination to normal), or a powder (best if your skin is oily and acne-prone). As long as you're using makeup that's appropriate for your skin type, you shouldn't find that it clogs your pores. Read my list of the best foundations for oily, acne-prone skin.
Second, as far as makeup suffocating the skin and preventing it from "breathing," the skin does not respirate the way our lungs do. So there's no worry about there! (Although I understand that people use the word "breathing" to indicate they don't want something clogging their pores.)
Foundation Forms a Protective Barrier on Your Skin
The truth is, makeup (again, when appropriate for your skin type) offers a much-needed barrier that protects against harmful UV rays. This serves as an additional barrier above and beyond your daily sunscreen. You should still always wear sunscreen as your daily moisturizer. The sun's UV rays are the number one cause of skin aging. The top cause is not genetics, smoking, or even really age! The sun and the rays it gives off is absolutely the skin's WORST enemy. Therefore, foundation makeup or powder will act as an insurance policy to ensure your skin is adequately protected. (Since many people don't apply enough sunscreen since many of them can feel too heavy.)
Safeguard Your Skin From Harmful UV Rays and Blue Light From Screens
If your makeup or powder doesn't indicate an SPF number on the tube or bottle, it's important to know that you're still getting protection from daylight. This simply means that your product wasn't FDA-approved as an official sunscreen and that was the brand's decision in how they want to market their product. However, most makeup today contains titanium dioxide, which is a proven UV-protective ingredient and used in so many sunscreens.
In addition, a visible light study published this year in the Journal of Drugs and Dermatology found that metal oxides commonly used in foundation makeup offered significant protection against discoloration caused by visible light emitted from screens. (Have you heard about blue light?) This study showed that foundation makeup did a better job protecting against the light from screens than traditional mineral sunscreens. Since we're all spending more time in front of our screens than ever, this is a pretty exciting discovery!
For me, I always wear a mineral powder on my casual days. On days when I'm working and more in the public eye, I'll use a regular foundation. Either way, I always have some kind of makeup layered on my skin over my sunscreen and I have been doing this for years. Please do your skin a favor and start wearing makeup NOW. Think of it as an extra insurance policy that will help ensure your skin ages in a healthy way. Remember, it's much easier (and less expensive) to prevent wrinkles than it is to get rid of them once they appear.
Note: Foundation makeup IS NOT a substitute for wearing sunscreen as your daily moisturizer. Be sure one that you'll enjoy wearing so you can have it on your face and neck every day!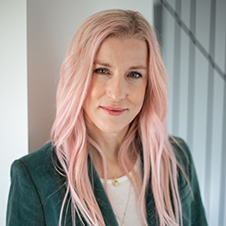 Celebrity Esthetician & Skincare Expert
As an esthetician trained in cosmetic chemistry, Renée Rouleau has spent 30 years researching skin, educating her audience, and building an award-winning line of products. Trusted by celebrities, editors, bloggers, and skincare obsessives around the globe, her vast real-world knowledge and constant research are why Marie Claire calls her "the most passionate skin practitioner we know."