One of the biggest concerns for Latina women when it comes to their skin is how to get rid of brown spots and discoloration and because of this, it requires specialized care with skin care products to keep the skin looking clear, bright and even-toned. So what steps can Latina women take to prevent and reduce brown spots and hyperpigmentation caused from age, genetics, hormones and blemishes? As an esthetician in Dallas, Texas with two Renée Rouleau Skin Care Spas, I have given many skin treatments to men and women of Latino descent (including Demi Lovato) so I am well-versed in how to care for this condition. Here are my expert tips.
Wear sunscreen daily and apply it generously. The number one cause of premature skin aging is wrinkles, and exposing your skin to the sun can stimulate melanin cells to bring out brown spots. No one, even Latino complexions, is immune to the sun's damaging rays.
Especially for oily skin (which many Latinas are prone to), it is important to find a sunscreen that won't feel heavy and greasy on the skin, so you can wear it daily without worrying about it causing clogged pores and breakouts. Renée Rouleau Daily Protection SPF 30 is a great choice.
Limit exposure to heat and sun. For years, it was thought that "sun spots" were just like the name suggests – spots from the sun. However, newer research indicates that it is not only direct UV rays, but also the heat given off from the sun that can stimulate melanin activity, resulting in brown spots. Knowing this, if brown spots are a concern for you, you'll definitely want to limit your exposure to both heat and sun.
Use exfoliating skin care products regularly at home. One of the keys to reducing skin discoloration, particularly once it has appeared, is to use exfoliating products such as facial scrubs (using round beads, not harsh natural grains like apricot kernels that can be too irritating and actually stimulate melanin cells) and mild, alcohol-free exfoliating acids such as glycolic acid and salicylic acid. These exfoliants, when used regularly, can help break apart pigmented cells to lessen their appearance.Note: The regular use of exfoliating acids can increase sensitivity, which can make the skin vulnerable to the sun. Be sure to discontinue using exfoliants three days prior to being at the beach, lake or pool when you'll be in direct contact with the sun for over three hours. I recommend Mint Buffing Beads for a gentle facial scrub to be used a few times a week and BHA Clarifying Serum as a skin-brightening exfoliating serum to be used at night under moisturizer. These are great for all Latino skin types.
Use a skin lightener. In addition to exfoliating, applying a skin lightener to the skin will help suppress melanin cells to fade and prevent brown spots. Many skin lighteners contain the ingredient Hydroquinone, which is a fairly controversial ingredient, so if you want to use something natural, I suggest using Magnesium Ascorbyl Phosphate, a type of vitamin C that is a proven skin lightener. I highly recommend Vitamin C & E Treatment as it contains this ingredient, and can work extremely well to fade stubborn pigmentation when used daily under sunscreen.Bonus: Durham, N.C.-based Duke University Medical Center researchers determined that using a lotion or serum with Vitamins C and E under sunscreen actually provides four times the protection of sunscreen alone. To bump up your SPF, use our Vitamin C& E Treatment under sunscreen, like Daily Protection SPF 30.
Consider getting a professional chemical peel. A chemical peel involves applying a chemical solution (acid) to skin of the face to remove and exfoliate the outer layers of skin so that a clearer, more evenly pigmented, glowing layer of skin can appear. It is also instrumental in the stimulation of fibroblasts and creating new collagen. The new, regenerated skin is usually smoother, less wrinkled and less pigmented than the old skin. Depending on the type of peel, they are often repeated every 1-6 weeks to achieve the desired results of reducing discoloration.
Caution: When it comes to chemical peels, it's extremely important that the person administering the treatment is well-versed and experienced in caring for Latina skin.
At Renée Rouleau Skin Care Spas, we offer a variety of corrective skin peels all with the goal in mind of giving aggressive skin-smoothing exfoliation to break down pigmented cells, but without the down time and extreme irritation associated with chemical peels administered at a medical office. Our Latina clientele find these less-invasive peels fit better with their lifestyles.If you're in the Dallas, Texas area, consider scheduling an appointment for a Skin Repair Program. It's a series of three chemical peels and three hydrating skin repair treatments given over the course of six weeks. It gives a controlled exfoliation since it's not a one-time treatment. The result is smoother, healthier skin with a smaller-pored, brighter, even-toned look. Schedule an appointment online here.
For a skin peel that you can perform at home, I recommend Triple Berry Smoothing Peel. It gives incredible brightening to the skin and enhances the results of your regular exfoliating products. Our Latino clients absolutely love the results it gives their skin.
Note: As for getting laser treatments to reduce discoloration, only certain ones are compatible with Latino complexions so do your research before investing in those procedures.
Learn how to care for your blemishes by not picking at them. If you pick at it and aggravate it even more, the blemish scar can last for months.
Read: How To Get Rid Of A Blemish Fast which gives step-by-step instructions for how to handle a blemish the moment it appears to make it come and go quickly with minimal scarring.
Latina women have beautiful skin and usually have fewer wrinkles than other ethnic skin types. This makes them age very well, usually looking much younger than their chronological age. With the added help of my expert tips, products and treatments, beautiful skin is guaranteed for a lifetime.
Two of my Latin celebrity clients who use my skin care products are singer and X-Factor judge, Demi Lovato and actress, Maria Canals Barrera. They both have incredible skin. In fact Maria, at age 47, has one of the most beautiful complexions I have ever seen and I interviewed her here to find out her beauty secrets. I have also consulted with actress, Sofia Vergara about her skin and she has amazing skin, too.
I was very excited to be featured in Latina Magazine. "Demi Lovato owes her flawless skin to Rouleau's tried-and-true beauty tips." See the feature in Latina Magazine here.
Which skin care products are best for you? See our nine skin types or take the Skin Type Quiz and get products recommended.
Need expert advice from a licensed esthetician? Schedule a virtual consultation to get customized advice in person, over the phone or online via Skype or FaceTime.
For more expert advice check out the blog. Also sign up for our skin tip e-newsletter, follow Renée Rouleau on Twitter and Instagram and join the discussion on our Facebook page. You'll be your own skin care expert in no time. Get the #ReneeRouleauGlow!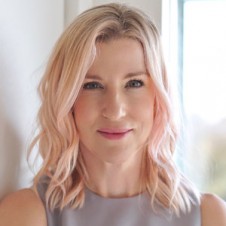 Celebrity Esthetician & Skincare Expert
As an esthetician trained in cosmetic chemistry, Renée Rouleau has spent 30 years researching skin, educating her audience, and building an award-winning line of products. Trusted by celebrities, editors, bloggers, and skincare obsessives around the globe, her vast real-world knowledge and constant research are why Marie Claire calls her "the most passionate skin practitioner we know."