A wedding, despite often being the best time in a woman's life, can also be the busiest, most demanding, and the most stressful time, therefore causing unexpected skin problems to appear. Here are my solutions to common wedding skin emergencies.
PROBLEM: A zit appeared on my face the day before my wedding. Help!
SOLUTION: Don't panic. Instead, follow these three simple steps.
1. Apply ice. Due to the cold temperatures of the ice, it can help reduce inflammation in a blemish to diminish redness and swelling.
How to: Apply ice for ten minutes at a time and repeat every few hours…
2. Apply a nondrying spot treatment or cortisone cream. When most blemishes appear, they're in their red, swollen inflammation stage, so immediately applying a spot treatment could help reduce the appearance of the blemish. But due to the drying nature of many spot treatments, they could leave the skin dry, flaky, and more irritated, which will make wedding makeup not go on as smoothly – therefore making the blemish more noticeable.
The key to hiding a blemish on your wedding day is to ensure that you don't disrupt the surface of the skin with harsh drying products. By using a nondrying, anti-inflammatory spot treatment like Anti-Cyst Treatment or an over-the-counter cortisone cream, you can help to reduce inflammation without disrupting the texture on the surface of the skin.
3. Don't pick at the blemish.  Again, the key to making an unexpected blemish the least noticeable on your wedding day is to not disrupt the skin's surface, and as we all know, picking a blemish only results in an oozing, bleeding, messy scab. So do know that a picked-at blemish is far harder to conceal and will be far more noticeable than a closed bump. The choice is yours.
PROBLEM: The tears of joy at my rehearsal dinner have caused my eyes to be puffy.
SOLUTION: Follow these two steps.
1. Apply a compress. Extreme cold can help to reduce swelling, so apply a bag of frozen peas over the eyes and keep on for ten minutes. Repeat every hour. You can also keep a spoon in the refrigerator, and apply that to the under eye area. This can help as well.
2. Massage the eye area. With your ring finger, apply a slippery eye gel like Vitamin C Eye Brightener to the eye area, and in small circular motions, massage the skin. The stimulation from the massage can help encourage fluids to work their way out from the area around the eyes.
PROBLEM: My skin is dry and flaky, and I'm afraid my makeup won't go on smoothly.
SOLUTION: Exfoliate. Certainly it is hard to have makeup look as nice on dry, flaky skin, which is why you should never use products that leave your skin feeling tight or dry, or make it look flaky and irritated, regardless of whether it's your wedding day or not. Lightly polish the skin with a very gentle facial scrub that uses round beads (like Renée Rouleau Mint Buffing Beads) that will very gently polish away dry, flaky skin cells. You can then ensure smooth skin by applying a thin coat of a mild acid serum like AHA Smoothing Serum 10%, leaving it on overnight. While you sleep, the acid serum will dissolve any surface flakiness to make sure that you have smooth skin for your wedding day.
PROBLEM: My nerves are causing my skin to get red and flushed.
SOLUTION: Follow these three steps.
1. Keep the room temperature cool. It's common for the excitement and nervousness of your wedding day to cause increased blood flow to the skin, and being in a cool environment can help keep the temperature of the skin and body lower to prevent any unnecessary redness.

2. Use a gel mask. Put a gel mask (like Renée Rouleau Bio Calm Repair Masque) in the refrigerator and apply it to clean skin, leaving on for 15 minutes. Repeat as needed. Gel masks, especially when they are kept in the refrigerator, have a cooling, anti-inflammatory effect on the skin.
3. Apply ice packs. If you need a quick fix to reduce redness and lower the temperature on the skin, ice packs can do the trick.
Most importantly, don't fret. Most often, you're the only one that notices any skin emergencies that might come up. Relax, take deep breaths, and enjoy your wedding day!
Read more skin care tips for the bride.
Which skin care products are best for you? See our nine skin types or take the Skin Type Quiz and get products recommended.
Need expert advice from a licensed esthetician? Schedule a virtual consultation to get customized advice in person, over the phone or online via Skype or FaceTime.
For more expert advice check out the blog. Also sign up for our skin tip e-newsletter, follow Renée Rouleau on Twitter and Instagram and join the discussion on our Facebook page. You'll be your own skin care expert in no time. Get the #ReneeRouleauGlow!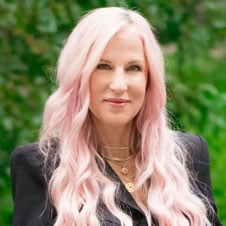 Celebrity Esthetician & Skincare Expert
As an esthetician trained in cosmetic chemistry, Renée Rouleau has spent 30 years researching skin, educating her audience, and building an award-winning line of products. Her hands-on experience as an esthetician and trusted skin care expert has created a real-world solution — products that are formulated for nine different types of skin so your face will get exactly what it needs to look and feel its best. Trusted by celebrities, editors, bloggers, and skincare obsessives around the globe, her vast real-world knowledge and constant research are why Marie Claire calls her "the most passionate skin practitioner we know."