Updated 06/13/23. Whether you're dealing with a stubborn skin problem or are simply looking to get your best skin ever, nothing compares to getting guidance from a licensed skincare professional. I always tell people, "Don't go it alone."  This is because no matter how much research we do or how many products we try, it's tough to be objective when it comes to our own skin. If you've hit a wall or are unsure of how to best treat your skin, I highly recommend investing in a visit to a trained esthetician. 
That said, finding the right person to treat your skin is easier said than done. Keep reading for tips on how to get started and what to look for once you're in the treatment room.
How to Find an Esthetician In Your City
Trying to find an esthetician for the first time can be overwhelming. Here are a few ways to get started…
Ask Friends
Choosing the right esthetician ultimately comes down to personal preference, so what works for your friend might not work for you. That said, word of mouth is a powerful tool and can be a great way to find a reputable skincare professional. Try to talk to friends whose skin types or concerns are similar to yours. This is especially important if you have a specific condition such as rosacea, acne, discoloration, or sensitivity. Not sure what your skin type is? Find out here!
How well you connect with an esthetician is also about personality. You want to find someone you have a good rapport with and can talk to easily—someone you feel listens to you and understands your concerns. If a friend recommends an esthetician based on having a good relationship with them, this is a good sign!
Use Social Media
If you don't get any good responses from your immediate friend group, try reaching out on Facebook, Twitter, or Instagram for recommendations.
Search Online
Read reviews. While online reviews should always be taken with a grain of salt, they're a good way to suss out whether a spa is reputable before you take the plunge. Yelp is still the best and most extensive resource for finding spa recommendations online. You can use key search terms such as spa, facial, and esthetician. Look through facilities in your area to find out which ones are recommended by the community; a high rating isn't everything, but it's a good start. Once you identify a few different spas, go through reviews to see if any estheticians' names repeatedly pop up. You may also be able to narrow your search down to spas that cater to your skin condition by adding filters. You can also search for certain keywords in the search bar of the review section (i.e. acne or sun damage).
Read: Dermatologist Vs. Esthetician: Who Should You See For Your Skin?
Once You Get Your Recommendations…
Once you find a couple recommendations, here's what you can do to vet spas and/or estheticians.
Visit Their Website
A reputable spa or esthetician should have an easy-to-use website that clearly states all the information you're looking for, like services offered, prices, and how to book. It's important to find a place that offers a wide range of skincare services to give your skin everything it needs. For example, a medical spa that only offers chemical peels and laser treatments may not be the best option for those who want to take a gentler approach. On the other hand, a day spa that only offers pampering facials may not give you the results you need.
It's also worth researching the product line or lines a spa uses. Some lines cater to specific issues and skin types more than others. If a spa or esthetician uses multiple lines, that's a plus! This is because they can really personalize things for you and make sure your concerns are being addressed.
Call the Front Desk
Once you've checked out the website and are satisfied that a spa looks legit, call the front desk. Explain your specific needs and concerns to the receptionist, and ask for an esthetician who specializes in these. For example, you might say,
"I have a lot of clogged pores and bumps, who is the best at extractions and has the most experience with this?"
"I have rosacea and my skin is highly sensitive. Do you have any estheticians who have personal experience with this? Who is your most experienced esthetician?"
If the receptionist insists that all the estheticians are equally experienced with your condition, try saying something like,
"I'd really like to know who has treated this condition the most. I don't mind waiting for an appointment if he or she is booked up, I just want to make sure I'm seeing the right person for my concerns."
Most of the time, you'll get an honest answer.
Read: 10 Reasons To Get A Facial
Once You're In the Treatment Room…
Once you've scheduled an appointment and are in the treatment room, these are a couple things I believe you should look out for.
Consultation
When seeing a new esthetician, the first thing they should do is perform an in-depth consultation. I believe a good esthetician should listen carefully to what your skin concerns are, not tell you what they think you should be concerned about. In general, if it seems like someone is insulting your skin to sell you more services, I would be skeptical. Your esthetician should ask you a range of questions to get to know your skin. For example:
What are your top three skin concerns in order of priority?
What is your current skincare routine?
Are you using any prescriptions?
Is this a normal skin day for you, or are you experiencing anything different than usual?
Have there recently been any shifts in your lifestyle or diet?
Are you using hormonal birth control?
You should also ask a lot of questions during your consultation. In particular about the cost of treatment, possible side-effects, your esthetician's comfort level with the procedure, and the results they can guarantee. An esthetician should be honest and upfront with their answers, and if they hesitate or get defensive, it may be a red flag. This is essentially an interview to help you determine whether you can entrust them with your skin. You should also ask your esthetician how to reach out to them after the treatment in the event you experience side effects or have questions. It's impossible to guarantee how someone's skin will react, even to the most basic treatments, and side effects are always a possibility. For this reason, you want to know that you can reach out to your practitioner between appointments.
If you're struggling to find an esthetician in your city, don't forget you can always book a virtual consultation with one of our amazing Renée Rouleau estheticians!
Treatment
As an esthetician, I like to err on the side of caution. I think it's always best if your esthetician starts slow and gentle then builds rather than risking skin damage or a reaction. If at any time during your treatment something feels off, feels uncomfortable, or even hurts, speak up. Your esthetician should regularly check in with you anyways, and if you mention that something doesn't feel right, they should listen and stop immediately. Don't feel like you have to sit through a treatment just to be polite. It's your skin, and if something feels wrong, there's no need to keep going. I'm a firm believer in gut feelings and think you should trust your intuition.
Game Plan
At the end of your facial, your esthetician should go over any post-care instructions with you and answer any remaining questions you have. In my opinion, an esthetician should also help you create a game plan for your at-home skincare routine. A facial is only one hour every few weeks or months. It's what you do every day at home that will ultimately make the most difference in your skin. I think of an esthetician as a skin coach; they should teach you how to best care for your skin between sessions, which products to use, and how to adjust your routine as needed.
Keep Expectations Realistic
Finally, try to be realistic about what can be achieved during a one hour facial. While a facial can immediately make your skin soft and glowy, tackling issues like pigmentation, acne, or sensitivity doesn't happen overnight. On the flip side, be wary of anyone who seems to offer miracles. If their promises seem too good to be true, they probably are!
Read: How To Give Your Skin An At-Home Facial
Bottom Line
There is no perfect way to find the right esthetician for you, and unfortunately, some amount of trial and error is inevitable. At the end of the day, what's most important is that you feel comfortable with someone and feel like you're being listened to. That said, there are many things you can do to vet a spa before going in. I hope this post gets you closer to finding your esthi bestie!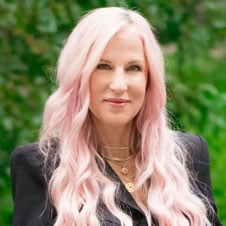 Celebrity Esthetician & Skincare Expert
As an esthetician trained in cosmetic chemistry, Renée Rouleau has spent 30 years researching skin, educating her audience, and building an award-winning line of products. Her hands-on experience as an esthetician and trusted skin care expert has created a real-world solution — products that are formulated for nine different types of skin so your face will get exactly what it needs to look and feel its best. Trusted by celebrities, editors, bloggers, and skincare obsessives around the globe, her vast real-world knowledge and constant research are why Marie Claire calls her "the most passionate skin practitioner we know."