Updated 11/17/20 Winter is almost here, and unfortunately, that means cold and flu season! Between continuously blowing your nose, your body being worn down, and taking all sorts of medication to manage symptoms, being sick definitely affects your skin — and not for the better.
In this post, I'll share my expert tips to keep your skin looking its best even when you aren't feeling your best. After all, when you look better, you feel better, right?
How Can I Make My Skin Look Better When I Have a Cold?
Here are a few simple steps you can follow to keep your skin in good condition, even when you're feeling under the weather.
Use a Humidifier in Your Home and Bedroom at Night
When the air is dry, it takes moisture wherever it can get it through a process called osmosis— and that means robbing it from deep within the layers of your skin. If you're sick and using decongestants, this will also dry your skin from the inside out, so you're guaranteed to be especially parched. Using a humidifier in your home and bedroom at night will help raise the humidity levels, so the air is less likely to want to take moisture from your skin. This will really help keep your skin feeling comfortable! (Here are six ways using a humidifier benefits your skin.)
Another benefit of using a humidifier is that you may be able to prevent the spread of the flu. I read a study that concluded a virus is less likely to survive when relative humidity is between 40% and 60%. A home in the winter can drop to as low as 15% humidity, so using a humidifier can boost this significantly.
Apply a Cooling Gel Mask to the Skin
Since decongestants can be so dehydrating, a gel mask is a great way to put water back in the skin to keep it looking hydrated and dewy. Due to the cold nature of gel masks, another benefit is the relief it can provide from the pounding head and achy face that often accompany congestion. To make the gel mask even colder (which will feel even more amazing when applied to the face), put it in the refrigerator for an hour prior to using it.
Recommended gel mask: Bio Calm Repair Masque or Rapid Response Detox Masque.
Sleep With a Cream Mask on Your Skin
If you are a skin type #5, #6, #7, #8 or #9, your skin will be dry in the winter no matter what, so adding in a cold or flu will only make it worse. For dry skin types, I like to recommend a deeply nourishing cream mask to dramatically restore moisture levels in the skin. Instead of the usual process of rinsing off a mask after 15-20 minutes, a cream-based mask can be left on the skin overnight to maximize results. The reparative oils in the mask will leave skin moist and dewy in the morning!
Recommended cream mask: Pure Radiance Creme Masque.
Keep Moisturizer or Facial Oil on the Nose at All Times
When you're sick, the nose area can quickly become red, dry, and irritated from repeated blowing of the nose and friction from tissues (even tissues with added moisturizer). After every blow, apply a small amount of cream or facial oil to the nose area. This will provide instant comfort and prevent further damage to the skin.
To repair dry, flaky skin, look for the following emollient, barrier-repairing ingredients when choosing a moisturizer or oil:
•Borage Oil
•Bois De Rose Oil
•Carrot Oil
•Evening Primrose Oil
•Cranberry Oil
•Ceramides
•Linoleic/Linolenic Acids
•Squalane
•Linoleic Acid
•Tocopheryl Linoleate
•Phytosterols
•Shea Butter
•Sunflower Oil
•Soybean Oil
•Safflower Oil
•Jojoba Oil
•Sweet Almond Oil
•Canola Oil
•Sesame Seed Oil
These ingredients will correct both the lack of oil and the lack of hydration deep within your skin, and they will actually repair the skin's lipid moisture barrier.
Recommended creams and oil: Phytolipid Comfort Creme, Glow Enhancing Creme, and Pro Remedy Oil.
Use Skincare Products with Mint Ingredients
Being sick can make the skin can look gaunt and sallow while your body is fighting an infection within. In addition, nasal congestion makes it so hard to breathe. Using a natural, mint-infused cleanser to wash your face will help clear up a stuffy head by opening up the nasal passages and stimulating blood flow to the face, adding a much-needed glow.
Recommended cleanser: Mint Renewal Cleanser (I will put this in the palm of my hand before applying it to my face and do a few slow, deep inhalations.)
Put Pure Eucalyptus Essential Oil in Your Shower
I personally do this every single morning, but it's especially helpful when you have a cold or flu and need to clear your head.
Use pure eucalyptus essential oil (It contains a high amount of the oxide called eucalyptol, which loosens mucus secretions, relaxes muscles, and opens the airways for easier breathing).
Pour 30 drops all over your shower floor (I shake the bottle for 15 seconds, so I'm not sure how many drops actually come out, but you have to use a fair amount).
Don't turn on the shower fan (Since there is little to no humidity in the air during the winter, the steam given off from a shower can be wonderful for preventing moisture loss).
Wait 5 minutes for the scent to settle into your shower.
Step into the shower and breathe in deeply to take in the eucalyptus scent.
Turn on the hot water and close the door. Your shower will be instantly transformed into a luxurious spa experience that will wake you up and get you breathing better! (You can also add a few drops directly to the palms of your hands and cup them over your face with your eyes closed, then do five slow in-and-out inhalations).
Happen to have eucalyptus leaves handy? Read this Into The Gloss feature on how to hang eucalyptus in your shower!
Drink Lots of Water
Despite what you've always been told, drinking water is actually the least efficient way to hydrate the skin, so, unfortunately, this tip won't do much for your skin's appearance. Drinking water is still important, though, because it keeps fluids running through your system, which flushes away toxins and keeps your internal temperature down while you're sick. This keeps your skin looking better overall.
I sincerely hope my expert tips will help you look and feel better when you're not at your best. If you can muster up the energy, these steps can really make a difference. Feel better!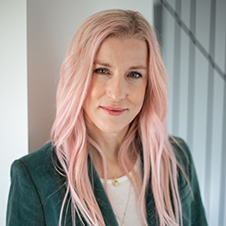 Celebrity Esthetician & Skincare Expert
As an esthetician trained in cosmetic chemistry, Renée Rouleau has spent 30 years researching skin, educating her audience, and building an award-winning line of products. Trusted by celebrities, editors, bloggers, and skincare obsessives around the globe, her vast real-world knowledge and constant research are why Marie Claire calls her "the most passionate skin practitioner we know."