"How do I get rid of the brown spots on my face?" This is one of the most common skin questions I hear from clients and one of the most challenging problems to resolve. Skin cells have a memory and the longer you have them, the harder they are to fade and, even then, small amounts of UV light can reactivate them quickly. In addition to that, did you know that overheated skin can also make brown spots worse?
Unfortunately, I have first-hand experience in this matter…
A few summers ago, I decided to take up running. In Texas, our summers are extremely hot so the only bearable time to run in the evening is at 8pm, when it's a bit cooler outside even though there is still sun light. To prepare for my run, I would apply sunscreen generously to my face, dust on a generous coat of SPF 50 mineral powder for additional UV protection (ColoreScience SPF 50 is my favorite brand) and put on a visor to shade my face from the sunlight. I thought I was properly (if not overly) protected from the sun…but I was wrong.
At the time I was 39 years old and I was slowly starting to see subtle brown spots showing up on my skin. These spots are fairly common on people in their late 30's and early 40's due to hormonal changes. I was using a natural skin lightener to help fade my brown spots, but as the summer went on, I noticed they were getting much worse on my forehead. I thought long and hard as to why this could be and I finally figured it out. They were being made worse from running. But wasn't my face so protected from the sun with all that sunscreen AND a visor on my head? I discovered that my brown spots weren't affected by sunlight, but rather from the heat when I was exercising.
Keep in mind that the sun (which is commonly known to be one of the main causes of hyperpigmentation in the skin) never, ever saw my forehead because I had a hat on. What happened was that the skin on my forehead got overheated from both the sweat and heat caused from running, as well as the band on the visor, trapping additional heat into the forehead. Basically, when I took off my visor post-run, my forehead was beet red and it triggered melanin activity making my brown spots worse.
Pigmentation is so reactive and easily stimulated from heat, sun, aggressive rubbing (this is why I've talked about how the Clarisonic brush isn't ideal for people with a lot of brown spots), and certainly hormones and genetics are a factor too.
Read: Is The Clarisonic Brush Harmful Or Helpful To The Skin?
So what can you do to fade brown spots?
The goal is to suppress melanin activity as much as possible to get those pigmented cells to go to sleep, and therefore fade. This means not only being strict about staying out of the sun and protected when you're in it, but also keeping the temperature of the skin low and avoiding extreme heat. (This is why I won't do one of those HOT yoga classes. It's not good for my pigmentation.)
Keep the skin as cool as possible. To keep the skin cool, especially post-exercise, I suggest keeping a gel-based mask in the refrigerator, and applying (after cleansing the skin, of course) a thin coat, leaving on for 15 minutes, not only to cool the skin, but also to help deliver water to hot and thirsty skin. Don't have a gel mask handy? A bag of frozen peas applied to the skin for 15 minutes can also help to cool overheated skin.
Use a skin lightener. I always advise my clients to go the non-prescription route first, since prescription bleaches like Hydroquinone have controversy associated with them that may be harmful for your health. (You can read more about that here.) My favorite over-the-counter skin-lightening ingredient is Magenisum Ascorbyl Phosphate, a form of vitamin C that is a proven melanin suppressor. There are also other fading ingredients like Licorice Extract, Kojic Acid and Soy Extract that can also help inhibit melanin production, but Magnesium Ascorbyl Phosphate is what I have found to be most effective for both my clients and me.
Exfoliate often, but gently. One of the keys to managing skin discoloration, particularly once it has appeared, is to use exfoliating products such as facial scrubs (using round beads, not harsh natural grains like apricot kernels that can be too irritating) and mild alcohol-free exfoliating acids such as glycolic acid and salicylic acid. These exfoliants, when used regularly, can help break pigmented cells apart, which will lessen their appearance. It's important to not overdo it with exfoliating products, because during the summer when melanin cells are active, too much exfoliation may actually trigger more melanin. In addition, the use of exfoliating acids can increase sun sensitivity, which can make the skin vulnerable to the sun.
Read: January Is The Best Month For Brown Spots
Use a product containing retinol. Retinol is an ingredient derived from vitamin A that is proven to lift brown spots and reduce the appearance of large pores, lines and wrinkles. It's essential to use as part of an anti-aging strategy to ensure even-toned skin.

WATCH VIDEO: Renée Rouleau Talks About The Best Retinol Cream For Sensitive Skin
Wear sunscreen–applied generously and often. The number one cause of premature skin aging is wrinkles, and certainly exposing your skin to the sun can bring out sunspots. However, did you know that most people do not apply enough sunscreen to give the skin the protection it needs? The real truth to sunscreen is not about the SPF number (although an SPF 15 is the minimum you should ever wear), but instead how generously it is applied, and certainly how often it is reapplied when outdoors.
However, if you're still seeing brown spots after using sunscreen, here's the reason why.
Read: How To Apply Sunscreen To The Face And Neck
Especially for oily skin, it is key to find a sunscreen that won't feel heavy and greasy on the skin, so you can apply it with a heavy hand without worrying about it causing clogged pores and breakouts. Even if you're applying it generously, sunscreens do degrade with direct sunlight and with your skin's natural oils produced during the day. This is why advise all of my clients to dust on an SPF 50 Mineral Powder throughout the day (even in winter) to block daylight rays from damaging the skin.
Browns spots are certainly a challenge to get rid of, but if you're really diligent about following my skin care tips, this should make a big difference in getting your skin clear and even-toned.
Which skin care products are best for you? See our nine skin types or take the Skin Type Quiz and get products recommended.
Need expert advice from a licensed esthetician? Schedule a virtual consultation to get customized advice in person, over the phone or online via Skype or FaceTime.
For more expert advice check out the blog. Also sign up for our skin tip e-newsletter, follow Renée Rouleau on Twitter and Instagram and join the discussion on our Facebook page. You'll be your own skin care expert in no time. Get the #ReneeRouleauGlow!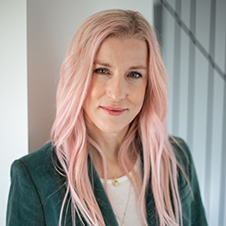 Celebrity Esthetician & Skincare Expert
As an esthetician trained in cosmetic chemistry, Renée Rouleau has spent 30 years researching skin, educating her audience, and building an award-winning line of products. Trusted by celebrities, editors, bloggers, and skincare obsessives around the globe, her vast real-world knowledge and constant research are why Marie Claire calls her "the most passionate skin practitioner we know."