Updated 06/01/22. One of the most common questions I hear from my clients is, "How do I get rid of brown spots on my face?" It's a challenging skin concern to address since skin cells have memory, and the longer the brown spots have been around, the harder it is to fade them. Even small amounts of UV light can quickly reactive them. What's more, heat can also make brown spots worse.
Yes, really! Many people don't know this, so they get frustrated when they slather on sunscreen only to see brown spots appear on their skin. Ahead, learn about my personal experience with heat-induced brown spots. Then, learn 5 ways to fade and prevent brown spots for brighter, more even-toned skin.
My Personal Experience With Heat-Induced Brown Spots
I've had first-hand experience with this. One summer, back in 2007, I decided to take up running. In Texas, our summers are extremely hot. I could only bear to run in the evenings around 8 pm. To prepare for my run, I'd apply a generous coat of sunscreen to my face, dust on an SPF 50 mineral powder over top, and then put on a visor to shade my face. I thought I was properly protecting my skin…but I was wrong.
I noticed the subtle brown spots that were starting to appear on my forehead were becoming much worse. While I had to think long and hard about this since I was protecting my skin so well from sunlight, I finally figured it out. I discovered that the brown spots weren't being affected by sunlight, but rather by heat.
What happened was that the skin on my forehead was getting overheated by the sweat and the visor band during my run. When I would take off my visor post-run, my forehead was bright red. It was the heat that was triggering melanin activity and making my brown spots worse.
Pigmentation is easily stimulated by the sun, heat, and aggressive rubbing, which is why I don't recommend using sonic cleansing brushes if you have a lot of brown spots. Hormones and genetics are a factor too. Luckily, though, there are a few things you can do to prevent them from appearing (and fade them once they do).
What Can You Do to Fade Brown Spots?
The goal is to suppress melanin activity as much as possible, so pigmented cells go to sleep and therefore fade. This means staying out of the sun and protecting your skin when you're in it. It also means keeping the temperature of your skin low and avoiding extreme heat. (This is why I won't take hot yoga classes. They're not good for my pigmentation.)
1. Keep Your Skin as Cool as Possible
To keep your skin cool, especially post-exercise, I suggest keeping a gel-based mask in the refrigerator. After cleansing, apply a thin coat to your skin, leaving it on for 15 minutes. This will not only cool your skin, but it will also help deliver water to dehydrated skin. If you don't have a gel mask handy, you can gently press a bag of frozen vegetables to the skin to cool it down.
2. Use a Daily Vitamin C Serum
An easy way to address brown spots on the face is to apply a vitamin C serum every morning. Vitamin C is a proven melanin suppressor and skin brightener. I use the Vitamin C&E Treatment every morning to keep my skin looking bright and even-toned.
There are also other melanin-suppressing ingredients, such as licorice extract, kojic acid, and soy extract that can also help inhibit melanin production. Personally, though, I've seen the best results in my skin and my clients' skin from a daily vitamin C serum.
Vitamin C is only effective if you're using a stable, well-formulated product. Here are 5 things to look for when choosing one.
3. Exfoliate Often
Exfoliants, when used regularly, can definitely help minimize the appearance of pigmentation. Chemical exfoliants, like glycolic and lactic acids, can dissolve and digest the bonds that keep dry, dead, and pigmented cells together. Physical exfoliants, on the other hand, can lift them up and off the skin. That's why you'll want to exfoliate a few times a week using a combination of both chemical and physical exfoliants for the best results.
I recommend the Pro Results Power Serum for anyone who wants to address sun damage and pigmentation. I formulated it with glycolic, lactic, and mandelic acids, as well as green tea and allantoin to target brown spots and soothe the skin.
Just don't overdo it with exfoliation, because during the summer, when melanin cells are active, over-exfoliation may actually cause more pigmentation. In addition, the use of exfoliating acids can increase sun sensitivity, which can make the skin vulnerable to the sun. Check out this guide to exfoliants. In it, I go into depth about which exfoliant to use and how often.
4. Use Retinol
Retinol is a derivative of vitamin A that's been proven time and time again to minimize brown spots and reduce the appearance of enlarged pores, lines, and wrinkles. I consider it an essential part of any anti-aging skincare routine to ensure even-toned skin.
Retinol makes your skin more sensitive to UV light, so proper sun protection is critical. It also must be used consistently to see results (I always say using retinol is a marathon, not a sprint). Check out this beginner's guide to using retinol and retinoids. In it, I share my best tips for incorporating retinol into your routine while avoiding dry, flaky side effects.
5. Wear Sunscreen
I know I've said it already, but sunscreen is truly a critical component of any skincare routine—especially one targeted to address signs of aging and brown spots. After all, the sun is the number one cause of premature skin aging. You should be wearing sunscreen every day. Apply it generously and often to keep your skin protected from harmful UV rays and subsequent pigmentation.
It's important to find a sunscreen that won't feel heavy and greasy on the skin, so you can apply it with a heavy hand. You also want to find one that won't cause clogged pores and breakouts. Personally, I've used the Weightless Protection SPF 30 every single day for years. It feels nice and lightweight, dries to a matte finish, and won't worsen breakouts.
The Bottom Line
Brown spots are certainly challenging to get rid of, but if you're really diligent, and you follow my tips, it's totally possible to fade them. Be patient and consistent, and you'll see brighter, more even-toned skin over time!
Next, learn how I manage poikiloderma—a condition that causes redness and discoloration on the neck.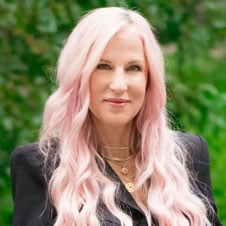 Celebrity Esthetician & Skincare Expert
As an esthetician trained in cosmetic chemistry, Renée Rouleau has spent 30 years researching skin, educating her audience, and building an award-winning line of products. Her hands-on experience as an esthetician and trusted skin care expert has created a real-world solution — products that are formulated for nine different types of skin so your face will get exactly what it needs to look and feel its best. Trusted by celebrities, editors, bloggers, and skincare obsessives around the globe, her vast real-world knowledge and constant research are why Marie Claire calls her "the most passionate skin practitioner we know."