For those who have combination skin – oily in the T-zone and normal or even dry on the cheeks, you can be left wondering the best way to care for your skin. What is a T-zone? Your T-zone is generally oily across the forehead, down the nose, and the chin – hence forming a T-shape. So here are my five tips for caring for your oily T-zone.
T-Zone Tip #1: Skip using a serum in the T-zone.
Because the T-zone produces oil, during the summer months when oil is excessive, avoiding using a serum (even if it's oil-free) will keep that area feeling fresher and more lightweight. But in the winter time, when the T-zone requires more hydration due to the dry air, be sure to choose a water-based, oil-free serum like Skin Drink, and use under moisturizer. Read: What Is A Serum And Do I Really Need One?
T-Zone Tip #2: Use a lighter-weight moisturizer in the T-zone at night.
For most of your skin care products, you can use the same product all over your face, assuming it is made for your combination skin type. The one exception is moisturizer. Since more hydration is needed on the cheeks, it is best to apply a more-hydrating moisturizer in those areas and use a lighter, oil-free moisturizer in the T-zone. The result is each area of the face getting the perfect amount of hydration. See the collection of Renée Rouleau moisturizers.
T-Zone Tip #3: Blot oil often.
It's normal for those who produce oil in the T-zone to want to use a product to rid your skin of oil, but there's nothing that you can use that will dramatically reduce oil simply because, for those who produce oil, this is the natural process of your skin. So the quickest, simplest, fastest way to create less shine on the skin and combat oil is to blot your skin with either oil-blotting papers or tissue. I know for me, in the summertime I have to blot at least every two hours in my T-zone. Read: Five Ways To Reduce Oil Production In Skin
T-Zone Tip #4: Skip liquid foundations in the T-zone.
Since you're trying to create as matte of a look as possible, and certainly not to add any additional oil to the already oily area, I suggest using a liquid foundation on your cheeks when doing your makeup. Then dust an SPF-infused mineral powder all over the face, as this will set your liquid foundation, as well as provide coverage and the matte finish you're looking for. See the Colorescience line of mineral powders here.
T-Zone Tip #5: Get regular professional facials to manage T-zone blackheads.
The T-zone area is the area of the face most prone to blackheads, simply because oil is produced in this area, enlarging the pores. The oil then gets oxidized by the air, resulting in blackheads. To keep blackheads at bay and keep the pores clean in the T-zone, scheduling regular monthly or bimonthly deep pore-cleansing facials that include professional extractions is beneficial to keep this area looking its best. Read: My 3-Step Plan For Reducing Blackheads
Note: Cleansers, toners, facial scrubs, acid serums, and exfoliating serums, as long as they are for your skin type, can be used all over the face, so these products you do not have to use separate products for each area. Choose your skin type.
So there you have it, by adjusting your routine a bit, you can keep your skin balanced and always looking its best.
Do you have any special tricks for caring for your t-zone?
Which skin care products are best for you? See our nine skin types or take the Skin Type Quiz and get products recommended.
Need expert advice from a licensed esthetician? Schedule a virtual consultation to get customized advice in person, over the phone or online via Skype or FaceTime.
For more expert advice check out the blog. Also sign up for our skin tip e-newsletter, follow Renée Rouleau on Twitter and Instagram and join the discussion on our Facebook page. You'll be your own skin care expert in no time. Get the #ReneeRouleauGlow!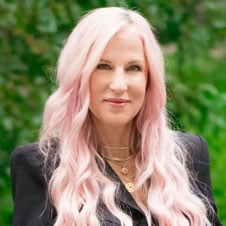 Celebrity Esthetician & Skincare Expert
As an esthetician trained in cosmetic chemistry, Renée Rouleau has spent 30 years researching skin, educating her audience, and building an award-winning line of products. Her hands-on experience as an esthetician and trusted skin care expert has created a real-world solution — products that are formulated for nine different types of skin so your face will get exactly what it needs to look and feel its best. Trusted by celebrities, editors, bloggers, and skincare obsessives around the globe, her vast real-world knowledge and constant research are why Marie Claire calls her "the most passionate skin practitioner we know."