For those who get BOTOX® Cosmetic, you know how it can make an incredible difference in the reduction of visible lines and wrinkles to promote younger-looking skin. But what you don't know is there is a potential downside to Botox – one that is recently getting more awareness.
Because Botox paralyzes muscles and makes them immobile, the long-term loss of muscle may cause the skin to lose fullness, which will actually make the overall face appear older! A youthful face is not only free of lines and wrinkles (which is where Botox comes into play), but young-looking skin is also full and plump…
One could certainly have cosmetic fillers such as Restylane injected in the skin to counteract this, but fillers are risky since they can alter the appearance of the face to the point of not looking like your natural self. Cosmetic procedures can get out of hand and I personally prefer a natural look, as I know most of my clients do too. Lindsay Lohan recently hosted "Saturday Night Live," and people hardly even recognized her. It certainly appeared that she had cosmetic fillers put in her face and it altered her appearance in a way that changed her look entirely – and not for the better, I believe.
Read: Plastic Surgery, Injectables and the Art of Altering the Face
So what is the solution? Electric facials, micro current treatments or at Renée Rouleau Skin Care Spas it's called Bio Visage treatments.
Many well-known skin physiologists, researchers and dermatologists are now recommending that Botox users have these treatments performed regularly as part of an anti-aging strategy. I perform this treatment on my celebrity clients particularly before special events and it really gives amazing results for plumping the skin–with just one treatment.
The benefits of electric facial treatments include:
– Stimulates and exercises 32 of the 53 muscles of the face.
– Visibly improves muscle tone in the face and neck to tighten and firm the skin, after just one treatment.
– Increases cellular metabolism by increasing ATP (skin's energy), making it very anti-aging.
– Defines and lifts cheeks for the look of higher cheekbones.
– Softens lines and wrinkles.
– Increases collagen and elastin formation.
– Improves circulation for more vibrant, glowing skin.
How does it work?
Low level electrical current impulses are used in conjunction with manual manipulation to stimulate and strengthen the muscles in the face.
Bio Visage is a very popular treatment in France since French women shy away from facelifts and seek other alternatives for looking younger – naturally. I travel to France regularly to learn about new treatments and discovered this exclusive treatment on one of my visits. Regardless of whether or not you use Botox, starting in the early 40s, we start to lose the plumpness in the skin, so this treatment is incredibly powerful for keeping muscles active.
Read: My French Skin Care Investigation
Do electric treatments really work?
Yes, absolutely. In the early 90s, I used to perform a similar treatment (electric muscle stimulation) and had a client who suffered Bell's palsy during pregnancy. This is a form of facial paralysis where the muscles atrophy usually on just one side of the face, causing a visible drop in that side. It caused my client to have severe difficulty eating and drinking, never mind being self-conscious when out in public. Post-pregnancy (since it's not a treatment to be given during pregnancy) she came in three times a week and we performed the treatment on the paralyzed side. Within six weeks, she was almost back to normal. Her doctor was even amazed and started referring his patients to me for this treatment. In the case of clients naturally losing tone in their skin due to aging, they love it. It's also ideal to have done before a special occasion because of its instant visible results.
Read: Skin Firming Tips for Those in Need of a Lift
In summary, I believe injectables like Botox, when done in small amounts by an experienced nurse or doctor can be very beneficial for lessening lines and wrinkles. But I am also a believer that they must be combined with professional skin treatments, a diet high in nutrients and antioxidants, high-performance skin care products for your skin type including daily use of sunscreen like Daily Protection SPF 30, and a healthy, balanced lifestyle in order to achieve the best comprehensive anti-aging strategy to look and feel your best.
Read: My Good (And Bad!) Skin Care Secrets
Read: Why Does The Skin Look Better After A Good Night's Sleep?
Read: How Do Hormones Affect The Skin In Your 20s?
Which skin care products are best for you? See our nine skin types or take the Skin Type Quiz and get products recommended.
Need expert advice from a licensed esthetician? Schedule a virtual consultation to get customized advice in person, over the phone or online via Skype or FaceTime. For more expert advice check out the blog. Also sign up for our skin tip e-newsletter, follow Renée Rouleau on Twitter and Instagram and join the discussion on our Facebook page. You'll be your own skin care expert in no time. Get the #ReneeRouleauGlow!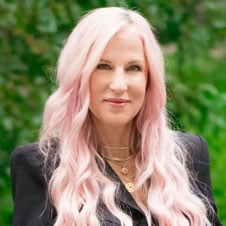 Celebrity Esthetician & Skincare Expert
As an esthetician trained in cosmetic chemistry, Renée Rouleau has spent 30 years researching skin, educating her audience, and building an award-winning line of products. Her hands-on experience as an esthetician and trusted skin care expert has created a real-world solution — products that are formulated for nine different types of skin so your face will get exactly what it needs to look and feel its best. Trusted by celebrities, editors, bloggers, and skincare obsessives around the globe, her vast real-world knowledge and constant research are why Marie Claire calls her "the most passionate skin practitioner we know."