Updated 03/14/22. If you're a regular reader of my blog, you already know that I'm 100% team retinol. When it comes to slowing down the visible signs of aging, retinol is unparalleled. What makes it such a unique ingredient is the fact that it has been studied meticulously for decades, and its dramatic anti-aging effects have been scientifically proven time and time again. Brown spots, fine lines and wrinkles, rough texture, and enlarged pores (yes, your pores get bigger as you age) can all be improved by incorporating a retinol into your routine. No other ingredient out there can make all these claims, so you can see why I'm a believer.
Even though retinol is now widely accepted as a staple skincare ingredient, I still see a lot of confusion about how to use it properly. This is key because using retinol incorrectly means your skin might not be getting all the benefits. And worse, it can put you at greater risk of experiencing some of the unwanted side effects associated with retinol (think dryness, redness, peeling, and stinging—no fun). There's one question, in particular, that seems to generate a lot of confusion: "Can I wear retinol during the day?" In this post, I will give you my answer to this question, once and for all!
Should You Use Retinol During the Day?
My official answer is no, you should not use retinol during the day.
This is because retinol is a reparative ingredient, so it's best to use it at night when your skin's natural reparative processes are at their peak. This will allow you to reap all the benefits retinol has to offer.
When deciding which skincare ingredients to use in the morning vs. evening, the best strategy is to work with your skin's natural circadian rhythm. During the day, when your skin is in defense mode, use protective ingredients like sunscreen, antioxidants, and vitamin C. At night, when your skin is renewing itself, use reparative ingredients like retinol or exfoliating acids. Another benefit of using active ingredients like retinol at night is that your skin barrier is more permeable. This allows products to penetrate deeper and work better than they would during the day.
What About Sun Sensitivity?
You've probably heard that using retinol during the day is a huge no-no because it makes your skin more sensitive to the sun. This photosensitivity is actually a cumulative effect that occurs due to the fact that retinol increases cell turnover. This means that fresh, new skin cells are constantly being brought to the surface. These cells are more vulnerable to sun damage than dry, dead skin cells. This is why it's so important to wear sunscreen every day when you're using a retinol product—even if you're only using that retinol product at night.
As I said before, it's best to work in harmony with your body's natural cycles. Using retinol in your evening routine is a good way to do this.
Next, learn the best age to start using retinol in your skincare routine.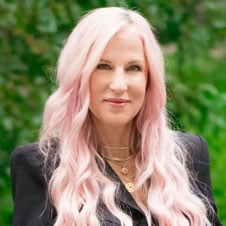 Celebrity Esthetician & Skincare Expert
As an esthetician trained in cosmetic chemistry, Renée Rouleau has spent 30 years researching skin, educating her audience, and building an award-winning line of products. Her hands-on experience as an esthetician and trusted skin care expert has created a real-world solution — products that are formulated for nine different types of skin so your face will get exactly what it needs to look and feel its best. Trusted by celebrities, editors, bloggers, and skincare obsessives around the globe, her vast real-world knowledge and constant research are why Marie Claire calls her "the most passionate skin practitioner we know."