Updated 12/16/20 Whether your skin is feeling dry, tight, sensitive, or itchy, a damaged moisture barrier can be the root cause of so many winter skin woes. A damaged barrier often leads to dehydration, a temporary condition that can affect anyone, even those with oily skin. Dehydrated skin is characterized by a lack of water-based hydration. When people describe having tight-feeling skin that's "dry on top but oily underneath," it's usually a pretty good indicator to me that they're dehydrated. Stripping your skin with harsh products that are too strong and drying compromises your moisture barrier, making it really difficult for your skin to retain water. As we transition to winter, this is only exacerbated by the cold and lack of moisture in the air.
In an effort to keep you educated on how to best care for your skin and make you a really smart skincare consumer, here are my top ten product recommendations to maintain a healthy moisture barrier this winter—no matter your skin type.
My Ten Favorite Products to Prevent Dry Winter Skin
When people are trying to fix a problem with their skin, they often turn to expensive serums with potent active ingredients. While these certainly have their place, a common mistake I see people making is that they don't pay enough attention to their cleanser. They think it doesn't matter since they're just rinsing it off and will skimp. But think of it this way—cleansing is the very first step of your routine, so it sets the tone for everything else you do. If done incorrectly (i.e. using something too drying or stripping), it can negatively affect the performance of the rest of your products by causing surface dehydration.
Look for a high-quality cleanser that's labeled 'sulfate-free' and low-foaming (the more foam and lather, the higher the risk a cleanser could strip your skin). I love Moisture Protecting Cleanser because its unique gel-to-milk formula is extremely gentle and coddles damaged or dehydrated skin. This cleanser is especially good for skin types 5-9 but is safe for all skin types.
If you wear heavy makeup or have dry skin (skin types 7-9), this rich, creamy lotion does an exceptional job of dissolving away dirt and makeup while keeping the skin nourished. It provides a truly comforting cleansing experience during these colder months and leaves your skin with a cushion of moisture. If you're a heavy makeup wearer, I suggest massaging Vitamin-Infused Cleansing Emulsion onto dry skin before emulsifying with water, then following up with a gel cleanser for a second cleanse. I know balm and oil cleansers have become popular recently, but I never recommend cleansing balms to my clients—here's why.
Readers of my blog already know I consider an alcohol-free toner essential to any skincare routine, so this product should come as no surprise! I love recommending an essence like Moisture Infusion Toner to anyone in need of extra hydration. Whether your skin is dry, oily or anywhere in between, your skin cells need water-based hydration to function properly—this toner provides just that. It's silky and lightweight, making it suitable for all skin types. Another benefit of using a toner after cleansing is that it removes drying salts and chlorines that can be found in tap water.
If you're feeling really dehydrated, you can even try layering this toner. Start by applying it onto a toning cloth and wiping the product all over your face. Then, apply a quarter-sized amount of toner into your palm and press it into the skin until there's nothing left in your hands. Repeat this two to three times as needed, then immediately follow with a hydrating serum.

While most of us can get away with being a little laxer about acid exfoliation during summer, winter is no time to start neglecting this important step. Dry air—both inside and out—leads to an increased buildup of dead cells on the surface of your skin. Not only does this make your skin look dull, but it also perpetuates the cycle of dryness and dehydration that plagues so many of us this time of year. This is because moisturizing products may not be able to penetrate through that layer of dead skin cells, so your skin isn't actually getting much hydration. To break this cycle and keep skin looking (and feeling!) dewy and fresh, I suggest using a leave-on exfoliating acid serum three nights a week.
Which serum you use will depend on your skin type. Take the Skin Type Quiz to get a specific recommendation for your skin type!
Speaking of exfoliants, a physical scrub is another really effective way to make sure you're sloughing off all those dry skin cells that build up so quickly this time of year. While acid exfoliators dissolve and digest the "glue" that keeps these cells attached to the skin's surface, the benefit of a facial scrub is that it then physically lifts off those loosened skin cells. This leaves your skin looking smoother, brighter, plus it's ready to fully absorb any moisturizing products you apply after. Using both a chemical and physical exfoliator in your routine is definitely the best way to manage dryness and flaking as we head into winter. Another bonus? A gentle facial scrub is one of the most immediate ways to get glowing skin.
A lot of people may think of Vitamin C as a summer ingredient, but I highly recommend using it throughout the year. While it's true that UVB rays aren't as strong during winter, UVA rays (which can still cause skin cancer and premature aging) are just as present. Use it underneath your sunscreen in the morning for antioxidant protection. This will boost your skin's defenses against sun damage as well as harmful free radicals from pollution and smog. My Vitamin C&E Treatment is also a favorite winter product of mine because of its lightweight yet hydrating formula. This makes it perfect for all skin types, even those who are sensitive! We use a fat-soluble form of Vitamin C that's more stable than its traditional, water-based counterparts. This means it won't sting the skin if you're struggling with dryness or sensitivity in winter. Another benefit of this product is that it's incredibly brightening, which I know we can all use an extra dose of this time of year!
Eye creams are essential for hydrating the thin, delicate skin around the eyes. Because there are so few glands and lipids in this area, your skin can't hang on to moisture very well. That said, you never want to use anything too heavy or greasy around the eye area since this can lead to puffiness, irritation and even premature wrinkles. This is why I recommend a product like Total Eye Repair—it strikes that perfect balance of plumping and hydrating without being too occlusive. As the humidity levels in the air drop and the heat kicks on, people tend to notice a visible difference in the eye area. Dehydration causes crepey skin and fine lines to look more pronounced. Thankfully, this condition is temporary, and you can easily fix it by using a well-formulated eye cream. A true fast fix.
When you're in need of a reset, nothing will moisturize your skin faster than an at-home facial. I always recommend starting with Triple Berry Smoothing Peel to remove any dead skin cell buildup. This will allow any products that follow to work more effectively. After rinsing off the peel, go in with a hydrating mask to plump and nourish those fresh new skin cells. If you're a skin type 5-9 and hydrating gel masques or sheet masks haven't been cutting it, consider making the switch to this luxurious cream masque. This product is so amazing for dry skin—it's like a comforting blanket. Formulated with a blend of bioactive, lipid-rich oils, it repairs dry, parched winter skin and leaves you glowing.
Tip: If you have oily, acne-prone skin, Pure Radiance Creme Masque may be too rich for you. For skin types 1-4, I suggest using Rapid Response Detox Masque instead. Leave it on for twenty minutes to quench thirsty skin. If you use an active topical treatment for acne and are experiencing dehydration, this masque is a great way to give your skin a break and reset. Its antibacterial effects kick in after only five minutes, so you'll fight breakouts while still hydrating your skin.
The richest cream in my line, this product is a godsend for dry winter skin. It really is the ultimate for building up your skin's barrier to prevent moisture evaporation. If you are a true dry skin type that doesn't produce enough oil, use it in your daily routine to build up lipids in your skin. If you have oily or acne-prone skin, this product will probably be too heavy for you to use on a regular basis. But if your barrier is damaged, I suggest using it a few nights a week until hydration levels in your skin are restored, then switching back to a more suitable moisturizer like Sheer Moisture Lotion. Phytolipid Comfort Creme is fragrance-free, so it's great for skin that's experiencing itching or sensitivity in winter.
What I love about facial oil is that you can easily add it to your routine whenever you feel your skin needs it. For example, if you have a moisturizer that you like and works well for your skin, it's easier to simply add a few drops of oil on top to seal it in when you need that extra boost of moisture. This is especially true if you're acne-prone—it can be hard to find that holy grail moisturizer that doesn't clog pores. Why risk experimentation? Because this blend of oils is lightweight and non-comedogenic, it's suitable for oily, acne-prone skin types as well as those with dry skin. During this time of year, skin types 7, 8 and 9 will want to add Pro Remedy Oil to their daily routine. Other skin types should use it as the last step in their nightly routine as needed.
Read: How to Properly Apply a Facial Oil
So there you have it, ten products you can use to repair your skin's moisture barrier in winter! This will help keep you looking hydrated and dewy no matter how cold it may be outside.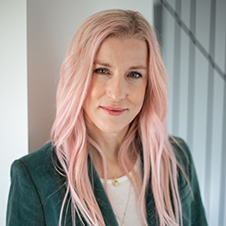 Celebrity Esthetician & Skincare Expert
As an esthetician trained in cosmetic chemistry, Renée Rouleau has spent 30 years researching skin, educating her audience, and building an award-winning line of products. Trusted by celebrities, editors, bloggers, and skincare obsessives around the globe, her vast real-world knowledge and constant research are why Marie Claire calls her "the most passionate skin practitioner we know."