What is a blackhead? Blackheads are large pores that contain oil that has oxidized with air causing it to turn black.
What you can do: Although there is no way to permanently get rid of blackheads, your best bet is regular monthly deep pore cleansing facials followed by home use of AHA Smoothing Serum to keep the pores cleaned. Long term use of Retin-A can help but it has to be used regularly and for years before you can really see a difference.  Avoid the ingredients Isopropyl Myristate and Isopropyl Palmitate in your skin care products as these can contribute to the formation of blackheads…
What is a clogged pore? Clogged pores are considered whiteheads and closed comedones that are little clogged bumps under the skin that aren't red or sore, just little white-ish bumps. Most people get them on the chin or sides of the mouth.
What you can do: Since these have no infection (meaning, they are not sore) using harsh acne products will only make them worse by causing dry skin cell build up trapping that oil in the skin longer. Exfoliate! By keeping off dry skin cell buildup this will help these purge naturally, however a good deep pore cleansing facial will get all of that old oil out. They can be caused from heavy pore-clogging oils like Mineral Oil and Petrolatum so be sure to avoid these ingredients.
Here's a list of ingredients to avoid in your skin care products. (Renée Rouleau products DO NOT contain these ingredients)
Mineral Oil & Petrolatum (pore-clogging and suffocating to the skin)
SD Alcohol 40 and Denatured Alcohol (the "bad" alcohols commonly found in toners. It is extremely drying and irritating.)
Isopropyl Myristate & Isopropyl Palmitate (can cause blackheads)
Synthetic dyes (can be a skin irritant)
Synthetic fragrances in our skin care products (the #1 cause of allergic reactions to products. Avoid products containing the word "fragrance" or "parfum" on the ingredient listing)
Known sensitizers (ingredients that can cause irritation)
Heavy oils (will suffocate the skin and leave it feeling greasy)
Sodium or Ammonium Laureth/Lauryl Sulfate (found in some cleansing gels and is extremely drying and irritating to the skin)
Apricot kernels, or seed/shell powders (naturally made particles found in facial scrubs can scratch and irritate the skin causing bacteria to spread)
Which skin care products are best for you? See our nine skin types or take the Skin Type Quiz and get products recommended.
Need expert advice from a licensed esthetician? Schedule a virtual consultation to get customized advice in person, over the phone or online via Skype or Face Time.
For more expert advice check out the blog. Also sign up for our skin tip e-newsletter, follow Renée Rouleau on Twitter and Instagram and join the discussion on our Facebook page. You'll be your own skin care expert in no time. Get the #ReneeRouleauGlow!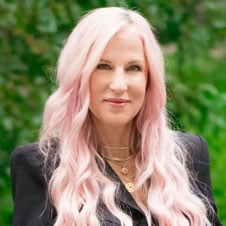 Celebrity Esthetician & Skincare Expert
As an esthetician trained in cosmetic chemistry, Renée Rouleau has spent 30 years researching skin, educating her audience, and building an award-winning line of products. Her hands-on experience as an esthetician and trusted skin care expert has created a real-world solution — products that are formulated for nine different types of skin so your face will get exactly what it needs to look and feel its best. Trusted by celebrities, editors, bloggers, and skincare obsessives around the globe, her vast real-world knowledge and constant research are why Marie Claire calls her "the most passionate skin practitioner we know."