We recently asked you, what is your biggest skin sin? The #1 answer was that you picked at your skin.
I'll start by saying…I know firsthand what picking is all about.  I myself am a former picker—I admit it.  I've always said that I went into this profession so I could do what I love—picking! And I justified my own problem by saying, "I'm licensed. I know what I'm doing." Luckily, I finally had the self-discipline and gave up picking in 2001 (as a New Year resolution) and my skin has never been happier.
Let me share my expert skin advice as to how you can put an end to the picking madness—once and for all.

There are generally two reasons why people will pick at their skin:
1. Nervous Habit. Many people don't even realize they are picking at their skin.  For example, while driving in the car or talking on the phone, they just scratch and pick at anything and just can't keep their hands off their face.
Solution: Keep your hands occupied. Get any kind of toy or gadget that you can play with in your hands at times when you are most likely to be touching your skin. This will help tremendously. I personally love our No Picking Twisty Toy. It's great and fun to fidget with to keep your hands busy.
2. Picking at a blemish in an attempt to make it go away faster.
You have to realize that although you can't always control breakouts from appearing, you CAN control what happens when you get the breakout. The truth of the matter is, a blemish usually lasts 5-7 days, but the red or dark scar from picking at the blemish, can linger for weeks— or even months.
Solution: Your first step in your picking recovery is to thoroughly understand this concept. Do you want to have a spot that you have to cover up for only a week or two— or a few months? The answer is obvious, but now you must recite that in your head when the urge comes to pick. That's truly how I got over picking. When I would head to the mirror to start squeezing at a blemish, I would literally say to myself, "Renée, you're only going to make it worse and scar up your skin. Have some self control and keep your hands off." And that's really how I got over my picking! I talked myself out of it and then I started to see the result of how much less scarred my skin was and how much less I had to hide under makeup. You have the control and power—are you willing to practice self control for the sake of clearer skin?
Remember: A closed bump from a blemish is a lot easier to conceal (and less noticeable) with makeup than a red, oozy, scabbing wound. The choice is yours.
Did your blemish leave a red, dark or purple mark? Our Post-Breakout Fading Gel works very well to fade acne marks and spots.
The best way to avoid picking at a blemish is to get it to go away fast! Try Renée Rouleau Night Time Spot Lotion.
Note: Has your picking become compulsive and uncontrollable? Compulsive skin picking is a condition called Dermatillomania and can lead to severe skin scarring. In my 20+ years of giving facials and working with skin, I've definitely seen my share of compulsive pickers. Generally it starts because someone has blemishes so they actually have something to pick at. But then as they outgrow the blemishes and no longer can pick at those, they scratch at their skin and then pick the scabs. I consider it an obsessive compulsive disorder and should be taken seriously. Picking at the skin can be normal. It's not recommended, but we're all human and have our moments of weakness. But if you are someone who just can't keep your hands off your face or body, it may be Dermatillomania and you should consult a doctor.
Read: How To Heal Acne Breakouts—Fast! Learn the different types of breakouts and how to treat them
Read: The 11 Causes Of Acne Blemishes
Read: Get Control Of Cystic Acne Before It Scars Your Skin!
Which skin care products are best for you? See our nine skin types or take the Skin Type Quiz and get products recommended.
Need expert advice from a licensed esthetician? Schedule a virtual consultation to get customized advice in person, over the phone or online via Skype or FaceTime.
For more expert advice check out the blog. Also sign up for our skin tip e-newsletter, follow Renée Rouleau on Twitter and Instagram and join the discussion on our Facebook page. You'll be your own skin care expert in no time. Get the #ReneeRouleauGlow!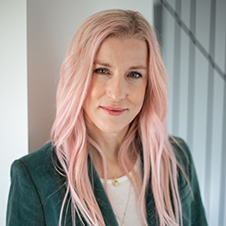 Celebrity Esthetician & Skincare Expert
As an esthetician trained in cosmetic chemistry, Renée Rouleau has spent 30 years researching skin, educating her audience, and building an award-winning line of products. Trusted by celebrities, editors, bloggers, and skincare obsessives around the globe, her vast real-world knowledge and constant research are why Marie Claire calls her "the most passionate skin practitioner we know."