We all want glowing skin and getting asked how to get it is a common question I hear often from my clients. "How do I get my skin to glow?" While the definition of what glowing skin actually is can differ for everyone, I tend to think of glowing skin as one that has good blood flow, which brings out an inner radiance. Did you know that when the skin ages, less oxygen, and nutrients are being delivered to the skin? For example, by the time you reach 75 years old, you have about 50% fewer blood vessels in your face. So with fewer vessels, it means less nutrient-rich blood and oxygen is being brought to the cells of the skin. The result is dull, tired-looking skin.
If your skin doesn't already have a natural pinkness, a long-term strategy is to hang your head upside down for three minutes per day. You can do this up against a wall in a handstand or during a downward dog in yoga, or simply hanging your head over the side of your bed. You should notice that after three minutes, a slight redness will appear on the skin and in the long run, it can make a big difference in getting and keeping an inner glow, to appear 'lit from within.'
The types of skin that usually need increased blood flow to the face are those with olive and medium complexions such as Hispanic, Latino, and African American skin types. Those with fair skin (Irish, Scottish) often find their skin has a natural pinkness and often times the goal is to reduce redness.
You can also increase circulation to the face through physical exercise, facial massage, taking hot showers, and using products formulated to stimulate the flow of blood like Mint Buffing Beads, Luxe Mint Cleansing Gel and Energy Boosting Toner. For all skin tones, be sure to use a moisturizer formulated to give light-reflective skin and glowing skin like this one. Also, applying a bright colored blush is an easy way to give yourself an instant glow.
Read: More of my expert tips to get glowing skin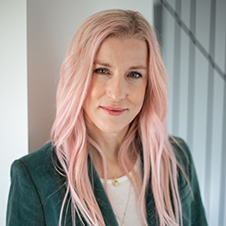 Celebrity Esthetician & Skincare Expert
As an esthetician trained in cosmetic chemistry, Renée Rouleau has spent 30 years researching skin, educating her audience, and building an award-winning line of products. Trusted by celebrities, editors, bloggers, and skincare obsessives around the globe, her vast real-world knowledge and constant research are why Marie Claire calls her "the most passionate skin practitioner we know."