As Demi Lovato's longtime esthetician (and master of her glow!), I gave her a facial two days before her big Grammy appearance where not only was she performing, but also was nominated for a Grammy! I've known her since she was 17 so it has been truly an honor to be by her side throughout her journey. As for her skin, the goal was for Demi to have flake-free, bump-free, blemish-free skin with a dewy and radiant-looking glow for her big night.
Here's how I made that happen—with a customized 12-step facial treatment. (As featured in Allure.)
Leading up to the Grammy's, Demi travelled both to Africa and Dubai so whenever a lot of travel is involved (long flights, changes in diet and climate), special attention needs to be made to make sure the skin has a healthy-balance. For starters, Demi brings along all of her skin care products when she travels and is very diligent about keeping her skincare program consistent—even on the road. Especially leading up to the Grammy's, this discipline is of the utmost importance, and she definitely has it. (She is very much a skincare enthusiast!) Above and beyond her regular skincare routine, I had her doing an at-home facial twice a week the three weeks leading up to the big event. The two products that I had her use and were best suited for her skin type (she's a skin type #2) are Triple Berry Smoothing Peel and Rapid Response Detox Masque. (Here's a picture of her wearing the Triple Berry Peel.)
Grammy skin prep (3 weeks before): Triple Berry Smoothing Peel uses five exfoliating acids (AHAs and BHAs) along with antioxidant-rich berries to dissolve away debris within the pores and lift surface dryness to resurface the skin and reveal radiant and healthy-looking skin. After leaving it on the skin for 15 minutes, I had her rinse it off and follow with an application of my new Rapid Response Detox Masque. Because the goal was to keep her pores clear and blemish-free, yet not disturb the moisture balance that could result in dryness and flakiness, this mask was applied immediately after the peel was rinsed off and left on for 15 minutes. Rapid Response Detox Masque is very unique in that it's a mask for clogged pore/blemish-prone skin types yet it's very calming and hydrating—unlike most problem skin masks. The powerful combination of manuka and tea tree give powerful antimicrobial properties to ward off potential breakouts while 2% salicylic acid gets into the pore lining to keep pores clear and lift away cellular buildup. The added hydrating and soothing benefits of allantoin, sodium hyaluronate (hyaluronic acid) and lichocalchone (Chinese licorice) really make the skin look beautifully calm and fresh-looking when rinsed off.
A few months back I had switched her from using our BHA Clarifying Serum to Pore + Wrinkle Perfecting Serum since she breaks out less now and it has worked wonders on her skin and pores.
In addition to giving her skin extra attention with the peel and mask combo, I instructed her to drink a lot of water, exercise, load up on sleep and before bedtime, hang her head upside down for three minutes a day. (The head-hanging tip helps to increase blood circulation by bringing oxygen and nutrients to the skin to get a fresh glow from the inside out.)

The facial two days before the Grammy's: I gave a facial to Demi in Los Angeles. The goal for the facial was all about creating an incredibly smooth canvas for her makeup artist, Jill Powell, to make her skin look perfect. I kept the facial fairly simply since two days before a big event is not the time to be overly aggressive with the skin.
Step 1: Cleanse the skin to dissolve makeup and debris.
Step 2: Wipe over skin with Balancing Skin Tonic to remove any residue.
Step 3: Apply a cranberry enzyme and lactic acid exfoliating peel to dissolve and digest surface cell build up. Leave on for 10 minutes and remove.
Step 4: Perform Bio Brasion along with a foaming mousse mask. Bio Brasion is the next generation of micro dermabrasion and uses a diamond head exfoliating tip on wet skin to lift off the cells that were dissolved from the enzyme/acid peel. It also helps to increase circulation to bring a beautiful pink-y glow to the skin—without causing irritation.
Step 5: Now that the old cells are whisked way, the goal is to provide nourishment to the new cells. I apply Skin Drink Concentrate, a soothing blend of hyaluronic acid and allantoin along with Hydraboost Rescue Creme.
Step 6: Warm ultrasound is used to send soundwaves down into the skin to help encourage maximum absorption. (The warmth and gentle vibration from the wand always puts Demi to sleep and her skin is really looking incredibly glow-y at this point.)
Step 7: Face, neck and shoulder lymphatic drainage massage. The goal here is not only for relaxation but also to heat up the skin and raise the internal temperature, as well as reduce puffiness in the face and eye area.
Step 8: Since the skin is pretty warm at this point, any clogged comedones (bumps) have softened in the pore and make it really easy to extract out. (This is the part where we work on getting her skin bump-free.) I consider myself a "master extractor" in that not only am I very good at proper extractions to get the job done, but more importantly, I can do it in a way where I don't mark up and irritate the skin. My trusty sterile lancet helps to create a tiny opening so things pop out very easily with minimal effort.
Step 9: Wipe over the face with Balancing Skin Tonic to clean the skin and apply a coat of Rapid Response Detox Masque. This immediately calms the skin and provides extra disinfecting benefits in the pores. Leave on 10 minutes and wipe off. Voila! Now that the pores are super clean, I again apply Skin Drink Concentrate followed by Hydraboost Rescue Crème and put a red LED light onto the skin for 10 minutes for a collagen boost.
Step 10: Apply your favorite mask, like Bio Calm Repair Masque, to the face and neck. This is the finishing mask that is very cool when applied and creates an occlusive, non-breathable barrier over the skin so the serum and creme underneath have no place else to go but deep within the skin. The cold temperature (35 degree farenheit), pushes blood away from the skin and in the process creates a vacuum effect to also pull in the creme and serum, as well as to provide a calming benefit. Leave on 10 minutes.
Step 11: Peel off the mask (it turns rubbery-y when it dries) and finish off by patting on a few drops of Pro Remedy Oil. Demi loves this oil but since she's prone to clogged pores from all the makeup she has to wear, patting it on top of moisturizer rather than using in place of a moisturizer simply creates a protective barrier to prevent moisture evaporation and ensures that the oils don't get directly into the pores.
Step 12: Apply Vitamin C Eye Brightener for de-puffing and brightening benefit. Since this product is a lightweight creamy/gel formula, it doesn't have heavy oils that could potentially travel into the eyes while she sleeps at night and cause unnecessary puffiness in the morning.
Since the dress she would be wearing has a low opening in the front and the back, I wanted to make the skin on her body look exceptionally smooth in that area so I did a full chest exfoliation using a 20% peel with lactic, malic and glycolic acids. This removed any surface bumps and dryness to give a flawless look.
I packed her up a bag of red carpet skin essentials which included Daytime Blemish Gel (in case of any last minute, nerve-related blemishes should pop up—which didn't! Yay!) and Vitamin C Eye Brightener. I packed her up some small-sized snacks, tissue and breath mints to have on hand for the big day. I also gave her some peppermint tea to drink the morning of the Grammy's as it helps to boost blood circulation to give the skin a glow while simultaneously clearing the mind.
Lastly, I made Demi her very own special jar with her favorite Hydraboost Rescue Creme. It's truly a pleasure to work with Demi. She is strong, kind, determined, generous, loving and I'm happy to call her my friend.
Here's some helpful tips I share with all of my clients before a special occasion.
Sleep with your head elevated on two pillows to promote drainage of fluids around the eyes.
Don't pick at any blemish on the skin to avoid leaving a crusty scab. In order to acheieve a flawless makeup application you have to start with a smooth canvas. It's best to leave blemishes completely alone so the bump can be properly concealed under makeup. If you do wake up with a pimple, use Daytime Blemish Gel throughout the day to reduce visible swelling. Concealer or foundation makeup can be applied directly over it.
Reduce dark circles and puffiness in the morning by performing a gentle massage in circular motions using the ring finger. This helps to stimulate stagnant blood flow that can contribute to darkness—especially from lack of sleep. This also helps to encourage proper drainage to help get rid of puffiness.
As for her makeup for the Grammy's, "While Demi has fun changing up her look, the one constant is her beautiful, glowing skin. I wanted Demi's skin to emanate a subtle sheen to complement her metallic bronze smokey eye and sexy metallic embellished dress." – Demi's Makeup Artist, Jill Powell
Which skin care products are best for you? See our nine skin types or take the Skin Type Quiz and get products recommended.
Need expert advice from a licensed esthetician? Schedule a virtual consultation to get customized advice in person, over the phone or online via Skype or FaceTime.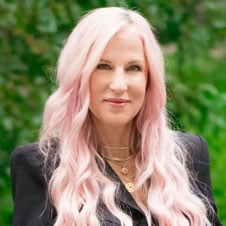 Celebrity Esthetician & Skincare Expert
As an esthetician trained in cosmetic chemistry, Renée Rouleau has spent 30 years researching skin, educating her audience, and building an award-winning line of products. Her hands-on experience as an esthetician and trusted skin care expert has created a real-world solution — products that are formulated for nine different types of skin so your face will get exactly what it needs to look and feel its best. Trusted by celebrities, editors, bloggers, and skincare obsessives around the globe, her vast real-world knowledge and constant research are why Marie Claire calls her "the most passionate skin practitioner we know."