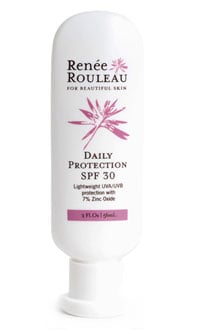 Skin Care Tip of the Day: You've been told over and over that you must reapply your sunscreen every two hours to get adequate protection. But what about reapplying during the day when you're at work or home and not really outside? Are you supposed to wash your makeup off, put on sunscreen again and apply your makeup all over again? Nope!
Sunscreens degrade only when in direct UV light. So if you're at the beach, by the pool, gardening or exercising outdoors, then you must reapply every two hours.
If it's just a regular day when you're at work, in your house or driving in the car, your sunscreen will provide all-day protection.
Tip: We do also suggest layering your SPF with additional mineral makeup that contains SPF. It gives an extra layer of sun protection.
And remember, foundation makeup containing SPF is not enough! You must have it built into your moisturizer to properly coat and protect the skin cells…
Which products are right for your skin? See our nine skin types and get products recommended.
Need expert advice from a licensed esthetician? Schedule My Skin Prescription to get personalized advice in person, over the phone or via Skype or Facetime.
For more expert skin advice, check out Skin Source–the A-Z guide on all things skin. Also sign up for our skin tip e-newsletter, follow Renée Rouleau on Twitter and join the discussion on our Facebook page. You'll be your own skin care expert in no time!