With so many companies launching high SPF number sunscreens, it creates a lot of confusion as to which number is the best in protecting your skin. As a  skin care expert and celebrity esthetician, I'll share some interesting (and surprising!) facts and myths in regards to which SPF number you should be using to keep it protected from the damaging rays.
FACT: SPF 30 offers only 4% more sun protection than an SPF 15. And an SPF 45 offers only 2% more than an SPF 30. The higher up you go, that percentage lessens. The real secret to protecting your skin from harmful UV rays is to reapply often and generously—it's really not the SPF number that matters.
Read: How to Apply Sunscreen to the Face and Neck
FACT: Your skin needs both UVA and UVB protection. The SPF number only applies to UVB—the sunburn causing rays. The other rays—UVA rays— are the aging rays which breakdown collagen and elastin that cause wrinkles. Zinc Oxide is an excellent UVA and UVB sunscreen.  It's also offers anti-inflammatory properties so it's excellent for sensitive skin. I highly suggest either the Daily Protection SPF 30 or Age Defense Moisturizer SPF 30  since they both contain Zinc Oxide which is the best sunscreen ingredient on the market for protecting sensitive skin…
"Renée Rouleau Daily Protection SPF 30 is a sunscreen that WON'T cause Acne" – Cosmopolitan Magazine
"Renée Rouleau Daily Protection SPF 30: The Best SPF Product" – Elle Magazine
FACT: SPF 30 is plenty. High SPF numbers like SPF 100 can give a false sense of protection and consumers may not apply it generously enough. Plus, if you're someone with sensitive skin, the higher SPF number may contain more chemical additives, resulting in skin reactions and irritations.
FACT: Most sun protection products for babies don't go over SPF 50 and there's a reason—more irritating chemicals! 
Bottom line: An SPF 30 with broad spectrum UVA/UVB protecting Zinc Oxide will keep your skin safe and protected as long are you're applying (and reapplying) generously.
By the way, the FDA is proposing to limit the maximum SPF on labels to 50.
Read: The FDA Issues New Sunscreen Rules for 2012
See the ColoreScience line of SPF-infused mineral powders here.
Read: Does Wearing Sunscreen Cause Vitamin D Deficiencies
Read: Why Your Sunscreen May Not be Protecting Your Skin Enough
Read: 6 Summer Skin Care Tips
Which products are right for your skin? See our nine skin types and get products recommended.
Need expert advice from a licensed esthetician? Schedule My Skin Prescription to get personalized advice in person, over the phone or via Skype or Facetime.
For more expert skin advice, check out Skin Source–the A-Z guide on all things skin. Also sign up for our skin tip e-newsletter, follow Renée Rouleau on Twitter and join the discussion on our Facebook page. You'll be your own skin care expert in no time!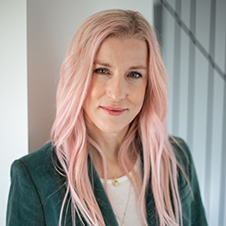 Celebrity Esthetician & Skincare Expert
As an esthetician trained in cosmetic chemistry, Renée Rouleau has spent 30 years researching skin, educating her audience, and building an award-winning line of products. Her hands-on experience as an esthetician and trusted skin care expert has created a real-world solution — products that are formulated for nine different types of skin so your face will get exactly what it needs to look and feel its best. Trusted by celebrities, editors, bloggers, and skincare obsessives around the globe, her vast real-world knowledge and constant research are why Marie Claire calls her "the most passionate skin practitioner we know."