Updated 9/10/15. Being an esthetician is a very rewarding career! It's a popular profession for skin care enthusiasts wanting to work in a field that they love. I know this was the case for me, 25 years ago when I attended the Catherine Hines Institute of Esthetics in Medford, MA.
I now live in Austin, Texas and occasionally speak at the local esthetic schools to future esthetic graduates, as you can see me doing on my Instagram. I always enjoy seeing what the schools are teaching these future estheticians. Surprisingly, other then some new advancements in skin care, the general curriculum is very similar to when I attended esthetics school.
Many esthetics schools have a basic program that requires a minimum number of hours as required by the State in order to operate as an entry-level esthetician. The schools usually also offer advanced courses at a higher fee for more advanced training.
I'm often asked for my opinion on the best esthetics school. I am not familiar with which are the best schools out there, however…
Here are my five tips to help you find the best esthetics school in your area:
1. Be sure that being an esthetician is truly your passion and you're ready to commit to the profession. I love the profession and it works for my lifestyle, but you need to be sure it works for you. Read: The Pros and Cons of Being an Esthetician
2. Ask other skin care professionals for esthetic school recommendations. Spend a few hours on the phone calling skin care facilities that you feel are reputable and ask them. Most people love sharing their thoughts with other skin care enthusiasts. If this is a possible company that you might be interested in working for, be sure to ask if there is a certain school they prefer their estheticians to attend.
3. Interview the schools and ask a lot of questions. When you are looking for a school, it is similar to interviewing with a potential future employer. You are interviewing the school to see if it's a good fit for you. You'll be spending a lot of money to go to school and probably taking out loans so you really need to get a good feel for their program and culture.
4. Decide which program is best for you. I have always felt that the best education doesn't come from school, but with hands-on experience working in a skin care spa, clinic or salon. When you work for someone else, it's like getting paid to learn. If you are on a budget, then just do the basic courses at school and take advanced courses from skin care vendors. There are always continuing education opportunities at trade shows and from skin care companies that will also give you a certificate of completion that you can attach with a resume.
5. Meet the teachers. I think it's best to ask to meet your teachers before you enroll. Do they have a professional disposition and look like a good leader? How long have they been practicing esthetics? Many students are hired as a teacher right after they graduate and they will not be able to share "real world" experience. Anyone can teach you how to pass an exam, but it's the stories of those who have actually worked in the spas and clinics that I personally felt were the most interesting. This is a value add to your hour requirements.
When I attended school, I did the basic class, which was 300 hours. Since I already had a job waiting for me, I opted to not take the additional programs the school offered. I was fortunate because at this job, my co-worker, who was also my mentor, and later business partner was a former instructor at my esthetics school when it first opened and she helped them develop their curriculum.
In my case, I was ready to get working and knew that I would receive continuing education at my new job. 25 years have passed and I love being an esthetician more than ever. If you love skin care, this profession is for you!
P.S. The picture above is me with my talented estheticians at their recent graduation of our continuing education program in our Renée Rouleau Institut de Beauté. For me and my estheticians, learning is everything to us and we love to share our knowledge with our clients to help them achieve healthy and beautiful skin for a lifetime.
LISTEN: My Career and Best Advice For Estheticians
Read: Five Esthetician Rules I Live By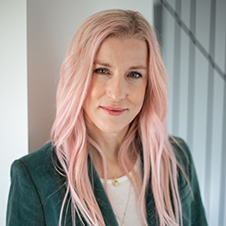 Celebrity Esthetician & Skincare Expert
As an esthetician trained in cosmetic chemistry, Renée Rouleau has spent 30 years researching skin, educating her audience, and building an award-winning line of products. Trusted by celebrities, editors, bloggers, and skincare obsessives around the globe, her vast real-world knowledge and constant research are why Marie Claire calls her "the most passionate skin practitioner we know."