The most common condition that is the hardest to deal with post-pregnancy, but should be treated immediately is melasma (brown patches on the skin). Although with time and using skin lightening products, it should go away, I highly suggest you get on it fast. Why? Because skin cells have a memory, and the longer the skin pigmentation is present, it may not try to fade it as efficiently as time goes on. I've had so many clients through the years that come to me in their 40s expressing concern about pigmentation they had from their last pregnancy, which was 10 years earlier.
Schedule a professional facial or chemical peel. Put your skin in the hands of a professional – don't try to go it alone. You're a busy mom, focusing on adjusting your new baby into the world, so trying to take time out to figure out for yourself how to handle your skin is not where your time is best spent. A licensed esthetician can perform treatments to fade brown spots and patches, as well as recommend tips and tricks and a home care regimen that you can easily follow. (Read: What Are the Benefits of Getting a Facial?) Visit the Renée Rouleau Skin Care Spas in Dallas and Plano, Texas…
Read: Do You Need a Chemical Peel?
Wear sunscreen faithfully. Because melanin cells are active due to pregnancy, sun exposure can continue to stimulate them, so wearing sunscreen faithfully every day is very important in your effort to start to fade the brown spots. Daily Protection SPF 30 is excellent to wear daily as it's very lightweight on the skin and won't clog the pores.
Use SPF mineral powder. We recently introduced the ColoreScience line of easy-to-use dry sunscreens. This is really helpful for reapplying sun protection throughout the day without having to apply a cream. See the full collection of ColoreScience SPF mineral products.
Use a skin lightener to fade brown spots. Natural skin lighteners, such as those with Magnesium Ascorbyl Phosphate (a type of vitamin C that has pigment-lightening properties), can be used while you're pregnant and are highly suggested to do so. You will also want to make sure to use these faithfully post-pregnancy. For stubborn conditions post-pregnancy, you can get a prescription for a hydroquinone bleaching cream that can enhance the lightening for pigmentation but most of my clients find that our Vitamin C&E Complex works wonderfully.
Increase your exfoliation and perform a skin peel at home. Using mild facial scrubs and acids are essential for breaking down pigmented cells. Also adding in an at-home skin peel like Renée Rouleau Triple Berry Smoothing Peel can really increase the fading results. Triple Berry Smoothing Peel has five acids, and is great to use twice a month in between your monthly visits to your skin care professional.
Read: How Do I Get Rid of Broken Capillaries?
Read: How Can I Prevent Stretch Marks While Pregnant?
Read: What Can I Do for Post-Pregnancy Acne and Breakouts?
Read: What Can I Do for Post-Pregnancy Redness in My Skin?
Which skin care products are right for you? See our nine skin types and get products recommended.
For expert skin advice, check out Skin Source–the A-Z guide on all things skin. Also sign up here for our skin tip e-newsletter, follow Renée Rouleau on Twitter and like our Facebook page. You'll be your own skin care expert in no time!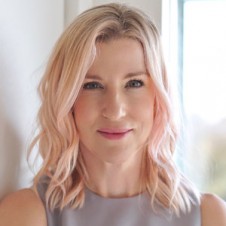 Celebrity Esthetician & Skincare Expert
As an esthetician trained in cosmetic chemistry, Renée Rouleau has spent 30 years researching skin, educating her audience, and building an award-winning line of products. Trusted by celebrities, editors, bloggers, and skincare obsessives around the globe, her vast real-world knowledge and constant research are why Marie Claire calls her "the most passionate skin practitioner we know."