A few weeks ago, I had the absolute pleasure of flying out to Miami to give Riverdale star Vanessa Morgan a pre-wedding facial. I treated Vanessa and her Riverdale co-star and bridesmaid, Madelaine Petsch, to pre-wedding glow facials. Vanessa has been my client since 2018 and leading up to the wedding, I worked closely with her to make sure her skin was clear and glowing for the big day. I couldn't be happier for Vanessa and am honored that she chose me to get her skin ready for one of the most important days of her life.
Keep reading for details about Vanessa's at-home routine as well as the six-step facial that had her looking radiant when she said, "I do!"
Vanessa's Pre-Wedding, At-Home Skincare Routine
Since Vanessa is always wearing makeup on-set, she can sometimes get clogged pores as well as the occasional breakout. The routine I built for her leading up to the wedding was designed to manage this and keep her skin clear. Here are the products Vanessa relied on pre-wedding to keep her skin blemish-free: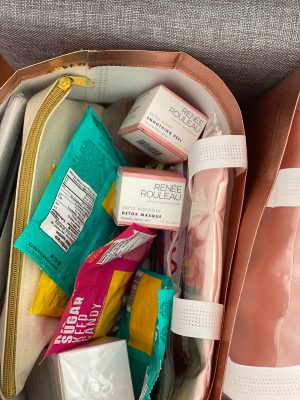 The goal, of course, was for Vanessa's skin to be blemish-free for the wedding, but this isn't always possible (especially when you add in pre-wedding nerves!). So while her skin was mostly clear, there were a few little breakouts that did pop up prior to the big day. I instructed her to leave them completely alone so that they could be easily covered under makeup. If you pick at a blemish or start to dry it out with harsh spot treatments right before a big event, the skin gets dry, crusty, and scabby. This becomes very difficult to seamlessly cover with makeup. Take it from me, it's so much easier to conceal a blemish that hasn't been messed with. The goal was ultimately to create a smooth canvas for Vanessa's wedding-day makeup.
Read: Tips for Covering Acne and Acne Scars With Makeup
Vanessa's Pre-Wedding Facial (And How to Replicate It at Home)
As for the facial, I didn't use anything on Vanessa's skin that I hadn't used on her before. When preparing for a big event, keep in mind that this is not the time to experiment with something new. The last thing you want is to risk a bad reaction! I kept the facial fairly basic, especially since Vanessa had been really good about her routine and exfoliating at home, so her skin was in great condition when I saw her. That said, she had just been on an airplane, so we still needed to exfoliate away all the dry, dehydrated surface cells caused by a lack of humidity on an airplane. She had also been out on a boat the day before and her cheeks were ever-so-slightly sunburned, which will also dehydrate the surface layers of the skin.
Here are the steps I followed for Vanessa's pre-wedding glow facial:
 Cleanse

with

Moisture Protecting Cleanser.

Cleansing is often under-emphasized, but it's important to properly remove makeup, dirt, and oil from the skin because this makes the rest of the facial more effective. 

 Disinfect

with

Rapid Response Detox Toner.

Wiping an alcohol-free toner over the skin prevents water loss and removes any remaining traces of impurities.

 Chemically Exfoliate

using

Triple Berry Smoothing Peel.

This peel helps dissolve and digest dry surface cells, which allows any treatments you apply afterward to penetrate more effectively. 

 Physically Exfoliate 

using

Mint Buffing Beads. After loosening dry, dead cells from the skin's surface with a chemical exfoliator, you'll want to use a physical scrub to actually lift those cells off. This is great for lifting pigmentation and brightening your complexion. I used a bio brasion tool on Vanessa, but if you're doing a facial at home, you'll want to use a facial scrub formulated with round beads so as not to scratch your skin. Read more about how to use a facial scrub and learn why I think they should be part of everyone's routine.
 Hydrate

using

Skin Drink Concentrate

and

Skin Recovery Lotion. Once you've removed all that surface dryness, it's time to infuse those fresh, newly-exposed skin cells with water-based hydration. The reason I focused on water-based hydration rather than oil during Vanessa's facial was that we were in Florida where the climate was pretty humid, so there was already plenty of moisture in the air. I started with Skin Drink Concentrate, a hyaluronic acid serum, to attract moisture into Vanessa's skin. This serum also includes salicylic acid for antibacterial properties. To seal it all in, I applied Skin Recovery Lotion on top (this is one of Vanessa's favorite products!). This moisturizer is oil-free, lightweight, and soothing.
 Sun Protection

using

Weightless Protection SPF 30

. If you do this facial before bedtime you can skip this step, but if it's daytime, it's crucial that you protect those newly-exposed skin cells since they're more susceptible to UV damage. I made sure to apply a generous layer of my Weightless SPF 30 to Vanessa's skin following the facial. It was Florida, after all!

Both Vanessa and I were really pleased with the results of her facial; her skin looked healthy, calm and radiant. "Legit though," Vanessa said, "my skin is glowing after this!"
So there you have it, the perfect at-home facial to give you a celeb-worthy glow before any special occasion.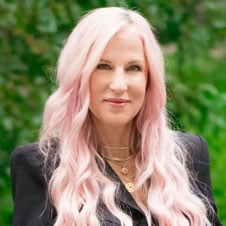 Celebrity Esthetician & Skincare Expert
As an esthetician trained in cosmetic chemistry, Renée Rouleau has spent 30 years researching skin, educating her audience, and building an award-winning line of products. Her hands-on experience as an esthetician and trusted skin care expert has created a real-world solution — products that are formulated for nine different types of skin so your face will get exactly what it needs to look and feel its best. Trusted by celebrities, editors, bloggers, and skincare obsessives around the globe, her vast real-world knowledge and constant research are why Marie Claire calls her "the most passionate skin practitioner we know."