Things to Consider Before Getting Botox or Dermal Fillers.
Updated 2/20/18. Not a week goes by without someone asking me, "I'm thinking about getting some fillers or doing Botox. Do you think I should do it?" As an esthetician who has been working with skin (and subsequently staring at faces) for the last 30 years, I am a trusted resource for my clients when it comes to these things. I have no ulterior motive other than giving my honest thoughts for helping someone in their quest to look their best.
In this post, I'll share my thoughts about what you might want to think about before getting Botox or dermal fillers put into your face that might make you reconsider.
Will Botox and dermal fillers make me look better?
Give a lot of thought as to what you are wanting to improve.
The first (and most important) question I always ask when someone is considering altering his or her face with fillers or Botox is "What is bothering you and what are you wanting to improve?" I pay very close attention to their response, as this will guide the opinion that I give. What I am also listening for is what gave them the idea in the first place. Was it a friend who had something done? Was it a doctor or nurse who suggested you needed to do it? Did you read online about a celebrity who is having such procedures done and looks amazing for their age? Are you just not liking certain features of their face?
For most people (especially those in their 20s and 30s), it is usually influenced by a friend who had something done. Examples of responses might be, "Well, my friend had a tiny bit of Botox done above her upper lip and it gave her a little bit of plumpness. It looks really natural." Or "My friend had a little bit of filler under her eyes to not make them look so hollow." Or "My friend had some fillers put in her cheeks to make them look plumper."
Be sure you're getting Botox and fillers for the right reasons.
Whenever I hear these kinds of responses, it immediately signals a red flag for me because I want to hear about things that they don't like about their own appearance— not about what their friend did. I'll immediately ask, "When you look in the mirror, are you frustrated with what you see?" What I discover a lot of times through this conversation is that many young people don't really have an issue with their face at all, they are simply experiencing FOMO (Fear Of Missing Out). I can't tell you how many times I've gotten people to really think through the reasons why they are considering these types of procedures only for them to discover that they are creating a problem where there was never one to begin with.
Other things I hear are "I'm looking older and feel like I should do something." I call this FOLO (Fear Of Looking Older). This type of answer is certainly understandable (especially for those ages 35 and up). When I get this kind of response, I will grab a mirror and have them actually show me on their face what they don't like. Through this conversation, we might discover that some things can, in fact, be improved with fillers or Botox. These include deep wrinkles such as laugh lines, a thin upper lip, under eye wrinkles and sunken in eyes that make dark circles appear more prominent.
Make sure Botox and fillers will give you the result you're looking to change.
Other concerns they might mention as they are looking in the mirror are texture issues like large pores, brown spots, clogged pores, and bumps. While these are understandably bothersome, they aren't best addressed through dermal fillers or Botox. Instead, what their skin needs are topical treatments to help resurface the skin to make it look brighter, smoother and clearer. (Read how to get a brighter skin.) Chemical peels, lasers and at-home peels (like Triple Berry Smoothing Peel), will help improve the skin's texture significantly. In addition, regular use of a well-formulated product with retinol should be used by ANYONE that wants to turn back the clock on their skin. Read my beginner's guide to using retinol or prescription retinoids.
After age 45, you might want to consider other cosmetic options.
I'll also hear from men and women ages 40 and up, "I'm losing tone and I want to avoid cutting my skin with a facelift." A lot of doctors are promoting Botox and fillers as a lesser invasive way to resculpt, plump and tighten the skin so that traditional facelifts can be avoided. In my experience, I think that up to a certain point in a person's life, injectables (and other technologies like radio frequency and lasers) can hold things together. However, there comes a time when a traditional facelift (or lower facelift)/necklift) is the most effective way to get the result that people are looking for. It can be very challenging to make loose skin look tight with fillers and lasers. You can hit a wall with noninvasive treatments so it's important to consider all options and get several opinions from experienced cosmetic doctors.
Make sure you find a doctor who is looking out for your best interest.
Lastly, what I hear a lot is people saying, "My doctor thinks I would benefit from getting a little filler put in." I have mixed thoughts on this one. For starters, what I know to be true is that we are so easily influenced by opinions which will play into our own insecurities—and doctors know this all too well. Secondly, I know that some doctors, (many who are not in the field of cosmetics) are aggressively looking to incorporate more of these types of cosmetic procedures into their practices. The reason is that patients have to pay outright and it doesn't go through insurance so it can be quite profitable for them. Some might be pushing these procedures onto their patients for the wrong reasons. I truly wish it wasn't that way, but sadly, it is. It's all about trust so hopefully, you can find a good skin professional or doctor who you feel is being completely honest with you and is looking out for your best interest.
Determine if Botox or fillers will lead you to the road of happiness.
The job of an esthetician can often be like a counselor in that we can often get a client to understand the real issue of what's going on. Through being a good listener and by asking the right questions, we can help guide them to the answer that is best for them. Often times, a client will come to the conclusion for him or herself that they are simply unhappy with their life and that making changes with a relationship or their career is what is really needed. I've certainly had clients who decide that what they need most is to get back into therapy to work through some issues.
Make sure to do it for YOU and only you and not what society makes you think you should do.
As with all of my blog posts, I'm sharing my personal experiences about working in the beauty and appearance profession, so I hope this gives you some helpful insight when considering Botox and cosmetic dermal fillers.  You are not missing out if you don't get fillers or Botox, but if you think it will make you happier and more confident, then go for it.
As for me, here is what I currently get done to my face.
At age 48, I get Botox around my eyes and in between my brows and I do like the result it gives. Two years ago, I had some filler put in the lines above my upper lip and didn't like how it made the skin look thick so I let it wear off. I could certainly be more aggressive and get filler put in other areas of my face but I'm comfortable with the aging process and want to keep a really natural look.
I'm much more focused on creating a smooth, even-toned texture for my skin with tight pores than I am about erasing every wrinkle that shows up. It's a battle that I won't ever win and I'm not willing to go to extreme measures to try to have the skin of a 25-year-old. (Although Daily Protection SPF 30 and Advanced Resurfacing Serum have helped tremendously!) My worst nightmare is turning into one of those people who can't see when it's been taken too far. I rely on my husband to keep me in check. He tells it as he sees it and I'm grateful for that.
I also feel lucky that I have at least one of the three facial features that will make you look younger longer.
Let it be.
I loved hearing a few years back that the former "Friends" actress, Courtney Cox came to the realization that she had been over-doing it with Botox and dermal fillers and was no longer looking like herself. She had all of her fillers in her face dissolved and got a tattoo that said "Let it be" to serve as a reminder to love the skin she's in. I think we can all benefit from that message from time to time, agree?
Need skincare advice?
From a skincare perspective, if you're wanting help to improve the look of your skin, I suggest you schedule a virtual consultation with an esthetician. They can help you understand your true skin type and give expert guidance for a skincare routine that will give you the best results. See these nine skin types.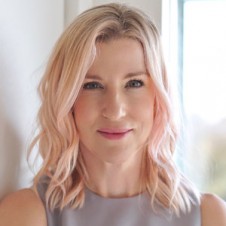 Celebrity Esthetician & Skincare Expert
As an esthetician trained in cosmetic chemistry, Renée Rouleau has spent 30 years researching skin, educating her audience, and building an award-winning line of products. Trusted by celebrities, editors, bloggers, and skincare obsessives around the globe, her vast real-world knowledge and constant research are why Marie Claire calls her "the most passionate skin practitioner we know."