As you start putting your hats, scarves, and down coats back into storage, it's time to start thinking about making some adjustments to your skincare routine as well as your wardrobe. 
Thankfully, the transition from winter to spring isn't as harsh as other seasonal shifts can be, but you still want to pay special attention to your skin any time there's a significant shift in weather. As your environment changes, your skin will have different needs. While this doesn't mean you have to completely rehaul your skincare routine for spring, there are a few adjustments I suggest making to help refresh your skin as it recovers from the stress of winter. 
Keep reading for five easy ways to adjust your skincare routine for spring!
Common Skin Concerns This Time of Year
During winter, the constant onslaught of dry air affects our skin in a number of ways. Through a process called osmosis, the air pulls moisture from your skin leading to dry, dead skin cells as well as moisture barrier disruption. Thanks to this, there are five main issues I see people commonly dealing with at the end of winter:
Dull skin. Dry, expired cells don't reflect light the way healthy, hydrated cells do, so many people are going into spring concerned about dull-looking skin.
Sensitive neck. Because it's so thin, the skin on the neck is already sensitive. Add in scratchy wool scarves and turtlenecks, and you've got the perfect recipe for a winter skin rash. 
Fine lines. These are lines that show up mainly around the eyes, and sometimes a little on the forehead. They're small superficial lines caused by dehydration, which is why they become more prominent during winter. 
Clogged pores. If you're someone whose skin naturally produces oil, clogged pores can build up over the course of the winter season. While oil is still flowing, it gets trapped by a surface layer of dry skin cells and settles in your pores. This can lead to bumpy texture.
Sensitivity. When our skin's moisture barrier becomes compromised, tiny invisible cracks form. These allow moisture to escape while irritants can get in more easily. This is why, during winter, some products that you can normally use suddenly sting. 
5 Ways to Adjust Your Skincare Routine for Spring
To address these skin concerns coming out of winter and get your skin ready for spring, here are five adjustments you can make to your skincare routine.
1. Switch Up Your Cleanser
This is usually one of the first things I tell people to do when a major seasonal shift happens, and springtime is no exception.
During winter, you may have been using a richer cleanser with a balm or lotion texture (I personally prefer lotion cleansers when it's cold out). Once spring is around the corner, I typically encourage people to switch to a gel cleanser. Gel cleansers are a little better at cutting through the oil your skin will start to produce more of as temperatures rise.
Gel cleansers sometimes get a bad reputation for being drying, but this is all thanks to old-school foaming cleansers. Modern gel cleansers are sulfate-free, use low-foaming agents that won't strip the skin, and include hydrating ingredients. 
If you're looking to switch up your spring skincare routine but are worried about hydration, try the Moisture Protecting Cleanser. If dull skin is more your concern, I'm a huge fan of the Mint Renewal Cleanser for bringing life and circulation back to the face.
Speaking of cleansers, be sure you aren't making these common cleansing mistakes.
2. Lighten Up By Ditching Oils and Heavy Creams
While there are some skin types (like Skin Types #7-9) that require richer, lipid-based moisture year-round, most of us need to start shifting our focus toward lighter, water-based hydration in spring. 
Be mindful that you don't want to make this change all at once. Seasonal transitions don't happen overnight, and neither should your skincare adjustments. On colder nights, go ahead and continue to use your winter moisturizer or face oil. On warmer nights, use something with more of a lotion texture, like Sheer Moisture Lotion. Lotions use a higher ratio of water-based ingredients compared to oils, so they'll keep you moisturized without weighing you down.
This is also a good time to start incorporating hydrating serums with ingredients like hyaluronic acid into your routine (I like this serum because it also has vitamin C to brighten). You can also opt for gel masks to relieve thirsty skin.
3. Spring-Clean Your Pores With Exfoliation 
Constant dry, winter air leads to a buildup of dead cells on the surface of your skin. This buildup is responsible for making skin look dull and clogging pores. If you're dealing with either of these issues, it's time to up your exfoliation. 
I recommend adding in an extra day or two of exfoliation, depending on what your skin can handle (I recommend most people exfoliate three to five times a week). 
Remember, there are two ways to exfoliate. One is exfoliating acids, like AHAs and BHAs. I like Pore + Wrinkle Perfecting Serum because it combines both, which is great for lifting surface dryness and clearing pores. The second way to exfoliate is physical exfoliation, like Mint Buffing Beads facial scrub. Once or twice a week, gently roll these rounded jojoba beads across your skin to physically lift off loosened dead cells. This is great for instantly making skin look brighter, making pores look smaller, and giving relief from clogged pores. (Pro tip: I love a gentle physical scrub to get rid of dryness on the neck.)
At-home exfoliation is great, but spring is also a great time to go for a pore-clearing facial with an esthetician! It's always nice to go for a skin reset when the seasons change, plus this gives you access to a professional who can answer any questions you have about switching up your personal skincare routine for spring. (Learn how often you actually need to be getting professional facials.)
Read more about how to get your pores clean (and keep them that way).
4. Load Up On Antioxidants
I believe a serum with antioxidants should be part of any solid morning routine year-round but come spring, you'll want to up your game. As we start spending more time outdoors exposed to the elements again, it's helpful to up the dose you're giving your skin topically.  
You might already be using a vitamin C serum in the morning, but I like adding antioxidants in at night, too. Using something like the Firm + Repair Overnight Serum allows your skin to use the diverse mix of antioxidants to repair itself, not just to protect itself like during the day. Topical antioxidants are the best way to protect your skin directly, but it doesn't hurt to eat a diet rich in these 10 antioxidant foods.
And of course, let's make sure we're wearing SPF all year round! Come spring, it's time to start focusing more on sun-protective clothing again. Remember, protecting yourself from the sun is the number one way to prevent visible signs of skin aging. 
5. Introduce Retinol Into Your Routine
Speaking of the best ways to prevent visible signs of aging, spring is a fantastic time to dip your toe into starting retinol. If you don't already know, it's amazing for smoothing fine lines, fading discoloration, addressing large pores, and bringing a glow to dull skin (basically, everything you want coming out of winter). That said, retinol is a very active ingredient so some people can't tolerate it as well during winter when their moisture barrier is weakened. 
Spring is a great time to start using retinol because our skin is generally less sensitive since the weather is more forgiving. Always start slow when using retinol and then work your way up at a pace that's comfortable for you. Hopefully, by next winter, your skin will be acclimated enough that you'll be able to keep using retinol even during the colder months.
Interesting in retinol but not sure how to start? Read my Beginner's Guide to Retinol. 
So there you have it, five ways to adjust your skincare routine for spring! I hope you found some useful information, and I'd like to leave you with one last bonus tip: always listen to your skin. As I mentioned, seasonal shifts don't happen overnight. Let your skin tell you what it needs as you slowly settle into your new routine.
Next, read all about what you can do now to prevent summer sun spots.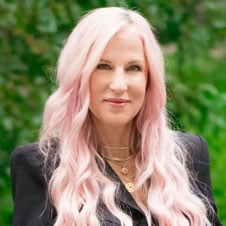 Celebrity Esthetician & Skincare Expert
As an esthetician trained in cosmetic chemistry, Renée Rouleau has spent 30 years researching skin, educating her audience, and building an award-winning line of products. Her hands-on experience as an esthetician and trusted skin care expert has created a real-world solution — products that are formulated for nine different types of skin so your face will get exactly what it needs to look and feel its best. Trusted by celebrities, editors, bloggers, and skincare obsessives around the globe, her vast real-world knowledge and constant research are why Marie Claire calls her "the most passionate skin practitioner we know."