As many of you may know, I'm a proud Harley Davidson motorcycle owner and rider. I've been riding for ten years and absolutely love it. Running a growing skin care company can be stressful and it's a lot of work, so I need outlets such as riding where I can relax and clear my mind.
Next week, my husband and I are each riding our Harleys up to South Dakota to the 70th annual Sturgis Motorcycle Rally. We've never been and have heard it's quite the experience, so we're looking forward to a good time.
It will take us three days to ride, we'll spend three days at the rally, and then ride three days back to Texas. We estimate that we'll ride a total of 2500 miles back and forth traveling through New Mexico, Colorado, Wyoming, South Dakota, Nebraska, Kansas, and Oklahoma. Sounds fun, huh?
There's no question that riding out on the open road, with the wear and tear of the sun and wind, can definitely take a toll on the skin. So from a skin care expert AND motorcycle rider, here are my skin care tips to keep the skin safe and protected before, during and after a ride out on the open road…
-Discontinue Use of Exfoliants: While regular use of exfoliating products are an important part of a good skin care routine, it's best to avoid using them three days prior to a ride since they can increase sun sensitivity in the skin by 45 percent—putting you more at risk for a sunburn.
-Apply Sunscreen Generously: Re-apply every two hours:  Without a doubt, sunscreen is a must for any motorcycle rider. The wind blowing on the face can be deceiving because it makes the sun not feel as hot, giving you a false impression you're not burning your skin. Trust me, you're just as much at risk for skin damaging rays as when standing still in the sun.
– Apply SPF-Infused Mineral Powder: I usually wear blush and little eye makeup when I ride, so it's not practical for me to be washing my face in the rest stop bathroom every two hours to reapply sunscreen and makeup. Most mineral makeup available has an SPF 20 so you'll definitely be protecting your skin if applied every 1-2 hours.
-Don't Neglect Your Neck: Make sure your sunscreen moisturizer is applied to the neck and the sides of the neck as well as any other exposed areas.
-Pay Attention to Your Ears: This area can show a lot of aging. Don't forget to apply sunscreen there, too.
-Reapply Sunscreen More Often to Nose: Men in particular have larger pores on the nose making it the area where oil is produced first.  This causes sunscreen to dissolve more quickly than other areas of the face. In addition, the oil acts as a reflector for the sun making the area prone to sunburns.
-Go Big With Sun Glasses: Wear large wrap-around dark tinted sunglasses or goggles. These will cover a larger portion of the eye area so that you squint less – providing better wrinkle prevention.
-Wear Sun Protective Clothing: While it's always fun to be sporting a Harley Davidson t-shirt, it's more important to me to protect my skin from the sun and not have to hassle with reapplying sunscreen. I'll be wearing a long-sleeved, UV-protecting shirt that I got from a company called Sun Precautions. It's lightweight and has vents under the arms to keep me cool, but it completely protects the skin from the sun.
-Use a Windshield on Your Motorcycle: The best way to prevent your skin from the hardships of the road is to use a windshield or protective face shield! Getting dirt, road debris, bugs, windburn—on top of sun, sweat and oil—can really take its toll on the skin, so protecting your skin with a shield will help tremendously.
-Wash Your Skin On Arrival: Once off the bike and safely to your destination, wash your skin with a mild low foaming, sulfate-free cleansing gel to remove dirt, debris and oil from riding. I also recommend to use a hydrating and cooling gel-based mask to calm redness from wind and sun as well as deliver moisture deep within the skin to keep it smooth and healthy.
My must-have skin care products:

Mint Renewal – There's nothing more refreshing to clean off dirt, debris and grime after a long day of riding then using a deep pore cleansing gel that leaves your skin tingly and refreshed. I love it!
Bio Calm Repair Masque – If my skin is feeling tight, over-heated or dehydrated after a long day of riding, I love using this to cool and re-hydrate my parched skin.
Vitamin C&E Treatment – Antioxidants are important ingredients to use in your daily routine since it helps to prevent breakdown of collagen that leads to aging. Since free radicals are caused from both sun exposure and environment, and being out on a motorcycle you're exposed to the elements, antioxidant serums are a must. Bonus: Durham, N.C.-based Duke University Medical Center researchers determined that using a lotion or serum with Vitamins C and E under sunscreen actually provides four times the protection of sunscreen alone. To bump up your SPF, use a Vitamin C & E complex under your sunscreen that is broad-spectrum and provides both UVA and UVB protection.
Sheer Moisture – This is a great moisturizer to use at night before bed since it's lightweight yet still delivers anti-aging antioxidants deep within the skin to encourage healthy skin repair.
I always say, "I like to wear leather but I don't want my skin to look like leather!" So practice my skin-saving tips and you'll be sure to keep your skin safe and looking beautiful.

Which skin care products are best for you? See our nine skin types or take the Skin Type Quiz and get products recommended.
Need expert advice from a licensed esthetician? Schedule a virtual consultation to get customized advice in person, over the phone or online via Skype or FaceTime.
For more expert advice check out the blog. Also sign up for our skin tip e-newsletter, follow Renée Rouleau on Twitter and Instagram and join the discussion on our Facebook page. You'll be your own skin care expert in no time. Get the #ReneeRouleauGlow!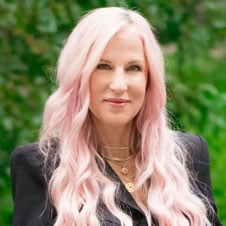 Celebrity Esthetician & Skincare Expert
As an esthetician trained in cosmetic chemistry, Renée Rouleau has spent 30 years researching skin, educating her audience, and building an award-winning line of products. Her hands-on experience as an esthetician and trusted skin care expert has created a real-world solution — products that are formulated for nine different types of skin so your face will get exactly what it needs to look and feel its best. Trusted by celebrities, editors, bloggers, and skincare obsessives around the globe, her vast real-world knowledge and constant research are why Marie Claire calls her "the most passionate skin practitioner we know."