When we think of protecting our skin, the images that come to mind are usually slathering our faces in sunscreen.  But did you realize that your hands need a beauty routine as well?  It's true, and I want to share the secrets I learned from an incredible source—a hand model.
When I was 18, just at the start of my esthetics career and at the beginning of beauty school, I had a fellow classmate that was a hand model. I'm tall, I have long slender fingers, and she convinced me that I too should become a hand model.  It wasn't as easy as filling out an application though.  I had to get a portfolio together of studio shots of my hands in order to find an agent.  That meant I had to get, and keep, my hands in tiptop shape, and my friend shared her tips with me.
Wear Gloves Whenever Possible:
-Rubber gloves for dish washing
-Cotton gloves (with cream) to wear while sleeping
-Driving gloves to protect from the sun…
-Sometimes cotton gloves were worn throughout the day
Find a Trusted Manicurist:
-Who is gentle and interested in hand care
-Who won't damage nail beds or cuticles
-Understands a hangnail or nick on the hand is like a face model having a zit on her nose!
Pay Attention to your Diet:
-Cracking or splitting of nails could be a Vitamin B2 deficiency
-Dry, brittle nails could be a Vitamin A or calcium deficiency
-Dry, hardened cuticles could be from lack of Zinc
My friend regularly used bag balm hand cream, got weekly manicures, and exfoliated.  After going on this routine of Protecting, Moisturizing, and Exfoliating, my hands were ready for their debut.  I had shots taken that were ready to be sent out, when the unthinkable happened.  I got a cut on my hand that required stitches – my life as a hand model ended before it began.  Oh well. My career as an esthetician is going pretty well!
It wasn't all a loss. I learned for lifelong, beautiful hands it is important to develop a routine for protecting them.  Even if you aren't going to be a hand model.
Did you know the #1 cause of aging on hands is from sunlight contact while on a steering wheel? Be sure to keep your hands protected with a mineral powder with sunscreen like ColoreScience.
Read: Easy Sun Protection For The Hands
If your hands get particularly dry and cracked in winter, read this article.
Which skin care products are best for you? See our nine skin types or take the Skin Type Quiz and get products recommended.
Need expert advice from a licensed esthetician? Schedule a virtual consultation to get customized advice in person, over the phone or online via Skype or FaceTime.
For more expert advice check out the blog. Also sign up for our skin tip e-newsletter, follow Renée Rouleau on Twitter and Instagram and join the discussion on our Facebook page. You'll be your own skin care expert in no time. Get the #ReneeRouleauGlow!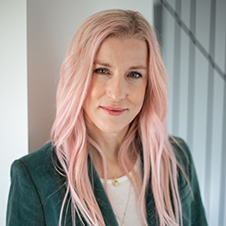 Celebrity Esthetician & Skincare Expert
As an esthetician trained in cosmetic chemistry, Renée Rouleau has spent 30 years researching skin, educating her audience, and building an award-winning line of products. Trusted by celebrities, editors, bloggers, and skincare obsessives around the globe, her vast real-world knowledge and constant research are why Marie Claire calls her "the most passionate skin practitioner we know."