Updated 4/23/21. Age, sun exposure, and cold temperatures can all make the skin on your body become dry, dull, rough, and flaky. In order to alleviate this condition, many people turn to heavy moisturizers, but this isn't the most effective technique, because you first have to remove the dry, dead cells from the surface of your skin. I suggest removing the expired skin cells using BOTH chemical and physical exfoliants. This post will focus on physical exfoliation (which is also known as manual exfoliation). It's one of the quickest ways to get bright, silky, and smooth skin, instantly.
How to Make an Effective DIY Body Scrub
Here's a recipe for my favorite DIY physical exfoliator. I use this at home to get smooth and silky skin, fast.
What You'll Need
Thoroughly mix the above ingredients with a spoon and add more oil or salts as needed to get a slushy consistency. Then, scoop it into a container (I personally like to scoop it into a beautiful bowl, so it looks nice while on display in my bathroom or guest bathroom).
How To Use
Apply a small amount to dry skin on your hands or body and massage in circular motions. On the body, I'll apply it in the shower before I turn on the water. Not only does it physically remove dry, dead skin cells, but it also boosts circulation and leaves a silky coat of moisturizing oil behind, so additional lotion isn't needed. The natural scent of citrus and eucalyptus is an added bonus. It gives you a fresh feeling. Note: you can add any essential oil blend of your choosing. I just happen to love the grapefruit and eucalyptus combination.
Use this scrub twice a week, and you'll enjoy dewy skin all year round. As for chemical exfoliation, which dissolves dead skin cells using safe-for-skin acids, I suggest using an exfoliating body serum two to three times per week. Try my Smoothing Body Serum. It's formulated with a powerful concentration of 21% glycolic, lactic and mandelic acids to slough away dry, dead skin from the surface of the body, revealing smoother, brighter skin underneath. Just be sure to follow it with a body lotion to moisturize your fresh, resurfaced skin. This combination will effectively reduce dryness and bumps, such as those that result from keratosis pilaris.
Even though I love this DIY body scrub recipe, I'm not a fan of making your own skincare products for your face. Most DIY skincare recipes simply aren't effective. Read why, here.
Next, read up on 8 expert-approved ways to cure dry, itchy skin on the body.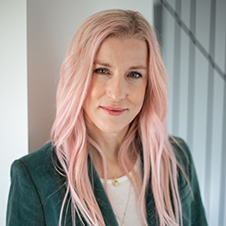 Celebrity Esthetician & Skincare Expert
As an esthetician trained in cosmetic chemistry, Renée Rouleau has spent 30 years researching skin, educating her audience, and building an award-winning line of products. Trusted by celebrities, editors, bloggers, and skincare obsessives around the globe, her vast real-world knowledge and constant research are why Marie Claire calls her "the most passionate skin practitioner we know."