I have decided to start a new feature called, "It's Me, Renée," so my curious readers can know what's going on behind-the-scenes of a busy skin care company founder and celebrity esthetician. (Speaking of celebrities, see the list
here
of our celebrity fans.) I have written over
600 blog posts
, and they give you my expert advice to help you find solutions to your skin concerns. In an effort to make this blog a bit more personal, I'll be sharing what I'm working on lately, what I'm excited about, what keeps me up at night, my upcoming travel plans, and much more. Basically, whatever is going on with me at the time is what I'll share. So here goes!
MY GRANDMOTHER'S 100TH BIRTHDAY:
I have two grandmothers. My grandmother on my mother's side was a hairdresser who owned her own salon and was the inspiration for how I first got interested in the beauty business. (You can read more about her
here
.) She passed away 15 years ago and I think of her often. My father's mother is alive and well and is celebrating her 100th birthday next month! I'm looking forward to going to Minnesota for the big celebration and to be with my family. Her claim to fame is that she has never taken a pill in her life; not even an aspirin.
We moved a lot growing up, but I did spend many years in various areas of Minnesota. I have such fond memories of my time spent there, so am excited to get back. I'm getting together with a high school friend whom I haven't seen in years. (I went to high school both in Minneapolis and Boston. Long story!)
SKIN CONSULTATIONS IN MINNEAPOLIS: While I'm up there, I'll be offering 30-minute skin consultations. You can see all the cities I'll be in this year here. If you're in that area and want to learn how to best take care of your skin, I'd love to meet you. Details here.
NEW MOISTURIZER LAUNCH: We've just launched Skin Recovery Lotion, our new oil-free moisturizer formulated for sensitive, red, and acne-prone skin. This has been in the works for a year now. Between going back and forth with the lab tweaking and testing the formula and then getting people to test it, it's been a long time coming. It's always exciting when a new product launches. So much work goes into making that happen. See more information about Skin Recovery Lotion here.
NEW PRODUCT I'M WORKING ON: I'm working on a body lotion to treat keratosis pilaris. Keratosis pilaris are those pesky little red bumps that people get on the back of their arms and legs. If you have it, you certainly know what I'm talking about. Even if you don't have this condition, it will still be a great body lotion to use a few times a week to keep off dry, dead skin cells and also help prevent ingrown hairs on the bikini area for those who wax. It will be something that everyone will love. I'm sampling different scents right now, but I think I'm loving the spearmint. A synthetic fragrance will not be added (I don't use any artificial fragrances in my entire line) but rather a natural essential oil. People love mint (see our Luxe Mint Cleansing Gel and Mint Buffing Beads here) since it's so cooling and refreshing and I think this would work well for this product. I'll be needing some people to test the product, so be on the look out here on the blog for details.
TEXAS SPRING IS HERE: There's nothing like spring time in Texas. It's the best time of year with warm temperatures (but not too hot) and flowers blooming. I'm trying to enjoy the weekends a bit more and not be stuck in front of my computer working like I do most every weekend. Last Sunday, I decided to do what I do when I'm in France visiting my husband's family; I posted a photo on Instagram here. Also, I just got my Harley Davidson tuned up (yep, I'm a lady rider) and looking forward to riding it now that the weather is nice. My husband and I are going to do a "crazy California" themed trip in July and ride our Harley's around sunny Cal so am about to start planning that fun adventure.
ONLINE BOOKING: I love technology and finding new tools to increase productivity. We launched online booking last month, making scheduling more convenient. My spa manager, Roxie, has been working on this for the last few months and did a great job getting it up and running. Our clients that aren't in the Dallas area can also schedule My Skin Prescription consultations available via phone, Skype or Apple Facetime. Schedule online here.
NEW WEBSITE: I'm just starting the long journey of re-designing our website. This will take months and months but I am very excited for a fresh, new look plus the new bells and whistles it will offer our online shoppers to make shopping an easy experience. It should launch in October. If you have any thoughts or suggestions for our new site, leave it in the comment section below. Thanks!
MY TEAM OF AMAZING ESTHETICIANS: I hold monthly continuing education meetings for my estheticians. I think it's so important to keep up to date with the latest advancements, so I love our monthly meetings. After our meeting, we had lunch at The Greek, a fairly new restaurant at One Arts Plaza where our downtown Dallas skin care spa is located. I absolutely LOVE Greek food. I had a friend growing up who was Greek, so he turned me on to all the savory dishes. I haven't been to Greece yet, but I'm sure I'd love it. See a picture of me with my estheticians here.
MAROON 5: I went to the Maroon 5 concert with one of my best friends here in Dallas, Holly Davis. You can find her at CleanFreshLiving. It's always fun to let loose and work off some steam…especially with Adam Levine. What a cutie.
PEOPLE MAGAZINE FEATURE: What an incredible honor it was to be featured in People Magazine "World's Most Beautiful Woman" issue. One of my celebrity clients, singer and X-Factor judge, Demi Lovato was photographed with no makeup on and mentioned the Renée Rouleau BHA Clarifying Serum, a product to reduce oil and blemishes, as a product that "clears up anything on my skin overnight." Watch the People.com video of Demi's photo shoot here. Her skin is beautiful and I was very proud that she was featured in there. You can read more about what Demi Lovato uses on her skin here and you can see the feature in the magazine here.
CROSSFIT: I've mentioned it on my blog before here, but I'm hugely into CrossFit: a type of workout that has challenged me both physically and mentally more so than any other thing I've ever done in my life. I've been doing it for two years now and I am addicted. I could go on and on about it, but I'll spare you the details other than it changed my life and it can also change yours. Look it up. (I was named "Athlete of the Month" last week. What a proud moment!!!)
So, that's what's on my mind and what I've been up to. I hope you're enjoying your spring so far.
P.S. Readers, I'd love to hear your thoughts on this new feature and any suggestions you may have. Leave your comments below.
Which products are right for your skin? See our nine skin types and get products recommended.
Need expert skin advice? Schedule My Skin Prescription to get personalized advice from our estheticians in person, over the phone or via Skype.
For more expert skin advice, check out Skin Source–the A-Z guide on all things skin. Also sign up for our skin tip e-newsletter, follow Renée Rouleau on Twitter and join the discussion on our Facebook page. You'll be your own skin care expert in no time!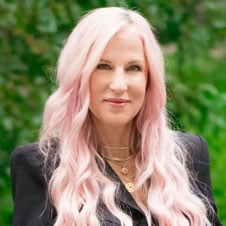 Celebrity Esthetician & Skincare Expert
As an esthetician trained in cosmetic chemistry, Renée Rouleau has spent 30 years researching skin, educating her audience, and building an award-winning line of products. Her hands-on experience as an esthetician and trusted skin care expert has created a real-world solution — products that are formulated for nine different types of skin so your face will get exactly what it needs to look and feel its best. Trusted by celebrities, editors, bloggers, and skincare obsessives around the globe, her vast real-world knowledge and constant research are why Marie Claire calls her "the most passionate skin practitioner we know."