What exactly are dark circles?
The most common reason for darkness under the eye area is because the skin may be extra thin (from long-term, overuse of Retinol products, genetics and/or loss of collagen and "plumpness" from aging) allowing you to see the blood vessels under the skin. Some people can also have deep inset bone structure that can cause a shadow under the eye making darkness appear. Also, some people can get what is referred to as "leaky vessels" as they age. This is when the blood leaks from the capillaries and can cause under eye darkness because of the excessive blood.
What are other causes of dark circles? Do they play more of a role than sleep? …
Genetics can make you prone to dark circles particularly because of thin skin under the eyes. People can also be left with dark circles after a nose job (rhinoplasty) because it causes severe bruising under the eyes and releases the formation of iron which can give a rust-colored stain under the eye (hemosiderin). This is especially more prominent in those who get rhinoplasty later in life when blood vessels and skin are weaker due to age. Some people can develop brown spots (hyperpigmentation) under the eyes from sun damage and genetics. People who develop pigmentation doesn't necessarily mean they have had more sun than others it means they have more active melanin activity.
How does insufficient sleep affect the skin?
Insufficient sleep doesn't cause dark circles, but can make them appear worse. Lack of sleep makes the skin look dull and lifeless (less sleep = decreased circulation) and blood vessels under the skin can become more apparent.
SOLUTIONS FOR DARK CIRCLES
Get 7-8 hours of sleep a night.
There is no doubt that getting enough sleep every night can offer many skin benefits. In regards to dark circles, when you are lacking sleep, your body's circulatory system is compromised and you get stagnant blood in the vessels under the eyes because it hasn't properly drained. As for the face, a lack of sleep makes the skin look pale and tired. Bottom line: when you are tired, you look tired!
Massage eye cream in circular motions.
Use circular motions when applying eye cream to stimulate stagnant blood flow that can contribute to darkness—especially darkness from lack of sleep.
Use a skin lightener to fade brown spots.
If you have brown spots in the under eye area, use a skin lightener such as Vitamin C (particularly Magnesium Ascorbyl Phosphate—a proven melanin suppressor/lightener found in Renée Rouleau Vitamin C Eye Brightener) or Kojic Acid can help. It's certainly not an immediate fix, but most people can start to see improvement in 4-6 weeks.
Treat the skin to Vitamin C
Vitamin C can aid in capillary-strengthening repair since it's a vaso-constrictor and can help with leaky vessels that contribute to accumulation of blood under the eyes. You can find it in Renée Rouleau Vitamin C Eye Brightener.
Use a good concealer.
That's certainly the quickest way to remove dark circles!
Use skin-thickening ingredients like Peptides.
Collagen-building, skin-thickening ingredients such as Peptides (like in Renée Rouleau Bio Radiance Night Serum) can help to keep the skin thick. Peptides support the tissue renewal process which can help to thicken the skin making underlying blood vessels less noticeable. Long-term use of prescription Retinol products can help, but if used on those with thin skin, it can make the skin more translucent.
Which skin care products are best for you? See our nine skin types or take the Skin Type Quiz and get products recommended.
Need expert advice from a licensed esthetician? Schedule a virtual consultation to get customized advice in person, over the phone or online via Skype or Face Time.
For more expert advice check out the blog. Also sign up for our skin tip e-newsletter, follow Renée Rouleau on Twitter and Instagram and join the discussion on our Facebook page. You'll be your own skin care expert in no time. Get the #ReneeRouleauGlow!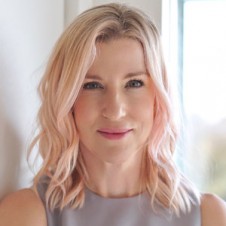 Celebrity Esthetician & Skincare Expert
As an esthetician trained in cosmetic chemistry, Renée Rouleau has spent 30 years researching skin, educating her audience, and building an award-winning line of products. Trusted by celebrities, editors, bloggers, and skincare obsessives around the globe, her vast real-world knowledge and constant research are why Marie Claire calls her "the most passionate skin practitioner we know."