18 months ago, I joined CrossFit, an exercise program that has truly changed my life. As a skin care expert and someone who loves working out, I was recently interviewed by Fitness Magazine about how I care for my skin during workouts.
Here's the interview:
How did you get into CrossFit?
"A friend told me about it and how much she loved it. She knew I would love it, too. Luckily they had one that was not far from my house, and they have them all over the world."
(What is CrossFit? CrossFit is a type of workout that combines sprinting, gymnastics and weightlifting and is the principal strength and conditioning program for many police academies, military special operations units and professional athletes. It's extremely challenging and very rewarding and this is exactly why I love it.)…
What do you love about doing CrossFit?
"I love it for several different reasons; one is the variety. There's a W.O.D. (workout of the day) that changes everyday so there's never any muscle that's left untouched and you never get bored because it's always different. Two: I love it because when left to ourselves, we are not very accountable. You go to gym and sit on bike and bring a magazine and whatever. You'll never push yourself as hard on your own as you will with CrossFit or when your coaches are yelling in a friendly way to push you farther than you would on your own. There's that accountability. And three: it challenges me physically in ways that I never would. I tend to think people are either cardio bunnies or weight lifters. They tend to gravitate to one or the other. I'm a cardio person. I love running; I love biking; so I love that I'm doing a lot of the Olympic weightlifting. I'm strengthening my weaknesses. I also love that there's a lot of camaraderie. Everyone who belongs to CrossFit will say it's like a family. You get to know everybody."
I know you're very busy and that you travel a lot. How do you manage to keep up with your workout routine?
"Well whenever I travel, I hit up other CrossFit gyms, so for example, I just got back from Madrid, Spain and Istanbul, Turkey. I went to CrossFit in those countries. I like to experience other CrossFit gyms and the fact that they have them all over the world makes it so easy. They sell t-shirts so it's fun to collect different shirts at different locations. The nice thing about CrossFit is that a lot of the workouts are things that don't require any equipment. There's an App called CrossFit Global and there's a random W.O.D. feature, so on Sundays, you can select an option and it spits out a random W.O.D. for you. If I'm in a hotel or the gym, I can use the App and it gives me workouts to do. I generally fit it in about five days a week."
Fitting in those sweat sessions five days a week can sometimes wreak havoc on your skin. What changes have you noticed in your skin? 
"Since I've been doing CrossFit for about a year and a half now, there is a lot of outdoor stuff and as a result, especially due to hot Texas summers, I've definitely noticed my hyper pigmentation has increased, including little brown spots that come with age. So any time you're working out outside, you're more exposed to UV light which increases melanin and combined with being hot, that stimulates melanin activity as well, so you have to be really good about sun protection and making sure to use a daily skin lightening products. I like natural as opposed to prescription to put those melanin cells to sleep and to keep that pigmentation lessened."
How do you treat your spots?
"Obviously sun protection in the morning. I use Renée Rouleau Daily Protection SPF 30 because it's so light and doesn't retain heat in the skin like heavier creams can do because of the heavy oils. Then I'll do my makeup then I'll dust on the ColorScience SPF 50, which is a mineral powder SPF, as a finisher for extra protection. Later on in the day when I go to CrossFit, I do the mineral powder dust again because sunscreen can degrade throughout the day from natural oils in the skin and UV light so with a second coat, I know I am protected especially if we are outside.
You have a ton of great products. What's one of your faves?
"After a workout, when I get home, I like to wash my skin because I've been sweating. I use a cleanser called Luxe Mint Cleansing Gel. It's sulfate free so it's really gentle. It has spearmint, peppermint and rosemary botanicals, which feel cooling." Which products are right for your skin? See our nine skin types and get products recommended.
How did/do you find the motivation to keep up with a daily workout routine?
"I once heard entrepreneur, Richard Branson, founder of Virgin, say that his best tip for increasing productivity is to work out. He said you'll approach work with a clear head since exercise decreases stress. Running my company, even though it's very exciting, it's very stressful so I feel like when I workout, I feel calmer and have a clearer head; I just feel better. I just really make it a priority. When I feel good, I am stronger and more productive in my daily life so there are physical and emotional benefits. Just making it a priority, it's a habit now. I don't even think about it. It actually helps that I really love CrossFit and anyone who goes knows it's addictive. I've never been addicted to an exercise before but it's hard and there's such a satisfaction afterwards, you just want to keep going so those are the reasons you want to fit it in."
To read the interview on Fitness Magazine's website, click here.
Read: How Does Losing Or Gaining Weight Affect The Skin?
Read: Does Sweat Cause Acne?
Read: Exercise And Your Skin
Which skin care products are best for you? See our nine skin types or take the Skin Type Quiz and get products recommended.
Need expert advice from a licensed esthetician? Schedule a virtual consultation to get customized advice in person, over the phone or online via Skype or FaceTime.
For more expert advice check out the blog. Also sign up for our skin tip e-newsletter, follow Renée Rouleau on Twitter and Instagram and join the discussion on our Facebook page. You'll be your own skin care expert in no time. Get the #ReneeRouleauGlow!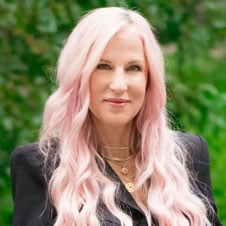 Celebrity Esthetician & Skincare Expert
As an esthetician trained in cosmetic chemistry, Renée Rouleau has spent 30 years researching skin, educating her audience, and building an award-winning line of products. Her hands-on experience as an esthetician and trusted skin care expert has created a real-world solution — products that are formulated for nine different types of skin so your face will get exactly what it needs to look and feel its best. Trusted by celebrities, editors, bloggers, and skincare obsessives around the globe, her vast real-world knowledge and constant research are why Marie Claire calls her "the most passionate skin practitioner we know."