All skin experts agree, as well as I, that thousands of anti-aging creams and serums are available and the search for the miracle product to erase wrinkles is a top priority for many people. But of all the anti-aging products (aside from sunscreen) prescription Retinoids (i.e. Retin-A, Retin-A Micro, Differin, Renova, Avita) and gentler, non-prescription creams with retinol deliver on their promise to promote smoother skin by reducing lines and wrinkles, as well as pore size. (I talk about how I know this to be true in this video here.) I highly suggest using these types of products for a lifetime if you're serious about improving your skin's texture but when you make that commitment.
Prescription retinoids will generally begin to show improvement in your skin's texture within 6-8 weeks if used three to four nights a week. Non-prescription retinol will show improvement in 8-10 weeks but the benefit of retinol is that you won't have the drying and peeling like you will with the prescriptions.
With both options, every skin type varies so actually some will see improvement much sooner than others depending on the thickness of their skin and the severity of sun damage they are trying to improve. These products do take time to work but without a doubt, long term use will change your skin by affecting gene expression to remodel the skin on a cellular level giving your skin a smoother texture with smaller pores and less visible lines, wrinkles and brown spots.
If you're not currently using any of these ingredients as part of your nightly routine, I highly suggest you start now. For those over 30 showing visible sun damage, it will greatly improve your skin over time and if you're under 30, they work great to preventing premature skin aging. For best results, you must use them consistently. You will not be able take advantage of the benefits if you use it sporadically. For more information about retinol and prescription retinoids, watch this video.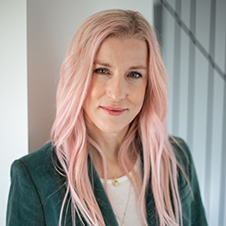 Celebrity Esthetician & Skincare Expert
As an esthetician trained in cosmetic chemistry, Renée Rouleau has spent 30 years researching skin, educating her audience, and building an award-winning line of products. Trusted by celebrities, editors, bloggers, and skincare obsessives around the globe, her vast real-world knowledge and constant research are why Marie Claire calls her "the most passionate skin practitioner we know."