When the skin is free of makeup, take your thumb and your forefinger and gently pinch off the skin in the apples of your cheeks.  Gently (not to the point where you feel pain) pinch the skin quickly five times. If no pinkness shows up, your skin is more than likely under-circulated. If your skin is a little pink, your skin has good, proper circulation. If the skin is bright red, more than likely your skin is over-circulated. The goal with circulation is be right in the middle, not too much and not nothing at all.
What is under circulated skin?
As we age, everything tends to slow down in the body, including blood circulation. When the skin doesn't have proper blood flow, it can result in sluggish, dull, and tired skin that lacks a glow. This is most commonly found in medium, olive skin tones including (but not limited to) Hispanic, Indian, and Mediterranean complexions. Our skin types #6 and #7 are formulated to address these issues.
Tips to give a boost to under-circulated skin:
Try incorporating products containing vasodilators, as this will bring fresh blood flowing through the skin so the cells have new nutrients. This includes ingredients such as peppermint, rosemary, and ginseng extract, which work to give the skin a pick-me-up! Try Renée Rouleau Energy Boosting Toner, Luxe Mint Cleansing Gel, Rosemary Mint Cleanser and Mint Buffing Beads. When applied topically to the skin, these ingredients work to dilate the blood vessels, therefore, allowing the skin to accommodate more nutrient-rich blood. With continued use, you can get skin that glows!…
Also, avoid cigarettes, caffeine and alcohol, which can impair circulation, and avoid wearing yellow-based colors for makeup and clothing (like mustard and khaki) as they can make the skin appear sallow. Mineral makeup is a great choice for making your skin look radiant!
Read: Five Clothing Colors to Give your Skin a Glow
What is over circulated skin?
With age, certain skin types, particularly fair skinned and those with Scottish, Irish, and Scandinavian heritage are prone to having over-circulated skin, which appears as visible capillaries, redness, and a flushing to the skin. This excessive circulation can cause the skin to continually look rosy (note: most all skin types can get visible capillaries around the corners of the nose, this is not the type of skin I'm referring to). Add in a glass of wine, a hot shower, and a workout, and the skin can appear beet red. This overly red skin can be bothersome to some people. Our skin types #4, #5, and #9 are formulated to address the issue of over-circulation – which also includes rosacea.
Read: Rosacea Starts to Show Up in Your Early 30's
Tips for over-circulated skin
The goal here is to calm and sedate circulation by using products containing vasoconstrictors, which help to keep capillaries strong so they aren't flushing and dilating, causing so much redness. Ingredients such as white tea, chamomile, azulene, Vitamin C (magnesium ascorbyl phosphate) are all helpful in repairing dilated capillaries. With continued use, you can get calmer, less red skin. Try Renée Rouleau Bio Calm Repair Masque, Phytolipid Comfort Cream, Soothing Relief Serum, and Calming Chamomile Cleanser.
When cleansing the skin at night, be sure to cleanse with tepid, lukewarm water as overly hot water can add to redness. Also, keep your toner, serum, moisturizers, and masks (all products that are left on the skin when using) in the refrigerator, as this will increase their cooling benefits to skin.
When it comes to skin, people often focus on issues like blackheads, dark circles, breakouts, and oiliness – but one missing key in the quest for healthy skin is to ensure skin's proper circulation. It's so important that you don't overlook the skin's blood flow – using these tricks and tips, you too can have healthy, beautiful skin.
Which products are right for your skin? See our nine skin types and get products recommended.
Read: Dermatologist vs. Esthetician: Who Should You See for Your Skin?
Read: How Do Renée Rouleau Products Compare to Other Skin Care Lines?
For more expert skin advice, check out Skin Source–the A-Z guide on all things skin. Also sign up for our skin tip e-newsletter, follow Renée Rouleau on Twitter and join the discussion on our Facebook page. You'll be your own skin care expert in no time!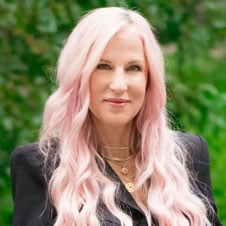 Celebrity Esthetician & Skincare Expert
As an esthetician trained in cosmetic chemistry, Renée Rouleau has spent 30 years researching skin, educating her audience, and building an award-winning line of products. Her hands-on experience as an esthetician and trusted skin care expert has created a real-world solution — products that are formulated for nine different types of skin so your face will get exactly what it needs to look and feel its best. Trusted by celebrities, editors, bloggers, and skincare obsessives around the globe, her vast real-world knowledge and constant research are why Marie Claire calls her "the most passionate skin practitioner we know."