When it comes to male skin grooming, most wives need to give their man a little help. Here are my top tips to get your husband into the good habit of caring for his skin so he can put his best face forward.
Tip #1: Schedule him a facial. Trust me when I say, men LOVE facials. They love the pampering from the face, neck and shoulder massage and they enjoy feeling their skin super clean and baby soft at the end. They'll rarely schedule this on their own, but they'll love you for it. It makes a great gift for his birthday and, who knows, maybe he'll request it every year.

Tip #2: Post-facial, buy him his own skincare products. Most estheticians will recommend an easy skincare routine for a man to follow after a facial treatment, so be sure to follow their advice by purchasing the products for him to use at home. As long as the routine is easy (a face wash and moisturizer), most men should be able to commit to it. Note: While they don't mind occasionally stealing your products to use, it's best to get him his own products recommended exclusively for his skin type. See our nine skin types to get product suggestions. Our best-selling product for men is Luxe Mint Cleansing Gel.
Tip #3: Compliment him on his skin. We all love to hear that our efforts are working. So while I'm sure you'll notice his skin looks better, it always great to let him know too…
Read: Men's Skin Care Tips

Tip #4: Pick up refills of his favorite skincare products. Obviously, when the products run out so do the results he's getting for his skin. Not that you have to run every errand for your husband, but a guy doesn't always feel comfortable popping into a skincare facility to buy his products so you may need to do this for him or encourage him to shop online.
Tip #5: Schedule a yearly mole check for both him (make sure you get one too). Once a year, my husband will always hear me say, "Honey, I scheduled us an appointment with a dermatologist to go get our yearly mole check together." His response is, "Okay." Men won't necessarily take the time to do this on their own so scheduling a joint appointment is a great way to do it. Skin cancer is a serious business so make sure you get this appointment scheduled annually.
Bottom line: Men WILL care for their skin if doing so is made fairly easy. With your support, he can be sure to look good and feel good.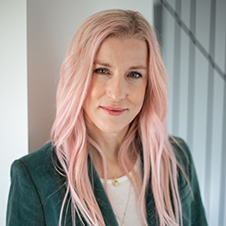 Celebrity Esthetician & Skincare Expert
As an esthetician trained in cosmetic chemistry, Renée Rouleau has spent 30 years researching skin, educating her audience, and building an award-winning line of products. Trusted by celebrities, editors, bloggers, and skincare obsessives around the globe, her vast real-world knowledge and constant research are why Marie Claire calls her "the most passionate skin practitioner we know."