When it comes to birthdays, weddings, and other special occasions, a lot of people like to give the gift of beautiful skin. After all, who doesn't love a little tube or jar of a miracle cream? While we often give gifts to others of things that we personally use and enjoy, this isn't always the best idea, as you may not truly know their skin type and its needs. If you are going to give skin care products, follow these guidelines to ensure a happy face.
Be sure to take your friends skin type into consideration. Every person's skin is unique, so it's important to separate what you personally use and love with what their skin might really need. What is their age? Do you recall them complaining about conditions such as blemishes, dark circles, or brown spots? How about their oil production? Is their skin shiny with large pores or is it flaky? Give considerable thought to conversations you may have had in the past to help you determine what their skin might really need. If there is a brand that you like, perhaps you can choose different products that may be a better fit. Take our Skin Type Quiz to get the best product recommendations.
Choose simple products. Especially if you don't know their skin type, it's best to select products that are the least likely to cause problems. A cleanser is usually a safe bet simply because you apply it and rinse it right off; therefore, the chance of a negative reaction is less compared to products that are left on the skin for hours at a time.
Always choose low-foaming cleansing gels that are sulfate-free, as these will be the most gentle, especially for sensitive skin.
A facial scrub like Mint Buffing Beads can also be a safe bet, as it's another product that is rinsed right off. (Be sure to avoid scrubs with plastic beads, as they have been reported to slip through water treatment plants and negatively effect marine life. Instead, use jojoba bead, as they are natural and made to be perfectly round so they won't scratch the skin and cause redness.)
An eye cream may also be a good choice, since most skin types respond favorably to these, as long as it doesn't use artificial fragrance or perfume. When in doubt, at least choose one that says it's safe for sensitive eyes.
Have your friend perform a patch test to ensure compatibility. With any skin type, you never can truly predict how your skin will respond to a product, so recommend that your friend does a patch test. Use the product as directed, but only use it on a small area of the face. Wait 24 hours to make sure redness or irritation doesn't appear. When using new products, even if they have been patch tested, it's always best to introduce your products slowly by introducing one new product a day.
Save the receipts or get a gift receipt. With any purchase you ever make, it's important to know a company's return policy so you know how it will be handled if you need to make a return.
When in doubt, give a gift card. This may be the best option, so your friend can consult with a professional to ensure they are buying the right products for their skin. It's also fun to consider giving them a gift certificate to get a facial at a spa or skin care clinic. Then their esthetician can spend an hour with them really understanding their skin and giving sound advice on how to care for it.
Giving the gift of beautiful skin is a great idea but be sure to put in some good thought before you do.
Read: 34 Tips to Get Your Best Skin Ever
Which skin care products are best for you? See our nine skin types or take the Skin Type Quiz and get products recommended.
Need expert advice from a licensed esthetician? Schedule a virtual consultation to get customized advice in person, over the phone or online via Skype or FaceTime.
For more expert advice check out the blog. Also sign up for our skin tip e-newsletter, follow Renée Rouleau on Twitter and Instagram and join the discussion on our Facebook page. You'll be your own skin care expert in no time. Get the #ReneeRouleauGlow!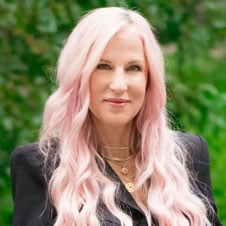 Celebrity Esthetician & Skincare Expert
As an esthetician trained in cosmetic chemistry, Renée Rouleau has spent 30 years researching skin, educating her audience, and building an award-winning line of products. Her hands-on experience as an esthetician and trusted skin care expert has created a real-world solution — products that are formulated for nine different types of skin so your face will get exactly what it needs to look and feel its best. Trusted by celebrities, editors, bloggers, and skincare obsessives around the globe, her vast real-world knowledge and constant research are why Marie Claire calls her "the most passionate skin practitioner we know."