From day one of becoming an esthetician, I set out on a mission to immerse myself in all learning opportunities so that I could be at the top of my field and become a true skin care expert. Subsequently, I would also start this blog where I could pass on all of this valuable knowledge for those who are seeking to understand their unique skin type and how to best care for it.
One of the ways that I love to learn is by attending skin care trade shows where the best in the industry come to teach the latest in skincare advancements and findings. I recently attended the Congress of Esthetics conference as the Master of Ceremonies. (That's me in the photo above!) Over the course of two days, I had the pleasure of introducing all of the amazing skin care professionals to the main stage, many of whom each had 25+ years of experience (like myself) in our industry. I also had some time to attend a few classes and browse the trade show floors. Since my mission is to pass on my knowledge, here's a recap of a few new things I learned.
A cause of pigmentation (brown spots) may be from stress or other health conditions. There is a group of hormones produced by the hypothalamus, pituitary gland and skin cells that when there is an imbalance, can create a stimulatory effect on pigment cells causing a release of melanin that leads to discoloration. I've always known that the development of dark spots and patches on the skin was from sun, heat and hormones, but the specific connection of stress was new to me. As an esthetician, I have so many clients I work with to help get their pigment cells to settle down and fade with topical skin lighteners, exfoliating acids and chemical peels, but now I'll also suggest for them to manage their stress. (Easier said than done, I know.)
An ingredient used in skin care products called Niacinamide (vitamin B3) shows great potential for addressing various skin concerns. You'll be hearing more and more about this ingredient because it is showing it can do so much.
The ingredient Niacinamide
Increases antioxidant capacity of skin making it very anti-aging
Improves the barrier function by up-regulating the synthesis of ceramides and other intercellular lipids to keep the skin strong and healthy
Can help prevent the development of lines and wrinkles by increasing dermal collagen and protein production
Can create an even skin tone (less brown spots and patches) by reducing melanin activity
Can help to minimize the appearance of large pores
I use this ingredient in Sheer Moisture Lotion, Hydraboost Rescue Creme, Moisture Infusion Toner and Balancing Skin Tonic.
Why people can get pre-menstrual breakouts. Most of us are familiar with getting breakouts right before our cycle starts but we often just chock it up to hormones and don't feel as though we can do much else about it. While it definitely IS related to hormones, there is something that actually occurs within the skin that I learned more about.
Just before someone's period, progesterone increases in the skin causing water retention and the skin to appear puffier. This puffiness puts pressure in the pores causing the opening to narrow. The oil that tries to come through the pore is thicker due to the pre-period hormonal shift and has an even harder time coming through the narrow pore lining because of the swelling. When oil can't properly get out of the pores, this can lead to the growth of bacteria resulting in a blemish. This is why ingredients like benzoyl peroxide and salicylic acid (found in BHA Clarifying Serum) can be very effective when used right before your cycle due to their anti-microbial properties.
Being happy can help your skin. There was a lot of talk about hormones and how having a good attitude will have a positive effect on our hormones while negative emotions will cause more issues with our hormone balance. Seems kind of simple but I can see why it's true.

It's really important to know the pH of your skin care products. We all know that using harsh and drying products on the skin is never good but often times, people get so used to the sensation of the skin feeling tight after cleansing or toning that they don't even associate it with being harmful. It's really important to test the pH of your skin care products (particularly your cleansers and toners) to make sure they are pH neutral. I get these pH test strips online and use them when new clients bring their products in for me to review. Ingredients on the back of a bottle are sometimes hard to determine if something is too drying but a pH test strip will never lie! (For a cleanser, the pH should be somewhere between 3.5 to 7.7.)
So those were a few of the things I learned in between my duties of being the Master of Ceremonies. If you're an esthetician and looking for more knowledge, skincare trade shows are most definitely a great way to get it. (And speaking of trade shows, check out the crazy thing I saw happen at Paris Beauty Week. Yikes!)
I'll also share with you part of the speech that I made to the estheticians and skincare professionals in the audience when I was on the main stage.
Aspire. To direct one's hopes or ambitions toward achieving something great.
Aspirations are fueled by passions. Remember the wide-eyed enthusiasm that you felt when you first started in your field? Maybe you were a little uncertain, a little naive even, but you were ambitious and determined. If you're more experienced now, perhaps some of that enthusiasm has worn off a bit. My hope is that these two days awaken that enthusiasm once again.
Our collective passion is to help others feel confident in their own skin and put their best face forward to the world. This mission is what we all aspire to do on a daily basis. Never lose sight of it.
Passions lead to a quest for knowledge. This is why each of you is joining me at the International Congress of Esthetics and Spa in Dallas; this desire to help others feel confident has led you here. You aspire to be one of the best at what you do, and you value continuous growth and improvement. To achieve that, you must aspire to be a lifelong learner and never say that you know all there is to know. Again, tap into that enthusiasm and soak up all that you can.
Knowledge hones goal setting. Knowledge and self-improvement allow you to think more clearly about the specific goals you want to achieve both personally and for your business. Over the course of these two days, think about what three goals you can set for yourself going forward. What new techniques or products have you discovered that you can share with your clients? Or perhaps you've acquired some pointers about how to better run your business? Think about where you aspire to be, and set actionable measures in place that will get you there.
Goals come to life with plans. A goal without a plan is just a wish, so how will you take the knowledge that you've gained from these sessions to implement a plan to reach the goals you've set? Are there additional tools or resources you need to get you there? If so, seek those out. Determine the best way to measure your progress. Put a timeline in place. Hold yourself accountable, or find someone who will.
Let aspirations guide you. There is no one secret formula to success, but my biggest piece of advice is to never forget why you got started in this business. Never lose that wide-eyed enthusiasm, and if you feel it starting to wear off, find a way to reinvigorate it. What you aspire to is your true North Star; let that always be your guide, and you will soar to new heights.
Read: Five Skin Care Mistakes Almost EVERYONE Makes
Read: Pillows: How They Can Be Harming (And Helping!) Your Skin
Read: I Share My Favorite Skin Care Ingredients On The Dr. Oz Show
Which skin care products are best for you? See our nine skin types or take the Skin Type Quiz and get products recommended.
Need expert advice from a licensed esthetician? Schedule a virtual consultation to get customized advice in person, over the phone or online via Skype or FaceTime.For more expert advice check out the blog. Also sign up for our skin tip e-newsletter, follow Renée Rouleau on Twitter and Instagram and join the discussion on our Facebook page. You'll be your own skin care expert in no time. Get the #ReneeRouleauGlow!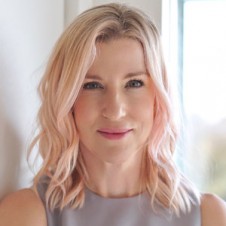 Celebrity Esthetician & Skincare Expert
As an esthetician trained in cosmetic chemistry, Renée Rouleau has spent 30 years researching skin, educating her audience, and building an award-winning line of products. Trusted by celebrities, editors, bloggers, and skincare obsessives around the globe, her vast real-world knowledge and constant research are why Marie Claire calls her "the most passionate skin practitioner we know."