Updated 10/8/14. What skin care products does Maria Canals-Barrera, star of ABC's "Cristela"use? What are her favorite beauty tips? I have the pleasure of giving her facial treatments on my visits to Los Angeles and she shared her secrets with me.
I honestly have to say that in my 25 years of working with skin, Maria has one of the most beautiful skins I have ever worked with. Why? Simply because at the young of age 48, Maria has all the traits that make her look younger than her age. Plump and firm skin, high prominent cheekbones, a strong neckline, tiny pores and a flawless, smooth texture. (Read more about aging skin: What I Know For Sure About Skin) So on my recent visit, I asked Maria if she would share her favorite skin tips and products for my readers.
Can you share your skin tips that you swear by? Cleanliness is always a priority for me, followed by consistent hydration. I always wash morning and night with a gentle, yet foaming cleanser. (I feel most clean with those.) I blot with clean blotting cloths to absorb oil during the day (especially, right before an interview or an audition) and try to avoid using my hands on my face. Since we touch all kinds of things like public doorknobs, elevator buttons, telephones, etc…our hands can get quite grimy without us even realizing it!
I am also faithful in protecting the skin under my eyes with eye cream EVERY night. I've been faithful in doing this for YEARS!…
Did your mother or grandmother give you advice on how to care for your skin? Did you practice it?
Oh, yes. The cleanliness advice was straight from my mom. Both she and my father have beautiful skin. And although good skin can be genetic, it can also be damaged by not taking care of it! So, I do.
My mom is a beautiful Cuban woman who won a beauty pageant when she was young. She was "Queen of the Carnival" in Holguin, Cuba in 1957. She would tell us to NEVER go to sleep with make-up on. When I got the Chicken Pox as an early teen, she said, "Don't scratch your face! It'll leave a hole!"
Also, I remember when we'd go to the beach as kids, my mom would lay out, tanning only her baby oil soaked body. On her face, would be a thick white towel completely covering it. She would lift that towel only to sit up (every 10 minutes or so) to cry out, "Get out of the deep end!" And then she'd lay back down again. Hahaha!
So, I learned to really protect my face from direct sun exposure from her. Not that I followed suit right away…I remember playing all day in that Florida sun as a kid with NO sunscreen on, but as I grew up, like in High School, I began to take better care of it. I'll get sun on my face by daily activities and playing outside with my kids, but not from laying out and frying it in the sun at the beach or poolside.
I often wear a hat and glasses to protect my skin from direct sun when I walk to school to pick up my kids. The other moms think I'm "glamorous" by wearing my fabulous hats, but I tell them, "Really, I'm just protecting my face." Hahaha! Oh, and my mom always preached on not over plucking my eyebrows!
What kind of skin advice do share with your own daughters? They are young. 8 & 6. I use a baby wipe every morning to clean the oil off their face and I apply sunscreen on them before school. At night I make sure they wash their gorgeous faces in the bath with a natural cleanser.

Do you do anything different to your skin now that you didn't do in the last decade? Thanks to Renée Rouleau, I am more aware about the necessity of sunscreen at ALL times! I didn't know we need it in the shade! I thought I only needed protection from DIRECT sunlight. This was a big eye opener for me. Even in winter on a cold day, I need sunscreen? Yes! I am also, exfoliating more often now. Around 2- 3 times a week.
What is your age? I am 48. Yikes! But I do like my skin and I'm grateful for all the great products available to protect it and help keep it looking good.
What are some general tips and tricks you practice to look your best? I enjoy make-up and the artistry of it. I did take a few make-up classes and enjoy seeing how one can play up "positive" features (eyes, lips) and contour less "positive" ones (a large forehead, double chin) and it's fascinating. I also learned how beautifully prepped skin is essential before applying make up. Your skin is your "canvas." I learned the importance of the eyebrow and how it frames the face.
And of course, a good night's sleep does so much for the complexion. I try my best to do that!
Have you learned skin advice or tips from Renée Rouleau that you do faithfully?
Oh, yes. The tip about using a Vitamin C&E Treatment under our sunscreen helping to activate it. That's a great one. And the benefits of SPF-infused mineral powder as a sunscreen (I used that one while I was camping with the family in Texas!) Also, I gotta stop sleeping on my face if I want to look good in 10yrs. Renée says it aids in bringing on more wrinkles. Yikes! Also, I am learning to protect my hands from the sun while driving by dabbing sunscreen on them, too! (I read Renée's skin tips on her Twitter page.)
Which Renée Rouleau products are you loving and why?
I am absolutely hooked on Pro Remedy Oil. It gives my skin a serious glow. I also love the exfoliating power and natural properties of Renee Rouleau Triple Berry Smoothing Peel. It's fragrant and crimson red with seeds in it. I have to fight the temptation to stick a spoon in it and eat it! Hahaha. I also love the Luxe Mint Cleansing Gel, Advanced Resurfacing Serum and AHA Smoothing Serum 17%. And my skin wouldn't be caught dead without Daily Protection SPF 30!
How do you prepare your skin for the red carpet?
I ALWAYS exfoliate the day of and immediately follow with a LIGHT moisturizer…because I now always wear sunscreen before every Red Hot Carpet. They're usually held outdoors!
Thank you Maria for sharing your words of skin wisdom with my readers! xo
Maria's Biography: Whether she is appearing on TV/Film, on stage or lending her voice to countless hit shows, Maria Canals-Barrera is a multi-talented actress who has showcased her talent across the board in entertainment. She currently stars on ABC's "Cristela." Maria is most commonly known for her starring role as the mortal mother of three teenage wizards, in the Emmy Award-winning series "Wizards of Waverly Place." The show, which was nominated for another Emmy and Alma Award in 2011, airs Fridays at 8PM on the Disney Channel. In August of this year, Maria hosted the 26thannual Imagen Awards, illuminating the audience with her charasmatic charm. Shortly after, she took home the 2011 NCLR Alma Award for Favorite TV Actress in a Supporting Role.

Maria reprised her role in the Emmy Award-winning Disney Channel Original Movie "Wizards of Waverly Place The Movie," for which she won an Imagen award for Best Supporting Actress – Television in 2010.
Born and raised in Miami, Florida, Canals-Barrera has also starred as Mitchie's mom, Connie Torres, in the Disney Channel Original Movies "Camp Rock" and "Camp Rock 2: The Final Jam." A 2002 Alma Award-winner for her role in the television series "Brothers Garcia," Canals-Barrera starred in the Telemundo series "Marielena" and "Corte Tropical" for Univision. She was the Female Lead on "The Tony Danza Show," and she's had guest-starring roles on "Curb Your Enthusiasm," "George Lopez," "The Loop," "Popular," "Veronica's Closet," "Caroline in the City" and "Almost Perfect," as well as recurring roles in "Beggars & Choosers" for Showtime and the critically acclaimed PBS series "American Family." Canals-Barrera is also the voice of "Hawkgirl" in the animated series "The Justice League" and was the voice of "Sunset Boulevardez" in Disney Channel's acclaimed series "The Proud Family."
On the big screen, Maria most recently appeared in Universal Pictures', "Larry Crowne," directed by Tom Hanks and starring Hanks and Julia Roberts.  She can also be seen in "Master of Disguise" and "My Family / Mi Familia," with Edward James Olmos, Jimmy Smits and Esai Morales. On stage, Canals-Barrera appeared at the Mark Taper Forum in "Changes of Heart" for which she received an Ovation Award nomination. Her other stage work include roles in "Chilean Holiday," "Hedda Gabler," "A Touch of the Poet," "Mixed Blessings," "The House of Blue Leaves" and "The Glass Menagerie."When Maria isn't acting you can find her in Los Angeles where she resides with her husband and two children, playing the part of a real mom.
Which skin care products are best for you? See our nine skin types or take the Skin Type Quiz and get products recommended.
Need expert advice from a licensed esthetician? Schedule a virtual consultation to get customized advice in person, over the phone or online via Skype or FaceTime.
For more expert advice check out the blog. Also sign up for our skin tip e-newsletter, follow Renée Rouleau on Twitter and Instagram and join the discussion on our Facebook page. You'll be your own skin care expert in no time. Get the #ReneeRouleauGlow!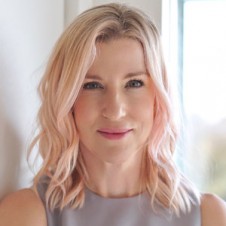 Celebrity Esthetician & Skincare Expert
As an esthetician trained in cosmetic chemistry, Renée Rouleau has spent 30 years researching skin, educating her audience, and building an award-winning line of products. Trusted by celebrities, editors, bloggers, and skincare obsessives around the globe, her vast real-world knowledge and constant research are why Marie Claire calls her "the most passionate skin practitioner we know."