Updated 01/11/22. As an esthetician, I've worked hands-on with skin for over 30 years, so I know a thing or two about skin types and how each one behaves according to age, environment, genetics, diet, and lifestyle. I believe everyone fits into a specific skin type, but not the standard three skin types that are so commonly used (dry, oily, and normal). Instead, I believe there are 9 skin types. Each one is unique and requires special care and personalized products to be its best.
I'm often asked, "Can your skin type change from season to season or from year to year?" The simple answer is yes, your skin type can change, but it changes slowly. In other words, it can change from year to year but not necessarily from season to season. During seasonal changes, it's possible for certain conditions to intensify, such as oily skin types getting oilier and dry skin types getting drier, but for the most part, your genetic skin type will stay the same seasonally.
Keep reading to learn all about my 9 signature skin types, including how to find out which one you belong to and how to tell if it has changed!
The Renée Rouleau 9 Signature Skin Types
First, let's quickly run through the characteristics of each skin type. Let's go!
Skin Type 1
This skin type is characterized by oiliness, clogged pores, and severe breakouts all over. It requires a careful combination of acid exfoliators as well as pore-clearing botanicals like tea tree and witch hazel to reduce breakouts.
Skin Type 2
If you have oily and/or combination skin with occasional breakouts, and you're concerned with signs of aging, you might be a Skin Type 2. This skin type requires a careful blend of non-drying exfoliants with hydrating antioxidants and skin-brightening botanicals.
Skin Type 3
Skin Type 3 is characterized by oily and/or combination skin that experiences consistent breakouts with sensitivity. It requires a careful blend of  BHAs to deliver maximum blemish-clearing benefits without leaving the skin feeling tight, dry, or irritated.
Skin Type 4
This skin type is characterized by redness, sensitivity, and occasional breakouts. It requires a careful blend of pore-cleaning ingredients, along with soothing ingredients to calm irritation.
Skin Type 5
If you experience consistent redness or rosacea, you might be a Skin Type 5. This skin type experiences redness, sensitivity, and dehydration and shows signs of aging. It requires gentle, soothing ingredients to look and feel its best.
Skin Type 6
Skin Type 6 is characterized by normal, dehydrated skin that shows signs of aging. It requires high concentrations of AHAs to boost cellular turnover and potent antioxidants to brighten the complexion and prevent environmental damage.
Skin Type 7
This skin type is characterized by a dry, tired look, and is often accompanied by signs of sun damage. It requires firming and energizing ingredients.
Skin Type 8
Those who belong to Skin Type 8 often experience a dry, tight feeling in their skin with loss of tone and signs of sun damage. It requires high concentrations of AHAs to boost cellular turnover, peptides to encourage a firm look, and lipid-rich oils to provide much-needed moisture.
Skin Type 9
Finally, there's Skin Type 9, which is characterized by dryness, redness, sensitivity, and visible lines and wrinkles. It requires a high concentration of lipid-rich oils and comforting botanicals to soothe and strengthen the skin from the inside out.
How to Find Your Skin Type
Learning your skin type is easy. All you have to do is take the Skin Type Quiz. It's quick, easy, and accurate. Plus, at the end of the quiz, you will receive personalized product recommendations, which makes shopping for skincare super simple.
How Your Skin Can Change Over Time
The skin is an organ. It's constantly reacting and adapting to various influences, as it tries to maintain balance. There are multiple things that can cause drastic changes in your skin. These include things like illness, medication, stress, hormonal shifts (especially those pertaining to pregnancy and menopause), environmental changes, and new even skincare products.
Generally speaking, though, your skin type will change every seven to nine years. This happens naturally as the skin ages, as it goes through biological changes. Take sebum production, for example. Sebum is essentially the natural oil produced by your skin to moisturize and lubricate itself. It's important to barrier function as it helps prevent moisture loss. Over time, this oil production changes. According to specific research, it increases in the teenage years. In women, it declines during menopause. In men, it remains stagnant until it sharply declines in later life. It's believed to be tied to hormones. Since sebum impacts things like skin dryness, breakout activity, and aging, it can have a drastic effect on the skin. For example, as we age, a decrease in sebum production means there's an opportunity for skin to develop wrinkles.
Sebum production is just one example. There other many other ways the skin changes throughout life. Luckily, there are ways to tell if your skin type has changed. You just need to know how to spot them.
3 Ways to Tell If Your Skin Type Changed
There are 3 major indications that your skin type has changed.
1. Past Products Don't Work as Effectively As They Used To
If you've been using the same products for years and loving them, yet lately they're just not providing the same results, it could be an indication that your skin type has changed. They simply might not be providing your skin with what it needs at this stage of life. In fact, this is one of five major skin mistakes I see people make. They focus on what their skin needed in the past versus what it needs right now, so they end up using the wrong products for their skin type.
2. You're Noticing Visible Changes In Your Skin
If you're seeing visible changes in your skin that have never been there before, it's possible your skin type has changed. For example, if you're seeing consistent redness where there used to be none or fine lines and wrinkles, you could be moving from one skin type to another and your skin is asking for different products and ingredients.
3. You've Experienced Hormonal Changes
Hormones are constantly changing throughout life and especially during pregnancy and menopause. During pregnancy, specifically, many people see changes such as widespread discoloration (the technical term for this is melasma, but it's also referred to as pregnancy mask) and blemishes. (Learn how to safely fight breakouts during pregnancy.)
What to Do If Your Skin Type Has Changed
If you suspect your skin type has changed, there are two things I recommend doing. The first is to take the Skin Type Quiz over again to get your new result. At the end of the quiz, you'll get personalized product recommendations, so you don't have to play a guessing game when it comes time to shop for new skincare products.
The second thing I recommend doing is to consult a skin professional. This is the best and easiest way to address skin type changes. Estheticians are trained in knowing exactly what each person's skin needs to look and feel its best, and they can supplement an effective routine with professional treatments to boost results.
Next, check out 5 skincare mistakes everyone makes and how to correct them!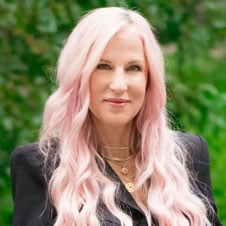 Celebrity Esthetician & Skincare Expert
As an esthetician trained in cosmetic chemistry, Renée Rouleau has spent 30 years researching skin, educating her audience, and building an award-winning line of products. Her hands-on experience as an esthetician and trusted skin care expert has created a real-world solution — products that are formulated for nine different types of skin so your face will get exactly what it needs to look and feel its best. Trusted by celebrities, editors, bloggers, and skincare obsessives around the globe, her vast real-world knowledge and constant research are why Marie Claire calls her "the most passionate skin practitioner we know."