We have some clients who are using prescription Retinoids or other vitamin A derivatives (like Tretinoin with brand names such as Renova, Retin-A, Retin-A Micro and Avita) and ask us how it can be incorporated into their Renée Rouleau skin care routine. For those that use a prescription version, it's always best to check with your doctor but here's a way we have found it helpful in enhancing the results and minimize the potential irritating side effects.
Night #1: Retinol /vitamin A product followed with moisturizer appropriate for your skin type. Our Phytolipid Comfort Cream works particularly well since it's very healing, repairing, calming and hydrating—everything that a skin being treated with retinol requires.
Night #2: Specialty serum followed with moisturizer appropriate for your skin type. The specialty serum will ensure that your skin is getting the hydration and comfort it needs for those new cells being exposed. See my collection of specialty serums.
Night #3: Any one of these exfoliating acid-based serums followed with moisturizer appropriate for your skin type. Since it takes two days for the cells to regenerate to the surface from using the Retin-A, the skin may be dry and flakey and an acid serum used on this night is perfect to remove the dryness from the micro peeling that occurs.
Then repeat and do this continually.
Here's my reasoning behind this method. Since Retin-A and other vitamin A derivatives cause dryness and flakiness in most skin types, it's important to not use it every night. The specialty serum on night #2 is meant to give the skin a break using barrier-repair and nourishing ingredients to keep the skin calm and hydrated. Because it takes two days for the cells to regenerate to the surface and cause the skin to get flaky, the acid serum is perfect to remove the dryness that occurs. Then by starting over and using  Retin-A /Retinol the next night (night 4), it may work even better because now it can penetrate deeper within the skin because of the acid exfoliation the night before.
Read: The Beginner's Guide To Using Retinol or Prescription Retinoids
Note: Retinyl Palmitate is the ester form of Retinol and Palmitic Acid and acts as an effective antioxidant and skin cell regulator. It works differently than the Vitamin A derivatives mentioned above and is safe for even the most sensitive skins.
With all vitamin A products, it's important to infuse your skin with stable antioxidants to keep inflammation in the skin to a minimum but some vitamin C serums can be extremely irritating to sensitive skins. Read why Retinol users should avoid Vitamin C products that sting when applied to the skin.  Our Vitamin C&E Treatment is a must!
Does your skin get too sensitive when using prescription vitamin A products? If so, you'll want to switch to a gentle over-the-counter retinol product like Advanced Resurfacing Serum. You can still get the smoothing results but without the harsh side effects such as peeling and dryness.
Read: Three Facial Features that Will Guarantee You'll Look Younger Longer
Read: Is Your Skin Fading? Tips to Get the Glow
Which products are right for your skin?  See our nine skin types and get products recommended.
Need expert advice from a licensed esthetician?  Schedule My Skin Prescription to get personalized advice in person, over the phone or via Skype or Facetime.
For more expert skin advice, check out Skin Source–the A-Z guide on all things skin. Also sign up for our skin tip e-newsletter, follow Renée Rouleau on Twitter and join the discussion on our Facebook page. You'll be your own skin care expert in no time!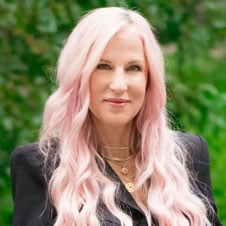 Celebrity Esthetician & Skincare Expert
As an esthetician trained in cosmetic chemistry, Renée Rouleau has spent 30 years researching skin, educating her audience, and building an award-winning line of products. Her hands-on experience as an esthetician and trusted skin care expert has created a real-world solution — products that are formulated for nine different types of skin so your face will get exactly what it needs to look and feel its best. Trusted by celebrities, editors, bloggers, and skincare obsessives around the globe, her vast real-world knowledge and constant research are why Marie Claire calls her "the most passionate skin practitioner we know."