Updated 4/11/19. A common complaint I hear from my clients is, "The skin on my body is so dry, and I have these little bumps on the backs of my arms and legs." As an esthetician, my job is teaching others how to get smooth, soft and touchable skin on both the face AND the body.
Here's my expert advice on how to get rid of bumps on the arms and legs as well as any dry skin you may have on your body.
What are these red, dry bumps on the back of my arms and legs?
If you have bumps on the backs of your arms, thighs, and buttocks, you may have a condition known as keratosis pilaris (KP). It's sometimes also referred to as "chicken skin." It typically appears on the body, but people can also get it on the sides of their face, especially in their younger years. Keratosis pilaris seems to be a genetic condition in which the skin doesn't naturally exfoliate.
As a result, dead skin cells block the hair follicles leaving them looking bumpy and red. KP is very common, affecting about 40% of all adults, and it is completely harmless. However, it can be frustrating in the summer when you're exposing more skin in shorts, t-shirts, dresses and bathing suits. That being said, it's actually easier to treat keratosis pilaris in the summer than in the winter, because it gets worse when there is less moisture in the air.
What causes the bumps to look red?
The reason bumps from keratosis pilaris appear red or dark is inflammation at the base of the hair follicle. This skin is considered to be sensitive, so you always want to treat it gently. Don't over-scrub so as not to over-irritate the skin. This could actually make things worse.
How can I get rid of bumps on my arms and legs?
Since bumps and dry skin are the direct results of dead skin-cell build up, the most effective solution is to exfoliate the body at least three times a week. The traditional method of exfoliating was always to use a loofah or body scrub. However, Keratosis Pilaris is already a form of irritation, so you don't want to only rely exclusively on physical scrubbing that could potentially be too harsh. A combination of a gentle physical exfoliation along with a leave-on chemical exfoliator will give you the best results.
How to exfoliate the body at home:
Step 1: Loosen up dryness using a body scrub, loofah or dry body brush.
Whether it's a body scrub or loofah applied to damp skin, or a brush used directly on dry skin, gently rubbing the skin will remove surface dryness. I don't necessarily recommend one over the other, I think they all work well. It's just a matter of what you find the easiest to work with. I have all three and just use whatever I'm in the mood for. I do make a DIY body scrub that I love to use, but I won't use an acid exfoliator right after it because the oil that is used won't allow the serum to penetrate as well.
"You will absolutely LOVE how this process transforms your skin. And be prepared for some serious compliments!"
Step 2: Dissolve dead cells by lowering the skin's pH with a leave-on chemical exfoliator.
This is so important if you really want to get rid of bumps on the arms and legs, because physical exfoliators have their limits. A scrub "breaks through the concrete" while an exfoliating acid serum or lotion made for the body absorbs deep into the surface layers to dissolve away buildup that can lead to bumps and dryness. Chemical (acid) exfoliators are a total game-changer, and once you use one, you'll immediately see the dramatic difference it makes in improving your skin's texture.
Once the acid is on the skin, it works quickly. It absorbs deep into the surface layers to put the skin into an acidic state. This then jumpstarts the skin's natural exfoliation process.
Step 3: Keep skin moisturized by applying a body lotion or body cream.
Once you've exfoliated, keeping the freshly exposed "new" cells in a moist environment is essential to give a smoother, less bumpy look to the skin. Find one you enjoy using and apply it over the exfoliating serum. You'll also want to use it morning and night, even on days when you are not using a physical or chemical exfoliator. In dry environments, applying a pure body oil over a body lotion help your skin retain moisture better. I use Pro Remedy Oil both on my face and body as the last step over moisturizer during the dry, winter months to keep my skin in a healthy, hydrated state. This is just as important as exfoliation when it comes to keeping your skin healthy and bump-free. If your moisturizer is too light, the hydrating properties can evaporate so a good skin oil can help a lot.

Step 4: Repeat this 3-step process at least twice a week.
You should be doing this process at least twice a week if you're really serious in your quest to get rid of bumps on the arms and legs. Once you get into the routine, try doing it three times a week to see if this gives you even better results. When not exfoliating, you should still be using a body lotion, cream or oil both morning and night.
What's the best kind of leave-on chemical exfoliator to use?
When selecting an acid-based chemical exfoliant, you'll want to choose a formula that, at the very least, contains lactic acid. This ingredient not only loosens cells but is also a humectant. This means it provides moisturizing comfort, which is very beneficial for dry skin and keratosis pilaris. Ideally, the formula would also include calming agents, which deliver soothing and anti-inflammatory effects. When the product is used regularly, it will flatten bumps and minimize the appearance of redness or darkness. I personally use and recommend Smoothing Body Serum for my clients. It is formulated with three powerful types of acid (lactic, mandelic and glycolic) that literally resurface the skin to give FAST results. The serum also contains the soothing ingredients green tea, aloe, and allantoin to mitigate irritation.
Note: There are professional treatments that work on a deeper level to treat this condition, such as chemical peels and lasers. If my at-home recommendations aren't doing enough, consult with a trusted doctor or skin care professional.

Will this process get rid of the flakiness that I have on my body?
Yes. Even if bumps aren't your issue, dry, flaky skin will greatly benefit from regular exfoliation. After all, moisture in the skin gets depleted with age. If having smooth, silky skin is something you desire, this process will help you get there. With consistent use, the combination of chemical and physical exfoliants along with moisturizer will help reveal amazingly smooth, silky skin on the body in no time. You will absolutely LOVE how this process transforms your skin. And be prepared for some serious compliments! "Your skin is so soft and smooth," is what you'll hear over and over again. I know I do!
What can I do for itchy skin?
If you have itchiness associated with your dryness, read this post.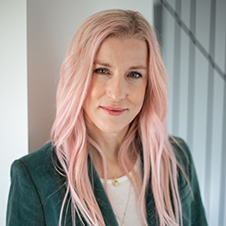 Celebrity Esthetician & Skincare Expert
As an esthetician trained in cosmetic chemistry, Renée Rouleau has spent 30 years researching skin, educating her audience, and building an award-winning line of products. Trusted by celebrities, editors, bloggers, and skincare obsessives around the globe, her vast real-world knowledge and constant research are why Marie Claire calls her "the most passionate skin practitioner we know."