Updated 10/28/17. There are many skin care professionals you can consult about how to care for your skin. The two most popular are either a licensed esthetician or dermatologist. To treat the most common skin concerns–acne, adult hormonal breakouts, clogged pores, bumps, sun damage, rosacea, brown spots, and/or simply maintaining a youthful and healthy-looking appearance–who should you see? There are vast differences, so allow me to explain.
Keep in mind, I'm an esthetician with almost 30 years of experience. I know this side of the skin industry much better. Perhaps my information will be a bit biased, but I am painting an honest picture of what I know to be true.
What is the difference between a dermatologist and an esthetician?
When it comes to caring for your skin, a dermatologist is medically trained to give patients a treatment for skin diseases and conditions through prescribing the use of topical creams and oral drugs. A licensed esthetician relies on a thorough consultation with clients to offer non-prescription solutions like skincare products and nutritional advice.
The licensing requirements are different. An esthetician is in school for anywhere from 3-9 months (depending on the state) whereas a doctor is in school studying for years.
A dermatologist can write prescriptions. An esthetician can't.
A dermatologist can perform Botox and other dermal fillers/ injectables. An esthetician can not under their license. Both professionals can do chemical peels but generally, an esthetician performs the kinds that aren't as strong.
Note: Not all dermatologists or estheticians are equal. I'm generalizing my information for what I know to be true for most.
An esthetician will spend more time with you than a dermatologist. If you're scheduling a skin treatment such as a facial, the time spent with your esthetician will usually be 75-90 minutes. By contrast, actual face time with a dermatologist is usually anywhere from 10-20 minutes. Time is on your side with an esthetician. Having plenty of time to share the full history of your skin and your concerns allows an esthetician to piece together your skin puzzle. This ultimately ensures you'll get the desired results for your skin.
A dermatologist can prescribe topical or oral medication. There are times when the use of prescription drugs is necessary to treat certain skin conditions. Chronic rosacea, severe acne, skin rashes, and allergies are examples of conditions that are often best treated with medication.
My personal belief is that prescription medication should be the last option since it can often act as a band-aid. Why take prescription drugs if it's not necessary? Once you go off of them, the condition may come right back so it's so important to play detective (and your esthetician can help you do that) and get to the root of the problem. I believe this is a more practical long-term solution. But do know, there are certainly times when I feel it's necessary for my clients to seek medical solutions and so I will refer them to a dermatologist. If you're currently taking medication, a good question to ask yourself is, "Is the medication giving you improvement with your skin?" If it's not, you may want to reconsider this option and discuss with your doctor.
You'll be taken on time for your appointment with an esthetician. Both an esthetician and dermatologist work by appointment only. But as most will know, an esthetician will take you right at your appointment time whereas with a dermatologist, you can wait up to an hour or more before being seen. It's just the nature of how each work.
An esthetician will be more knowledgeable about your skin care routine. As one of my dermatologist colleagues has always told me, "Renée, I don't do what you do. I was trained in treating diseases of the skin. When it comes to which products are best, what my patient's skin care routine should look like and when to change up their products, this is not my area of expertise and this is why I refer them to you." For an esthetician, skin care products are our prescriptions so we are very familiar with skin ingredients, which products are best to use and when, and how to enhance your skin at home day in and day out.
For those who have visited a dermatologist, when it comes to non-prescription options, you'll often hear them say "Wash with a mild cleanser and use sunscreen." While I'm certainly in agreement with this recommendation, there is just so much more to it than that. A good esthetician will be able to go into great detail about your skin care routine and what's right for you based on observations and a thorough conversation.
One example is a client whose skin was very red, dry and inflamed. She said she thought she might have rosacea and was considering seeing a dermatologist but decided to opt for a less invasive route first by consulting with me. Come to find out through our long conversation, I discovered she was using a strong, high-foaming cleanser along followed by an organic cream that was loaded with a lot essential oils. For me it was a no brainer. The drying effects from the cleanser were stripping her skin's moisture barrier creating invisible cracks in the skin. Then, the essentials oils in the cream, while natural, are known irritants that were penetrating through these pathways (cracks). The combination was causing her skin's protective barrier to be damaged and was setting off an inflammation response that gave the appearance of rosacea. I diagnosed her with skin type #9 and got her set up on a really gently, reparative routine. I followed up with her regularly (something a dermatologist doesn't usually do) and within four weeks, her skin's redness had calmed down significantly. Had she chosen to see a dermatologist, a topical prescription medication would have been given for rosacea, and while it may have helped, just switching to products that were exclusively for her skin type was a much easier and better long-term solution. Read: My Cure for Red, Sensitive, Extremely Dry, Flaky Skin

From an acne perspective, both offer effective solutions.One does it via prescription medications (a derm), while the other does it with their hands (an esthetician). If you want to see a big improvement for clogged pores and acne, it's imperative that you get a thorough deep pore cleansing facial. No product or prescription can effectively remove blockages in the pores that lead to bumps and breakouts. Estheticians are the ones that perform facials but often times, they might work within a dermatologist's office.
For cystic acne, a dermatologist can administer a cortisone injection but like any injectable, it comes with risks. Read: Is a cortisone shot the only option for treating acne cysts?

Seeing an esthetician or a dermatologist can both offer great results. There is certainly no right or wrong, it's just a personal choice as to what approach is most comfortable to you. The decision is yours.
Need expert advice from a licensed esthetician? Schedule a virtual consultation to get customized advice in person, over the phone or online via Skype or FaceTime.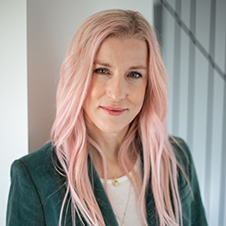 Celebrity Esthetician & Skincare Expert
As an esthetician trained in cosmetic chemistry, Renée Rouleau has spent 30 years researching skin, educating her audience, and building an award-winning line of products. Trusted by celebrities, editors, bloggers, and skincare obsessives around the globe, her vast real-world knowledge and constant research are why Marie Claire calls her "the most passionate skin practitioner we know."